Leesburg, Va. — High school volleyball in Loudoun County is on a different level. And Loudoun's Potomac District is one of the most feared leagues in the State of Virginia.
Since 2013, Potomac District teams have won two VHSL 5A state championships and advanced to three other state title matches.
While the Briar Woods High School Lady Falcons and Stone Bridge High School Lady Bulldogs continue to be a presence in the district, an up-and-coming volleyball program is hoping to make an impact in 2017. Enter Tuscarora High School.
"There are no weak teams here. The Potomac District is so strong," Tuscarora head coach John Senchak said. "We have to win the games where we have the advantage, and we're going to have to steal a few along the way."
[adrotate banner="14″]
The Lady Huskies got their first win of the season under their belts when they swept Leesburg-rival Riverside High School (25-10, 25-10, 25-17) in front of a rambunctious home crowd on August 29.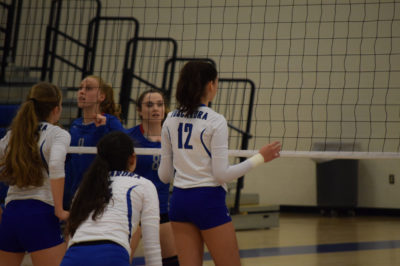 "It's really exciting to finally get that win," Tuscarora senior opposite Anne Louise Seekford said. "It's good to get a confidence boost heading into the district schedule."
The win against the Rams pushes the Lady Huskies to 1-2 on the season, following losses to two non-district opponents, including one to Loudoun County – arguably the most dominant dynasty in any sport in VHSL history.
"We opened with two really tough matches. We fought hard but couldn't get the wins," Senchak said. "This win was big for the girls. We're heading into a 14 match in-district schedule. We needed this win to push us in the right direction."
After a rematch with Heritage on September 5, Tuscarora opens their Potomac District season against newcomer Freedom High School on September 12 in Leesburg. Just two days after that the Lady Huskies will get on a bus to travel to Stone Bridge High School to battle with the 2015 VHSL 5A State champion Bulldogs.
Much like they did against Riverside on August 29, Tuscarora hopes to jump out to early leads in each set, in order to open up their offensive playbook.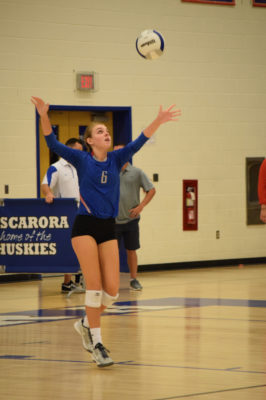 "It builds confidence and lets us doing some things we generally wouldn't be able to do," Senchak said. "We were able to turn the offense on tonight and run some plays we wouldn't be able to run if we were behind."
With the lead and offensive flexibility, the Lady Huskies are well suited to put balls away. Led up front by sophomore middle blocker Ella Solomon, senior outside hitter Sarah Pearsall and Seekford, Tuscarora is able to pick defenses apart by using the entire floor.
"Last year, those three players had some go-to offensive tendencies that made them predictable. We worked that out," Senchak said. "All of them can choose their targets on the floor now which makes them so effective."
Upsets by Tuscarora and Potomac Falls in the Conference 14 tournament earned the Lady Huskies the conference's No. 1 seed into the VHSL 5A North region tournament in 2016. They took advantage of their seed, marching through the region bracket, eventually falling to Conference 14 foe Briar Woods in the region championship, but not before earning a trip to their first VHSL 5A State tournament.
In 2017, the Lady Huskies will hope to once again advance to the state tournament, eyeing their first ever state championship match appearance.
"We might not be as strong physically this year as we have been in the past, but we are much stronger mentally," said Seekford, who is committed to play at William & Mary. "We're all hear together fighting for each other."