Leesburg, Va. — In a game dominated by hard-hitting outsides, it was only fitting that the final point of the match came off the hand of a setter.
On October 17 in Leesburg, Loudoun County High School junior defensive specialist Rebecca Frey dug a tough hit by Stone Bridge High School late in the fourth game. Lady Raiders' junior setter Andersen Vaughan knocked it over the net falling between a number of Lady Bulldogs, who felt their kill had touched down and that the point had already been won. However, the officials saw differently awarding the point to the Lady Raiders as they finished off the Lady Bulldogs, 3-1 (25-22, 25-22, 19-25, 25-23).
"It was anybody's game. We had had an 8-point lead, and they came back to take the lead. That's a championship caliber game," Loudoun County head coach Sherrilyn Hanna said. "You just have to battle and that was a good test for our kids. It's always good to play Stone Bridge, and it's always good to beat Stone Bridge."
[adrotate banner="14″]
Both teams have recently played in state championship caliber games as Loudoun County won the 2015 VHSL 4A state championship while Stone Bridge reigns over the VHSL 5A state.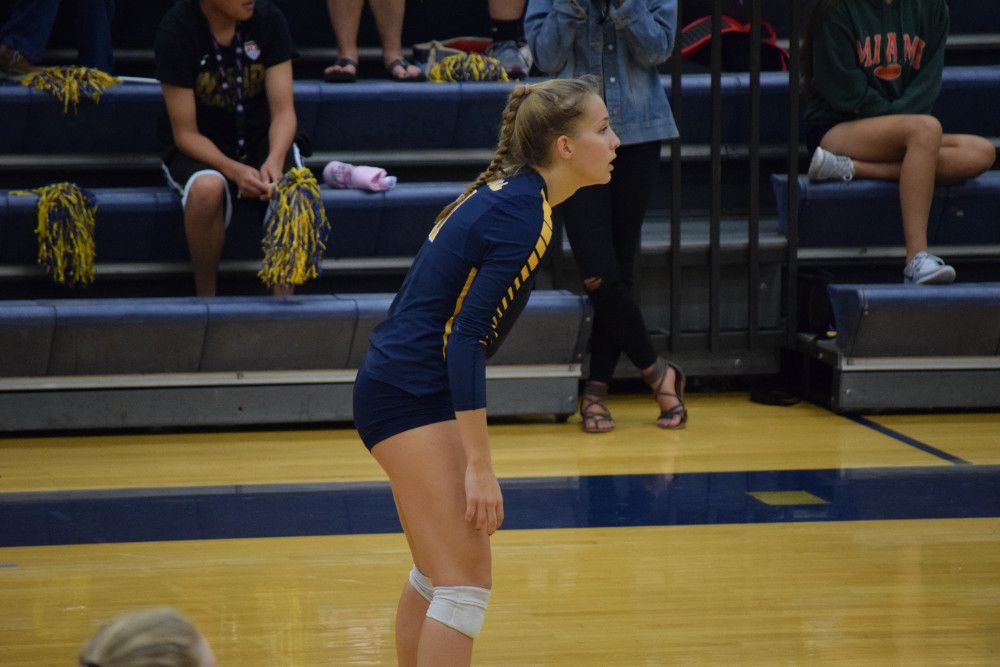 But this out-of-conference duel meant little to the actual playoff picture for either school. What it did provide was a test for both teams.
"It really helps us with our confidence," Loudoun County senior outside Hannah Aycock said. "It really helps us with the boost going into the postseason, which we're looking forward to dominating."
Aycock, herself, dominated the fourth and final game of the match giving the Lady Raiders a comfortable lead, 20-12, early on.
"We're all just working really hard for this team," Aycock said. "Stone Bridge is very competitive, so I know I needed to step up and lead as an example. We really stepped up our game, and I couldn't have done it without my team."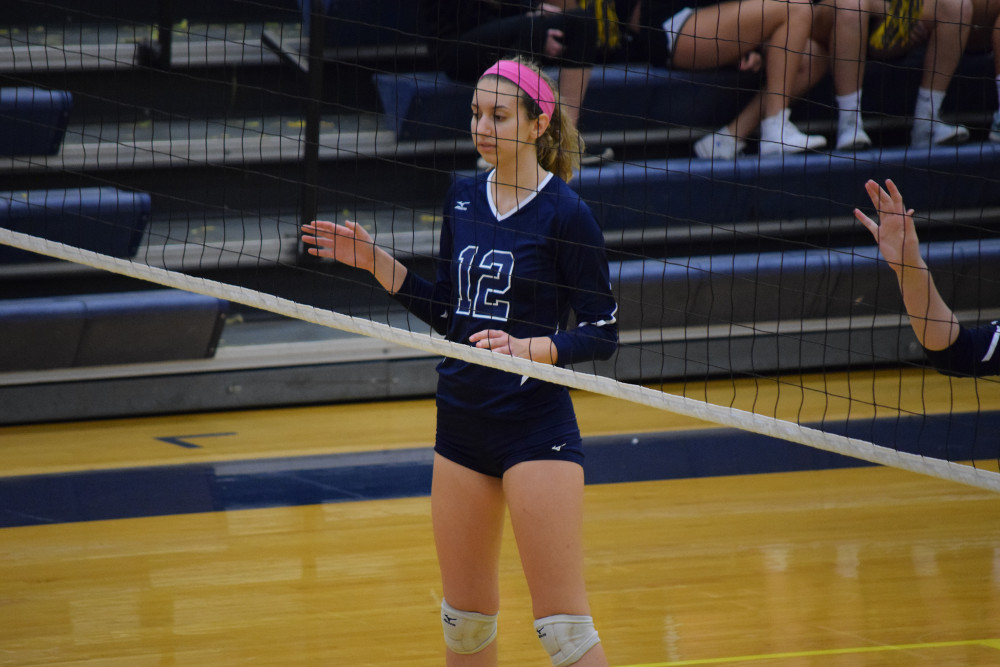 Still, the relentless Lady Bulldogs pushed on, eventually claiming the lead at 22-21. Then Loudoun County evened out the score at 23-23 before Vaughan's game-winning kill.
While Aycock controlled the Loudoun County scoring in the fourth frame, senior outside Hailey Rubino did a lot of the damage in the first three sets while senior middle Sela Carrington did her best to get in on the action.
"We have some very good hitters; Hailey and Hannah both stepped up," Hanna said. "But it's hard to engage your middles when you don't have any free balls. Stone Bridge wasn't giving us many of those."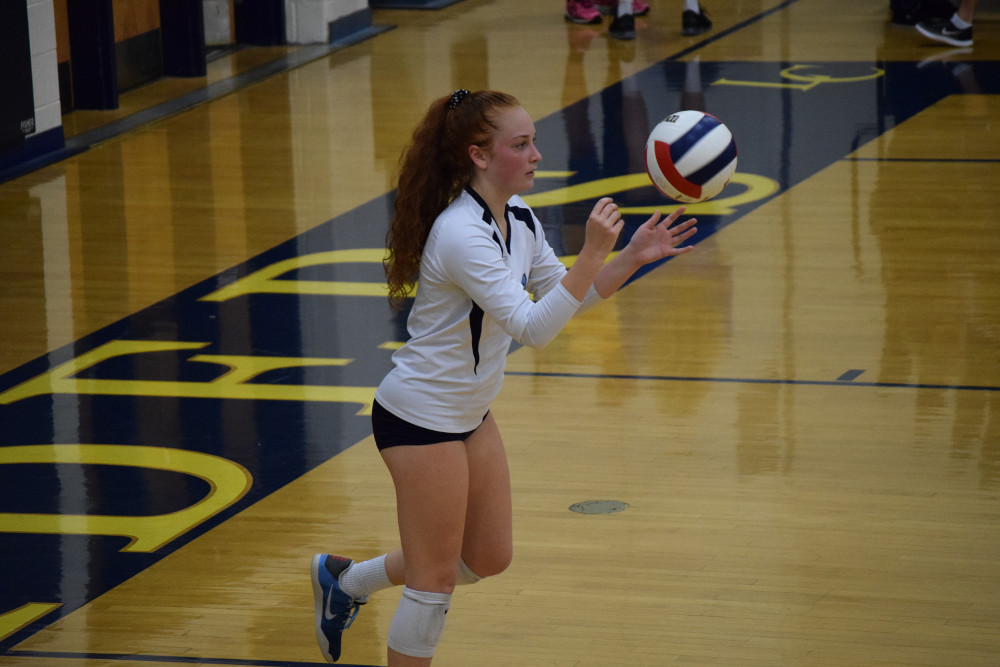 Stone Bridge – led by senior opposite Gabbie Scudder with 13 kills – didn't give Loudoun County many chances and put up a tremendous fight dropping their first match to the Lady Raiders since 2013.
Loudoun County currently controls Conference 21B at 8-0 with matches against Loudoun Valley and Heritage remaining. Stone Bridge currently sits in second place in Conference 14 at 4-1 with matches against Tuscarora, Potomac Falls and Broad Run remaining.
"They're an incredibly talented team. They stayed aggressive," Aycock said. "We just kept changing on the go, making adjustments every single point. Our team really recognized what they were doing and adjusted to it really well."
Stats:
Stone Bridge
Gabbie Scudder 13 kills, 14 digs, 1 ace
Alex Fuerst 7 kills, 1 block, 7 digs, 1 ace
Becca Madgwick 6 kills, 6 blocks, 2 digs, 2 aces
Noelle Foster 6 kills
Katey Muskett 5 kills, 7 blocks, 32 assists, 10 digs
Caroline Burnett 3 kills, 1 block, 1 dig
Helen Boyles 2 kills, 1 block
Ryley Gill 5 assists, 18 digs, 1 ace
Mary Kate DeVido 10 digs
Rachel Scott 5 digs
Loudoun County
Hailey Rubino 22 kills, 8 digs, 4 service points, 3 aces,
Hannah Aycock 13 kills, 1 solo block, 1 block assist, 3 digs
Sela Carrington 8 kills, 1 solo block, 3 block assists, 1 dig, 6 service points
Jensen Robberstad 4 kills, 2 solo blocks
Andersen Vaughan 3 kills, 1 solo block, 43 assists, 10 digs, 8 service points, 1 ace
Chandler Vaughan 2 kills, 3 assists
Rebecca Frey 2 assists, 12 digs, 11 service points
Josi Williams 1 assist, 8 digs, 8 service points, 1 ace
Rachael Cullen 1 assist, 7 digs, 6 service points