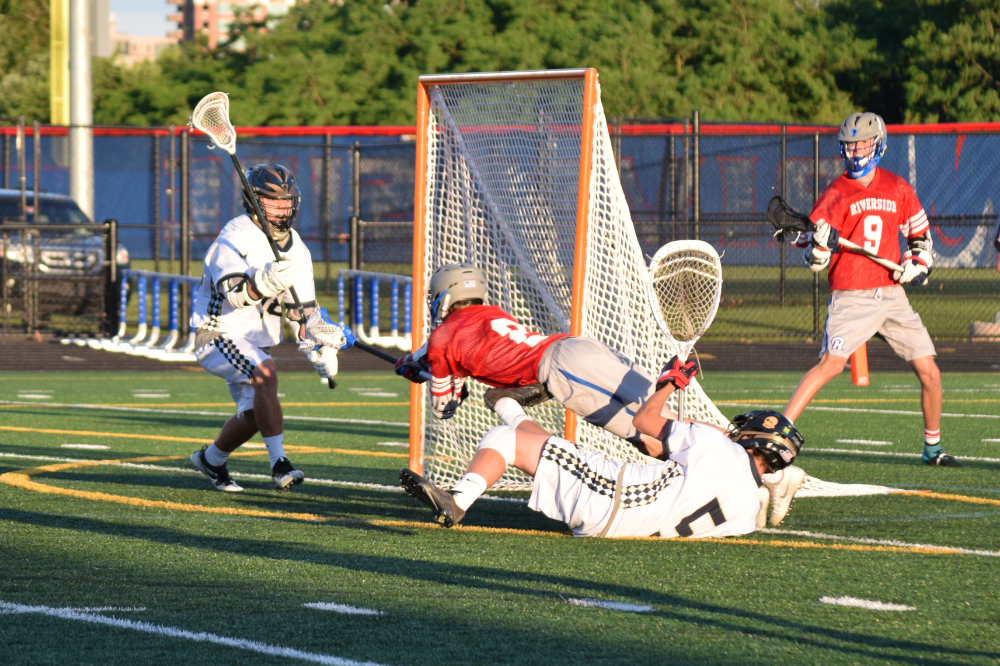 By Owen Gotimer
LoCoSports Editor-in-Chief
[twitter-follow screen_name='BigO_Gotimer']
Leesburg (June 7, 2017) – It took Riverside High School sophomore attack Taylor Musa less than 30 seconds to seal the Rams' fate in a VHSL 4A state semifinal overtime against Midlothian High School on June 6 in Leesburg.
Musa – who scored a game-high five goals – swept across the top left of the crease, found an opening and fired: Riverside 11, Midlothian 10.
"We really stuck in there when it got close. We're not really used to that," Musa said. "Coach wrote up a nice play, and we executed."
Oddly enough, a save by Midlothian junior goalie Casey Joyce gave Riverside some momentum, as the Rams took advantage of a rebound to score and take the lead early in the fourth quarter.
Twenty seconds after the go-ahead goal, Riverside sophomore attack Mitchell Pehlke extended the Rams' lead to two. Then two minutes later, sophomore attack Danny Maltz scored his second goal of the night, as Riverside led, 10-7.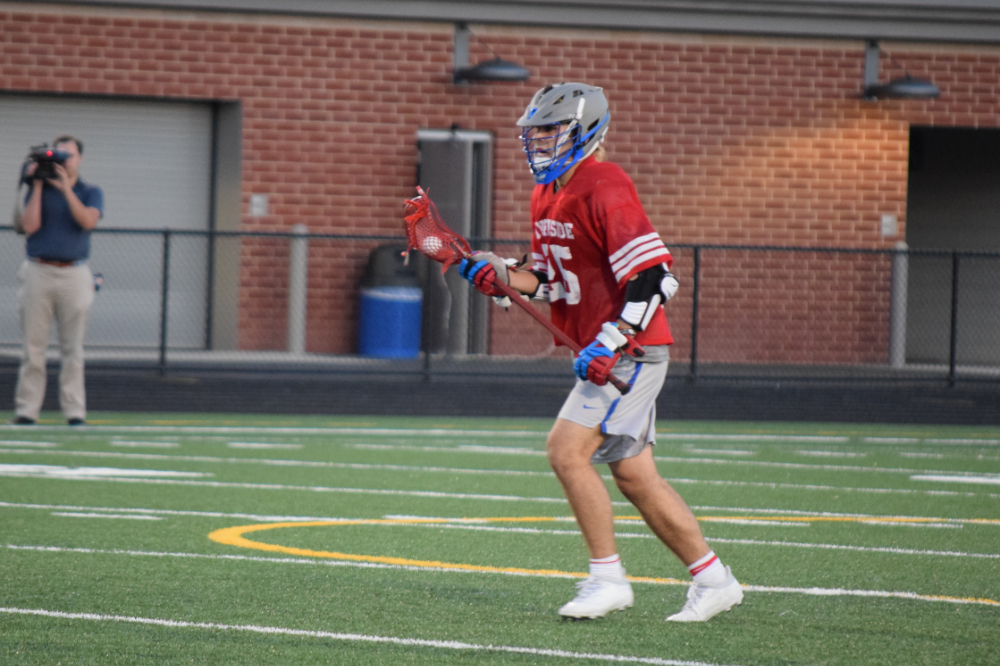 But Midlothian wouldn't go down without a fight as senior attack Jason Goodwin received a pass from sophomore midfielder William Pomeroy, connecting on a goal and cutting the Riverside advantage to just two goals. Three minutes later, Goodwin pulled the Trojans even closer. Then Pomeroy added his third goal of the night to bring Midlothian and Riverside to familiar territory: a tie game – the fifth tie game of the night.
"I have to give them a lot of credit; that is a fantastic team from Midlothian," Riverside head coach Nick Worek said. "They're athletic, they're extremely well coached, and those kids played really hard. We went on runs, and they bounced back extremely well."
After watching their girls team dominate their way to the state championship, Riverside took an early blow, when just 15 seconds into their VHSL 4A state semifinal, Midlothian junior defenseman David Foster scored, giving the Trojans an early 1-0 lead.
The edge was short-lived, however, as Musa rallied off three straight goals to give the Rams the advantage with five minutes left in the first quarter.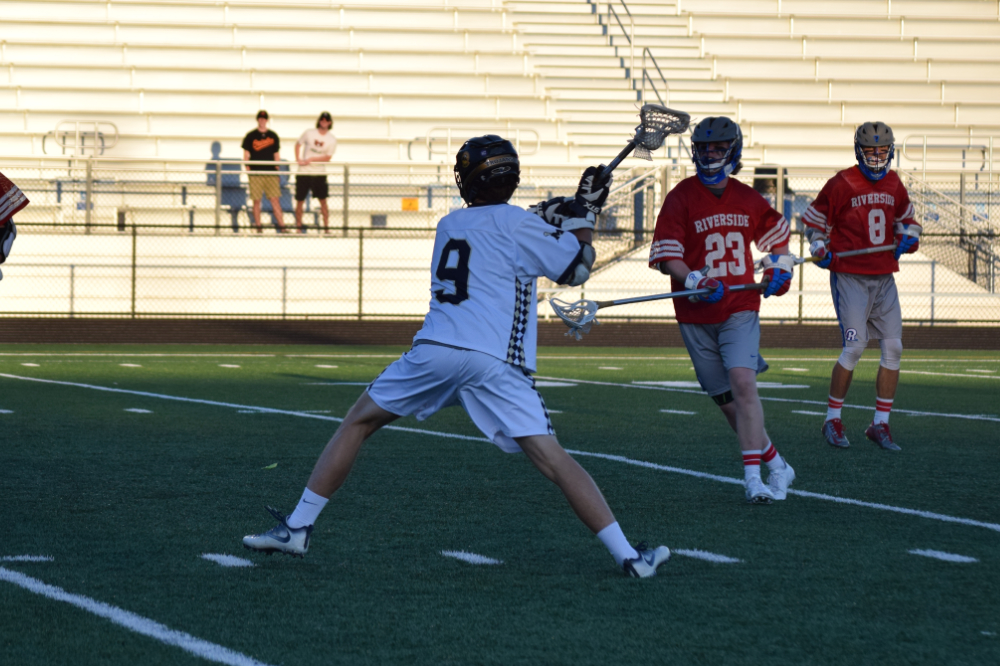 Midway through the third quarter – after Riverside had extended its lead to three – Midlothian took advantage of extended possessions, netting back-to-back-to-back goals to even the score at 6-6. With one minute left in the third quarter, the Trojans had a fast break opportunity but the Riverside defense rebounded quickly, to deflect the shot.
On the ensuing possession, Riverside senior midfielder Alex Callis blew past the Midlothian midfield, before finding Pehlke for the go-ahead goal.
As the third quarter clock neared its end, Pomeroy found an opening just outside the crease, bouncing one past the Rams junior goalie Michael Gonzalez, to once again even things out.
But in the end, it was the Rams – who never trailed after Musa's goal 35 seconds into the game – who won the most important faceoff and scored the most important goal of the game.
"There's a lot of comradery around school. Everyone wants to go to states together," Musa said. "We have five teams in the state semifinals or finals, so around school, there is just a great atmosphere."
Riverside will travel down to Salem High School to tango with VHSL 4A South champion E.C. Glass in the VHSL 4A state championship game on June 10.
"We're 19-0 right now. The kids have confidence in themselves, and confidence brings a lot to the table," Worek said. "We have some talented players here, so we're excited to have a chance to go down to Salem and represent Riverside and the community and play for a state title."
Scoring:
1Q 11:46 M David Foster
1Q 11:25 RS Taylor Musa
1Q 5:31 RS Taylor Musa
1Q 5:13 RS Taylor Musa
1Q 4:46 M Dillon Powell
1Q 1:09 M Trevor Christmas
2Q 10:31 RS Mason Coyle
2Q 6:09 RS Taylor Musa
3Q 8:50 RS Chad Musa
3Q 7:05 M Joseph Hester
3Q 3:39 M Coleman Rock
3Q 3:03 M William Pomeroy
3Q 0:39 RS Mitchell Pehlke
3Q 0:01 M William Pomeroy
4Q 11:02 RS Danny Maltz
4Q 10:46 RS Mitchell Pehlke
4Q 8:26 RS Danny Maltz
4Q 7:26 M Jason Goodwin
4Q 4:17 M Jason Goodwin
4Q 3:40 M William Pomeroy
OT 3:31 RS Taylor Musa