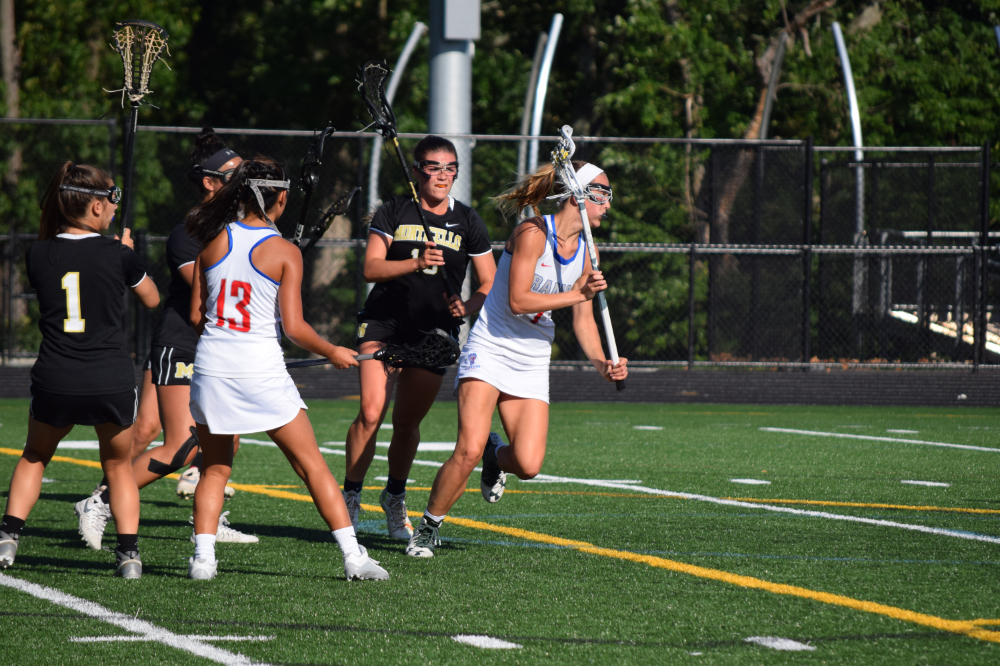 By Owen Gotimer
LoCoSports Editor-in-Chief
[twitter-follow screen_name='BigO_Gotimer']
Leesburg (June 7, 2017) – As if winning a group and zone title in the school's second year wasn't enough, the Riverside High School girls lacrosse team came out like they had something to prove when they hosted VHSL 4A South zone runner up Monticello in a VHSL 4A state semifinal on June 6 in Leesburg.
After winning the opening faceoff, Riverside sophomore Kendra Keyser made a quick outlet pass to sophomore midfielder Sydney Ash, who scored the first goal of the game just over 30 seconds in. And the Lady Rams' goals kept pouring in as Riverside opened the game on a 7-0 run before putting the Mustangs away, 18-6, to earn a berth to the VHSL 4A state championship.
"It was really exciting to get going that early," Ash said. "It's really our coaching staff and all our teammates doing our best at all times. Our seniors Rachel and Yasmine lead us and encourage us on and off of the field so much."
Before the five-minute mark had hit, Riverside had a four-goal lead and complete control of the game's pace. The fourth goal of that early scoring stretch was the first of the game for senior midfielder Rachel Giachinta and the 100th of her career.
"I'm not the type of person that knows my stats. I remember when Kendra scored her 100th goal, people asked me how many I had, and I had no clue," Giachinta said. "I play midfield so my goal is to keep the ball on attack, and if we lose it, to get it back. I didn't even know my 100th goal was happening, so that was really cool."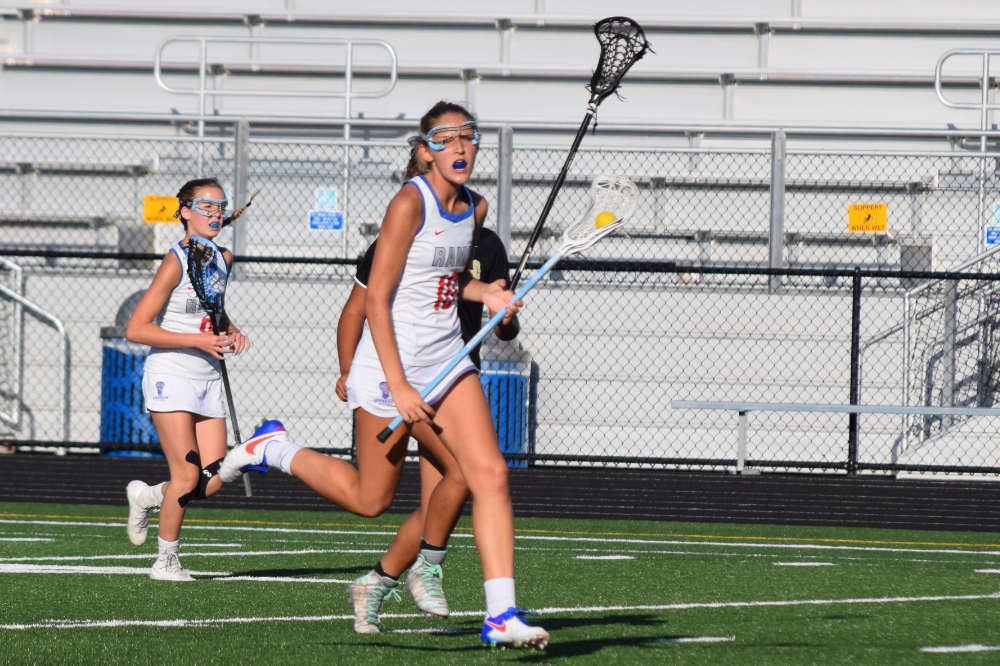 While Monticello rebounded momentarily midway through the first half – with goals by freshman midfielder Caleigh Smith and sophomore attack Josie Mallory – Riverside closed the half on a 6-0 run, including a pair of goals each for Keyser and freshman attack Bryn McCaughey.
"We are young, and we play best when we play relaxed," Riverside head coach Kristan Ash said. "We didn't let the excitement of scoring goals and being really efficient slow us down."
However, the Mustangs were not ready to give in, scoring the first two goals out of halftime, pausing the previously running clock.
"We were not sure what to expect; Monticello was an unknown for us," coach Ash said. "But we knew they were skilled. You don't get this far unless you're well coached and have great players."
With 16 minutes to play, Ash again found the back of the net, unfreezing the clock and giving her team a 14-4 lead. The Lady Rams and Mustangs traded the next two goals, before Riverside settled back in defensively, and thanks, in part, to a quick midfield, held Monticello to just one goal over the final eleven minutes of the game.
"Our speed is something we really push for," coach Ash said. "Our midfield is an engine and they drive us forward. We can get really productive on attack because the midfield gets it, and they fast break."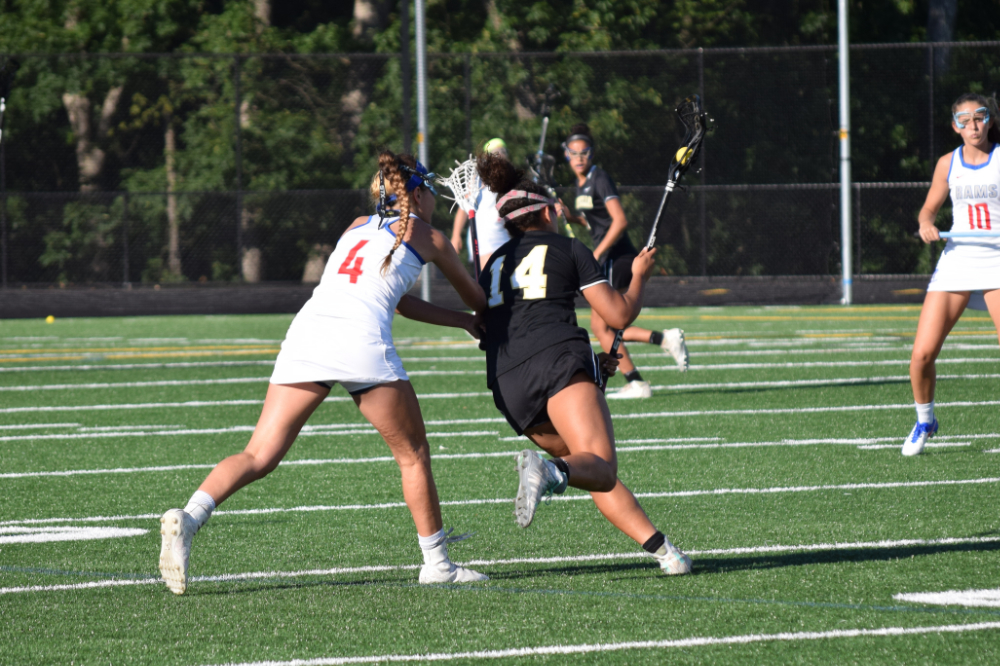 As the clock wound down, Giachinta and the undefeated Lady Rams proved to be too much for the Mustangs, earning a chance to play for the VHSL 4A state championship. On June 10, VHSL 4A North champion Riverside will travel to Salem to battle VHSL 4A North runner up George Mason – in a rematch of the VHSL 4A North zone championship – for the state title.
"No matter how great it gets, we remind ourselves, we're playing great teams," Giachinta said. "Every team in our region and the state is a huge competitor, so we want to get out there and take care of business in the first half."
Scoring:
1H 24:25 RS Sydney Ash
1H 22:29 RS Elise Kim
1H 21:25 RS Kendra Keyser
1H 20:51 RS Rachel Giachinta
1H 19:13 RS Lilly Boswell
1H 16:17 RS Rachel Giachinta
1H 15:56 RS Elise Kim
1H 10:15 M Caleigh Smith
1H 8:39 M Josie Mallory
1H 7:51 RS Kendra Keyser
1H 6:55 RS Kendra Keyser
1H 5:26 RS Elise Kim
1H 5:02 RS Bryn McCaughey
1H 3:26 RS Bryn McCaughey
1H 1:02 RS Rachel Giachinta
2H 22:44 M Ari Archer
2H 21:20 M Josie Mallory
2H 16:13 RS Sydney Ash
2H 15:08 RS Rachel Giachinta
2H 11:08 M Meghan Walin
2H 8:56 RS Rachel Giachinta
2H 6:55 RS Lilly Boswell
2H 1:35 RS Grace Gabaldon
2H 0:41 M Meghan Walin