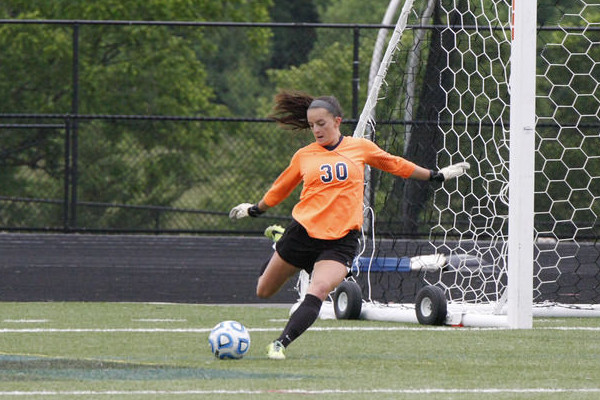 By Owen Gotimer
LoCoSports Editor-in-Chief
[twitter-follow screen_name='BigO_Gotimer']
Leesburg (April 8, 2016) — In the middle of on and off rain, the Tuscarora High School girls soccer team battled and eventually outlasted the elements and No. 1 ranked Potomac Falls High School in a Conference 14 match up in Leesburg on April 7.
A game headlined by two of the county's premier goalkeepers – Husky senior Courtenay Kaplan and Panther senior Olivia Camera – was decided when Tuscarora sophomore forward Dacheka Kolcum received a pass from freshman midfielder Katie Oliver before finding the back of the Potomac Falls' net in the 64th-minute to defeat the conference-leading Panthers, 1-0, and earn their first conference win of the season.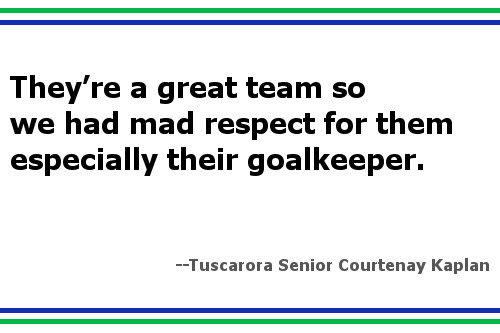 "They're a great team so we had mad respect for them especially their goalkeeper," Kaplan said. "We talked to some others so we knew what to look out for, but we have a lot of respect for their team."
The respect is necessary throughout Conference 14 as the Huskies (1-1-0, 4-2-0) win and Panthers (2-1-0, 6-2-0) loss made it so that all five teams – including 2015 VHSL 5A state champion Broad Run (1-1-0, 3-3-0), 2014 VHSL 5A state champion Briar Woods (1-1-0, 5-1-0) and 2014 and 2015 VHSL 5A state runner up Stone Bridge (1-2-0, 5-2-1) – all have at least one conference win and one conference loss on the young season, in what is certainly the deepest girls soccer conference in Loudoun County.
"The conference is so competitive so every single game matters for positioning going into the playoffs," Tuscarora head coach Nicole Brower said. "This was huge for us: a huge confidence builder."
After graduating eight starters in 2015, Brower and her Huskies need all of the confidence they can get. The young Tuscarora team has already been battle tested this season taking the Broad Run Spartans to overtime and defeating 2015 VHSL 4A state champion Loudoun County and runner up Heritage in weeks one and two.
"We might not have the experience of playing all four years together, so we have to stay working as a team," Kaplan said. "We have to stay in the game and not let things knock us down."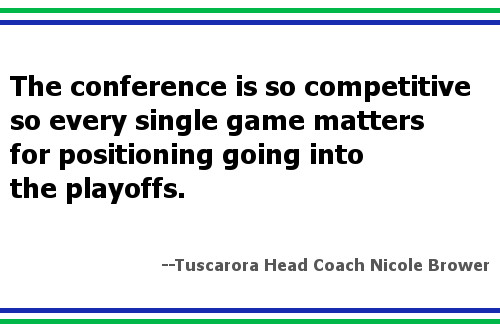 A scare in the 76th-minute got the Huskies down for a split second.
Potomac Falls senior forward Kristen Patrick struck a ball over Kaplan's head and seemingly into the back of the net, but after a short deliberation with his assistant referee, the referee waved off the goal and awarded a goal kick.
"My girls were heart broken when the ref decided to listen to the players, coaches and parents of the other team and not stick with the original call on the field of a goal," Potomac Falls head coach Greg Zawistowski said.
[youtube https://www.youtube.com/watch?v=PZmNHfqQXh8]
As the final seconds ticked off the clock, the Huskies recognized and briefly celebrated their win, but had to start mentally preparing for their road trip to Millbrook on April 8. The Panthers have the weekend off before hosting Herndon on April 11.
"We know that every single game matters coming into it. We're just trying to stay focused," Brower said. "It's not like in years past where maybe we were thinking about two weeks out; we have to think about the next one. We look at one game at a time and try to build confidence, so this win really helps."
Scoring:
64′ T Dacheka Kolcum