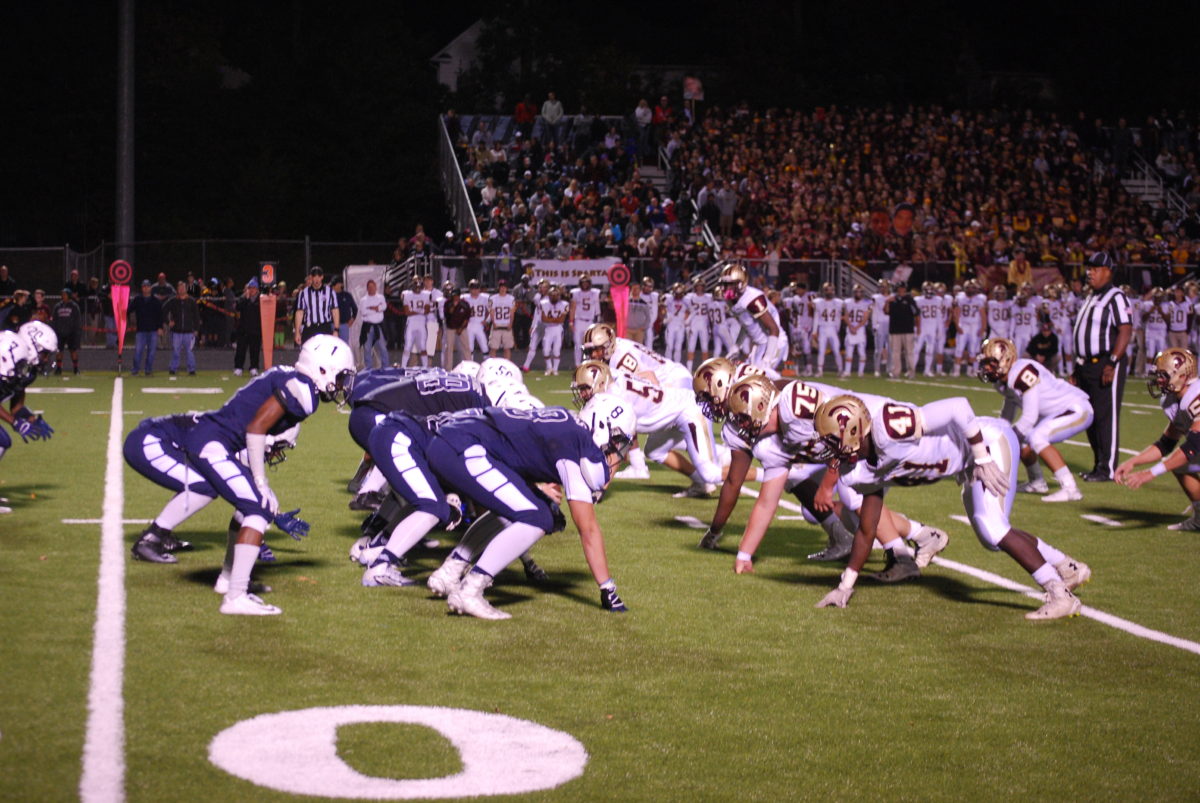 By Kyle Gotimer
LoCoSports Managing Editor
[twitter-follow screen_name='KyleGotimer42′]
Ashburn (November 22, 2015) — The Battle of the Burn.
The biggest game in Ashburn this year.
Stone Bridge versus Broad Run.
Like they did five weeks before, the No. 5 Stone Bridge Bulldogs pulled off an upset, crushing their crosstown rival No. 4 Broad Run Spartans, 35-10, in a VHSL 5A North region quarterfinal on November 20.
The Stone Bridge (8-4) offense came out of the locker room ready to go. On the second play from scrimmage, junior running back Joshua Breece found room and rushed for a 25-yard score to put the Bulldogs up by seven.
On the other side, Broad Run's (8-4) offense started off slow and was not able to recover. The Spartan offense  — led by junior running back Meech Hembry and quarterback Kyle Brickerd — was held to one field goal and one touchdown on the night.
"Meech is a great running back. He's going to make people miss and make big plays. But we didn't want anyone else to make big plays," Stone Bridge head coach Mickey Thompson said. "If he was going to make a big play fine, but we wanted to keep everything else in front of us."
Broad Run's only points in the first half came from a field goal by senior kicker Will Sherman.
"It seems like every game [our defense is] becoming more and more of a tight unit. That's getting everyone's confidence up. They're playing with confidence, and they're playing like a hell of a defense," Stone Bridge senior quarterback Joe Thompson said. "That helps our offense: giving us good field position. We're able to work together and roll."
Stone Bridge's running game didn't halt as they continued to force the ball into the red zone and put points on the board. At the beginning of the second quarter, senior running back Chase Ridley went for a rushing touchdown from the 3-yard line. Bulldog senior kicker Tyler Alcorn followed up with a field goal to give Stone Bridge a 16-3 lead headed into halftime.
"We thought we'd do a really good job against the run, but we were concerned about the pass because they've been throwing the ball a lot better," Mickey Thompson said. "We just didn't want any deep balls and big plays early. We felt like we could score enough points, it was just whether we were going to give up a lot of big plays."
In the second half, Stone Bridge cushioned their lead by forcing the ball into the red zone and converting with their strong run game.
"The big thing for us is, we felt like we could throw the football, but we didn't want to get in a run-and-shoot with them. We wanted to eat clock and run the football," Mickey Thompson said. "[Joe] gives us another option instead of Josh. I knew they were going to key on Josh because he got all the carries last time."
After an interception by Stone Bridge senior linebacker Nick McIntyre to start the second half, Thompson went for 4-yard rushing touchdown to add another six points to the Bulldog lead.
"It felt good to run the ball again," Joe Thompson said. "I think just having that threat to pass helped us run all over them again."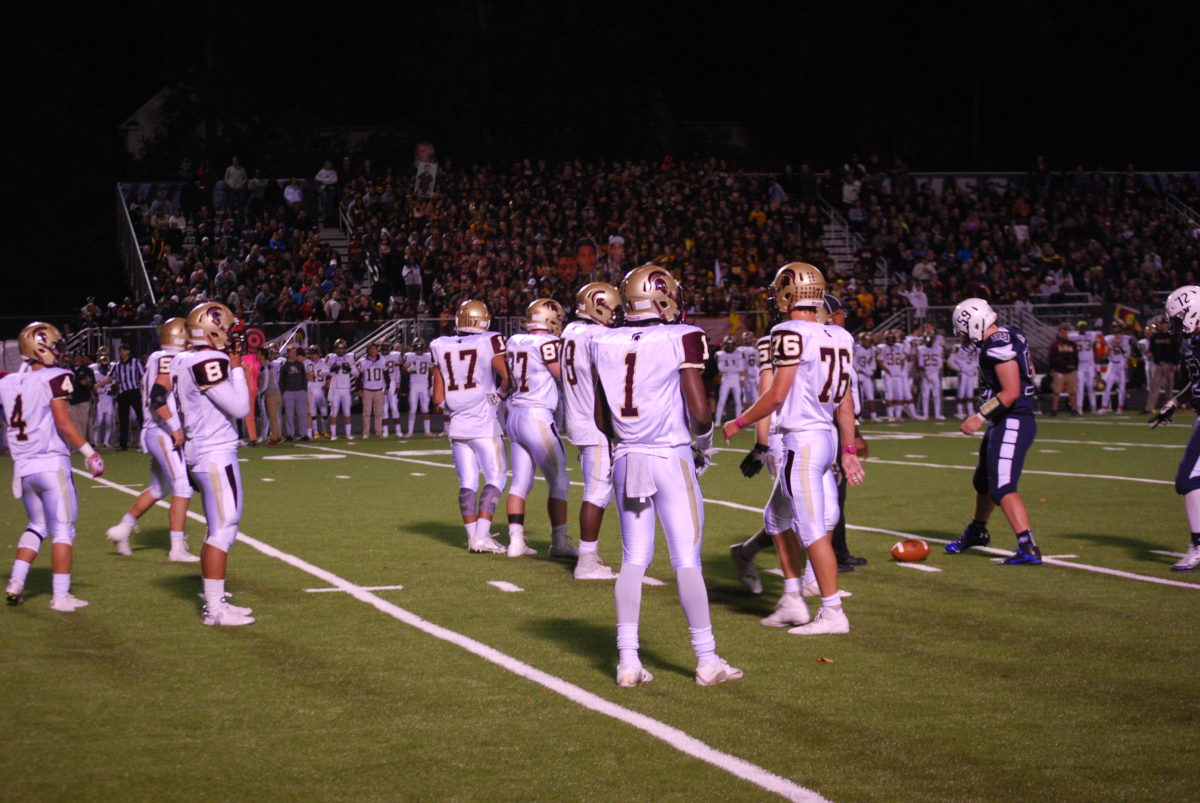 Before the end of the third quarter, Breece went for another rushing touchdown  — this time from the 1-yard line — stretching the lead to 26.
Midway through the fourth quarter, Mickey Thompson unleashed another running threat — senior running back Dewayne Winston – who rushed for the final Stone Bridge touchdown of the night from the 1-yard line to give the Bulldogs a 35-3 lead.
But Broad Run didn't give up – Brickerd connected with senior receiver Jaleel Robinson for 20-yard touchdown pass for the final score of the game. Stone Bridge over Broad Run, 35-10.
"You got to remember we haven't been healthy all year. We're just starting to get healthy and the guys are starting to play together a little bit better. The guys are starting to believe and things are starting to roll," Mickey Thompson said. "I don't know what it's going to lead to, but we are playing better than we've played."
Stone Bridge High School will travel to play Massaponax High School for a VHSL 5A North region semifinal on Friday, November 27.
"It was nice standing on the sidelines knowing you were going to win a football game," Mickey Thompson said. "The big thing for us was returning to the state playoffs. That was our motto: 'return, return, return.' As we get back to full strength, we'll take a shot at it."
Scoring Plays:
1Q 11:23 SB Joshua Breece 25-yard TD run (Alcorn PAT)
1Q 6:35 BR Will Sherman 32-yard FG
2Q 11:54 SB Chase Ridley 3-yard TD run (PAT failed)
2Q 9:10 SB Tyler Alcorn 35-yard FG
3Q 7:20 SB Joe Thompson 4-yard TD run (2pt failed)
3Q 2:10 SB Joshua Breece 1-yard TD run (Alcorn PAT)
4Q 8:19 SB Dewayne Winston 1-yard TD run (PAT failed)
4Q 5:49 BR Kyle Brickerd to Jaleel Robinson 20-yard TD pass (Sherman PAT)