Ashburn, Va. — When a district rival holds you scoreless through three quarters, a lot of teams would crumble. When facing a two-score deficit with just ten minutes to play, a lot of teams would crumble.
But when Broad Run High School faced those circumstances against Potomac District rival Tuscarora High School on September 1 in Ashburn, the Spartans didn't crumble.
[adrotate banner="19″]
"Our kids just don't quit. They have grit, and they're resilient," Broad Run head coach Matt Griffis said. "At no point in the game did anyone point fingers or seem frustrated. It was refreshing."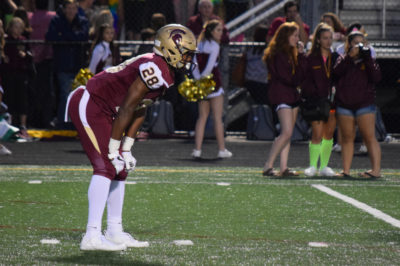 With the Huskies leading 12-0 at the 9-minute mark in the fourth quarter, the Spartans found their first score of the game when sophomore quarterback Mitch Griffis connected with junior receiver Luke Lindenfeldar for a 34-yard touchdown pass to the back of the endzone.
The tides turned when on the ensuing kickoff, the Tuscarora returner failed to control the football, allowing the Spartans to recover on the Huskies' 11-yard line.
"That changed the game. It shifted our whole confidence," Broad Run sophomore running back Tim Baldwin said. "After that, we knew we were going to get it done."
On the very next play, Baldwin carried the ball eleven yards for the touchdown. In the matter of 13 seconds, the Spartans went from trailing 12-0 to leading the Huskies 14-12.
"We got the ball back with ten minutes left and made some great plays and scored. Then we kicked off and our guys made a play, got the ball, and we scored again," Coach Griffis said. "Now we're up 14-12 and have momentum, and that's the hardest thing to stop in sports."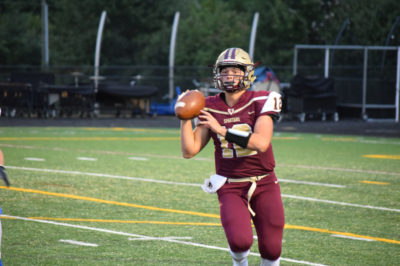 Baldwin – who turned the ball over twice in the first half – put the game on ice when he added a 12-yard touchdown run and a 6-yard touchdown run in the game's final three minutes as Broad Run pulled away late to defeat Tuscarora, 28-12.
"Tim's done a phenomenal job. He had two turnovers in the first half, and a lot of kids would get down on themselves, and he didn't," Coach Griffis said. "I was proud of his confidence in himself and his confidence in his teammates. He's a hard-nosed running kid. He makes good cuts, finds holes and gets you tough yardage."
While Baldwin – who scored four touchdowns in the Spartans' win over Potomac Falls on August 25 – put points on the board late, it was the Broad Run defense that turned in successful series after successful series.
"We just didn't give up," Broad Run senior linebacker Michael Arrington said. "We kept fighting and giving our offense a chance to put some points on the board."
After scoring 35 points in week one, the Huskies – led by junior quarterback Justin Allen – were unable to find any offensive rhythm in the final ten minutes of action.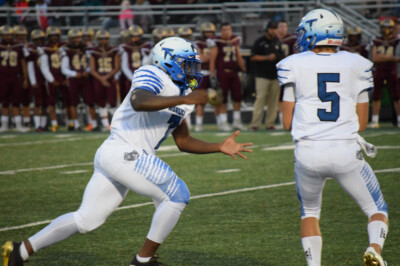 "We had a lot of focus on Justin, because we knew he was a very good quarterback," Arrington said. "We were spying him so he couldn't run free. That paid off."
For Tuscarora, the fourth quarter, two-score lead wasn't enough. However, the Huskies looked to be in midseason form for three-plus quarters.
"It's clear that we're a really good football team. I feel like we outplayed them for more than three quarters on both sides of the ball," Tuscarora head coach Michael Burnett said. "We didn't finish drives that we should have, and we probably should have had a bigger lead. Then when the ball bounced against us, we didn't respond very well."
The Huskies (1-1) will have an opportunity to respond to the loss on September 8 when they host T.C. Williams High School in Leesburg. The Spartans (2-0) look to stay hot when they travel to Purcellville on September 8 to play Woodgrove High School – the highest scoring team in Loudoun so far this fall.
"Hopefully, we can win the conference, the region and the state," Baldwin said. "But we just have to stay humble."
Scoring:
2Q 7:59 T Justin Allen to Taye Davis for 15-yard TD pass (PAT failed)
4Q 9:54 T Justin Allen for 1-yard TD run (2pt failed)
4Q 8:45 BR Mitch Griffis to Luke Lindenfeldar for 34-yard TD pass (Buri PAT)
4Q 8:32 BR Tim Baldwin for 11-yard TD run (Buri PAT)
4Q 2:30 BR Tim Baldwin for 12-yard TD run (Buri PAT)
4Q 1:08 BR Tim Baldwin for 6-yard TD run (Buri PAT)