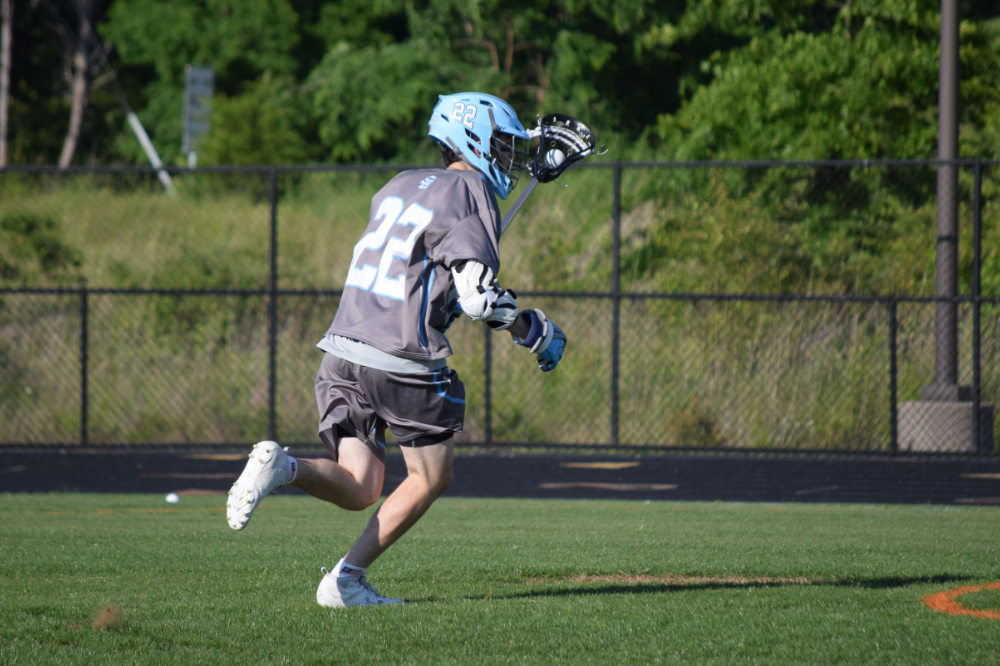 By Owen Gotimer
LoCoSports Editor-in-Chief
[twitter-follow screen_name='BigO_Gotimer']
Ashburn (June 3, 2017) – Beating a team three times in the same season is a tall task, especially when that team is your crosstown rival. Yet, the Briar Woods High School boys lacrosse team seemed up for the challenge against rival Stone Bridge High School on June 2 in Ashburn.
In front of their home crowd, the Falcons used an aggressive faceoff game to battle back from a four-goal, fourth quarter deficit to even the game at 8-8 with three minutes to play.
However, the Bulldogs' offense was too tactful in their pursuit as junior midfielder Luke Capace found the back of the net with less than two minutes to play, to hold off the rallying Falcons, 9-8, claiming the VHSL 5A North zone title.
"I was thinking don't drop it, because that pass from Dom was perfect," Capace said. "We have been practicing that all season, so I knew to shoot low, and luckily, it went in."
Off the game's opening faceoff, Stone Bridge junior Christian Park won control before heading straight for the net, scoring the Bulldog's first goal just six seconds into the game.
However, Briar Woods had a quick answer to even the game out at 1-1 just 19 seconds later. Falcon sophomore faceoff man Aaron Casteel corralled a groundball, before running the length of the field, finding the back of the net before the game's 30-second mark had hit.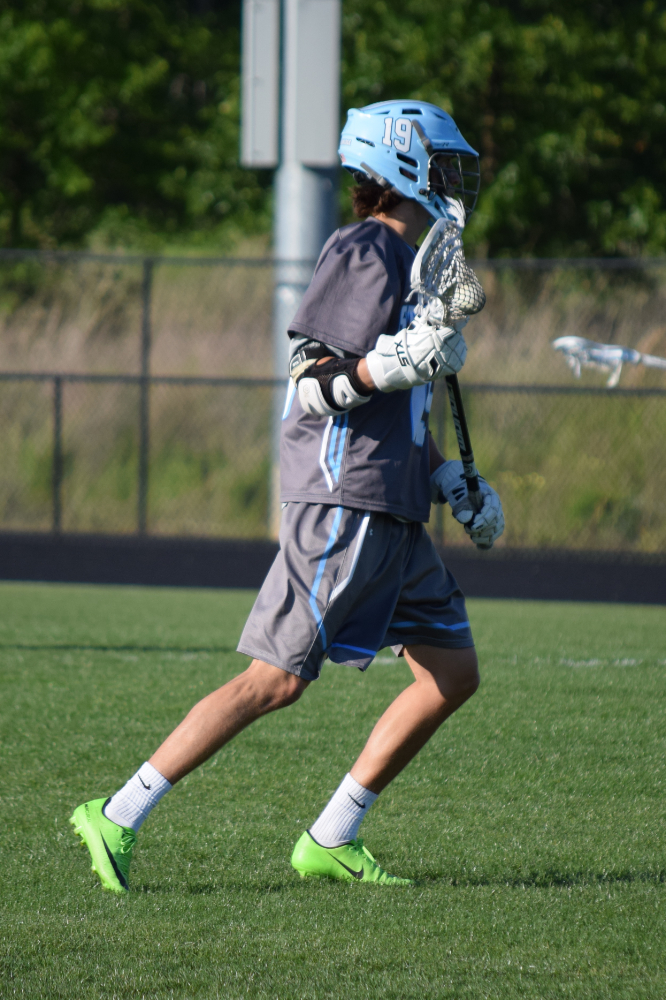 The defense – specifically, the goalie play – on both sides controlled most of the first quarter.
The second quarter was all Bulldogs as sophomore attack Dominic Cole took control, rallying off three straight goals over a five minute period midway through the quarter.
"Our defense was playing really solid tonight, and our offense was just clicking," Cole said. "Nick and Luke were getting me open, and I just got lucky on my shots. We were all just feeling it."
The Falcons subdued the Stone Bridge momentum before heading into halftime as senior attack Cole Pearsall scored with 30 seconds to go.
The late Briar Woods' momentum didn't last as Stone Bridge dominated possession for most of the third quarter, and then with four minutes left in the frame, Cole once again connected, giving Stone Bridge a 6-3 lead.
Content to maintain possession, Stone Bridge remained patient, going man-up with just over ten minutes left in the game. Less than ten seconds into the penalty, Cole found an opening at the point and fired, scoring the final of his game-leading five goals, and the second assisted by his older brother Nick.
"It's really cool playing with my older brother," Cole said. "We're just a year apart, so I'm really going to miss him when he's gone."
With nine minutes to go, Stone Bridge senior attack Jordan Lee gave the Bulldogs a four-goal and seemingly put the game on ice.
"In terms of playoff experience, we've been a really young team," Stone Bridge head coach Scott Mitchell said. "We lost a lot of guys last year, so these guys are just now starting to hit their stride getting their feet wet with playoff experience. It's starting to really come together."
Pearsall and the Falcons weren't ready to give in as he sprinted towards the goal and flung a shot behind his own head to bring Briar Woods back within three. Then two minutes later, Pearsall made a cut just over top of the crease, received a pass and scored his third goal of the night.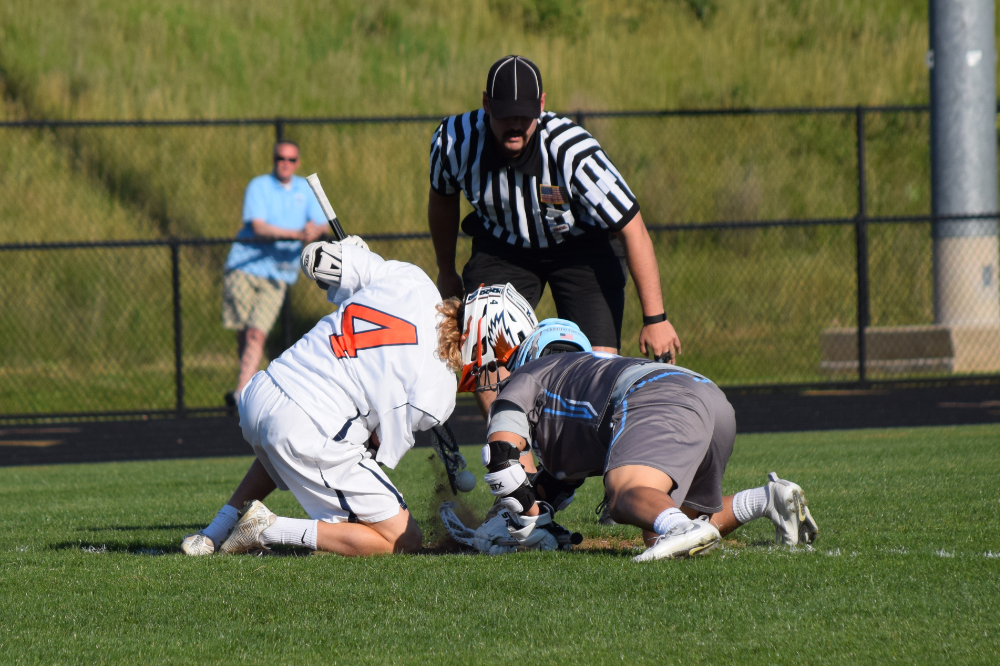 Briar Woods sophomore attack Nick Romano kept the Falcons' rally going as he pulled Briar Woods within one goal with just over five minutes to play. Briar Woods sophomore midfielder Will Pompilio completed the comeback when he tied the game up at 8-8 with three minutes to play.
"They just pushed it," Capace said. "We were settling back content with the score, and they were moving it and getting the outside shot. Once they started to push it, we knew to step on the pedal to end it."
The Capace goal and two late saves by Stone Bridge freshman goalie Tyler Judson ended the Briar Woods' threat, as the Bulldogs' outlasted the Falcons, avenging both their regular season and group tournament losses.
"Briar Woods is obviously a great team," Mitchell said. "I think one missed pass could've gone the other way, but we got the lucky bounce tonight. The real difference tonight was just that we came out on the winning side."
Stone Bridge will host VHSL 5A South runner up Atlee on June 6 in Ashburn, while Briar Woods travels to Roanoke to battle VHSL 5A North champion Patrick Henry in VHSL 5A state semifinals.
"We lost to Atlee last year, so we want to play like we did tonight," Capace said. "We need to stay on the pedal. We know we can beat them. We just need to move the ball, play fast and play physical."
Scoring:
1Q 11:54 SB Christian Park
1Q 11:35 BW Aaron Casteel
1Q 9:01 BW Danny McMinn
1Q 1:05 SB Matt Greason
2Q 9:16 SB Dominic Cole
2Q 5:50 SB Dominic Cole
2Q 3:55 SB Dominic Cole
2Q 0:29 BW Cole Pearsall
3Q 4:00 SB Dominic Cole
3Q 1:00 BW Ethan Ro
4Q 9:54 SB Dominic Cole
4Q 8:43 SB Jordan Lee
4Q 7:48 BW Cole Pearsall
4Q 5:51 BW Cole Pearsall
4Q 5:03 BW Nick Romano
4Q 3:05 BW Will Pompilio
4Q 1:34 SB Luke Capace