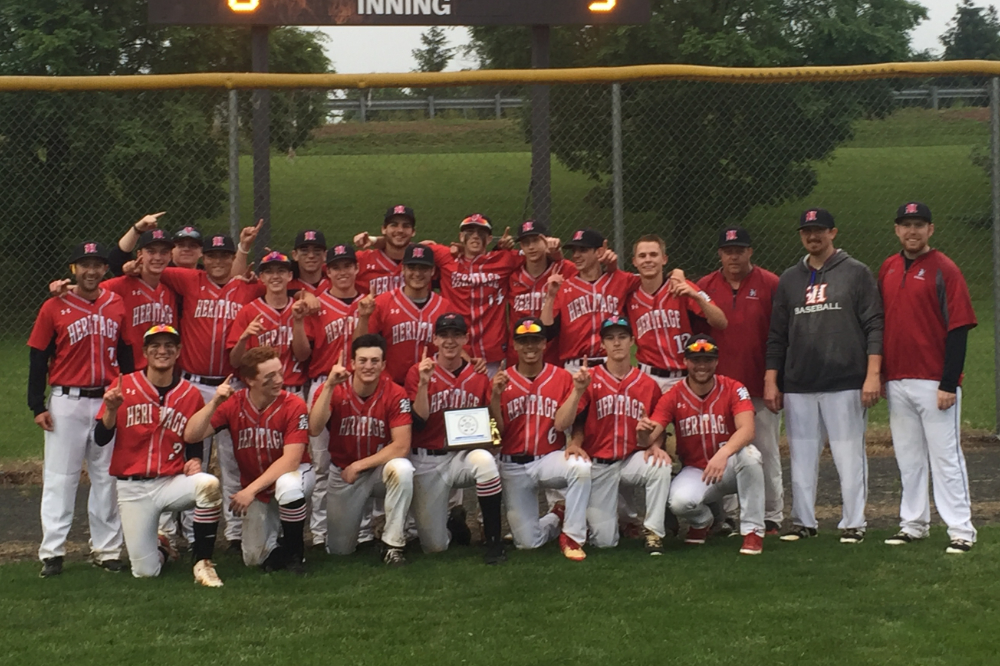 By Owen Gotimer
LoCoSports Editor-in-Chief
[twitter-follow screen_name='BigO_Gotimer']
Leesburg (May 23, 2017) — Two things stood in the Heritage High School baseball team's way of a Conference 21B championship crown on May 23: the weather and Rock Ridge High School senior ace Nick Stewart. As the rain continued to pour down, the Pride scratched across an early run and got a three-hit shutout performance from senior starter Nate Craner, to earn Heritage baseball's first ever conference title, 3-0, in front of a home crowd in Leesburg.
"Playing with a lead has helped us out every time we've had one this year," Heritage head coach Ryan Price said. "With a shutdown arm like Stewart on the mound, we knew getting ahead was going to be key offensively, and our kids were ready for that challenge."
After retiring the Phoenix in order in the first, Heritage junior centerfielder Colin Shea, once again led off the game for the Pride with a base hit. Then Craner executed a sacrifice bunt, reaching safely on an error by Rock Ridge. Heritage senior Kyle Gotimer moved both runners over with a hard ground ball to the right side, before freshman Dylan Saale drove in Shea with a ground out to the shortstop: Heritage 1, Rock Ridge 0.
"That run was huge. It shifted momentum towards us the whole game," Craner said. "We stayed on top and finished it off strong with some extra run support in the bottom of the sixth. I knew my team was behind me, so I just went out there and pitched. I wanted to do it for them and all of the Heritage baseball players over the years."
The one run would be all Craner needed, as the senior righty lived up to expectation, pitching yet another gem, allowing just five runners to reach safely over his seven innings of work.
"He lives down in the zone, and he threw a lot of low strikes. When he missed, he missed down," Price said. "He made good pitches, and I don't think they could've done anything with them even if they got a barrel on them. He kept his pitch count low and was able to keep guys off balance with his breaking stuff. He's got enough zip and movement on his fastball to get guys out."
While Craner controlled the Phoenix bats and while Heritage got to Stewart early, the play of the game came in the top of the fifth inning. With runners on first and second and two outs, Rock Ridge sophomore leadoff man Josh Harbinson hit a line drive to the left side. Heritage senior shortstop Patrick Tyree had a bead on it, making a diving catch to retire Harbinson and end the Phoenix's scoring threat.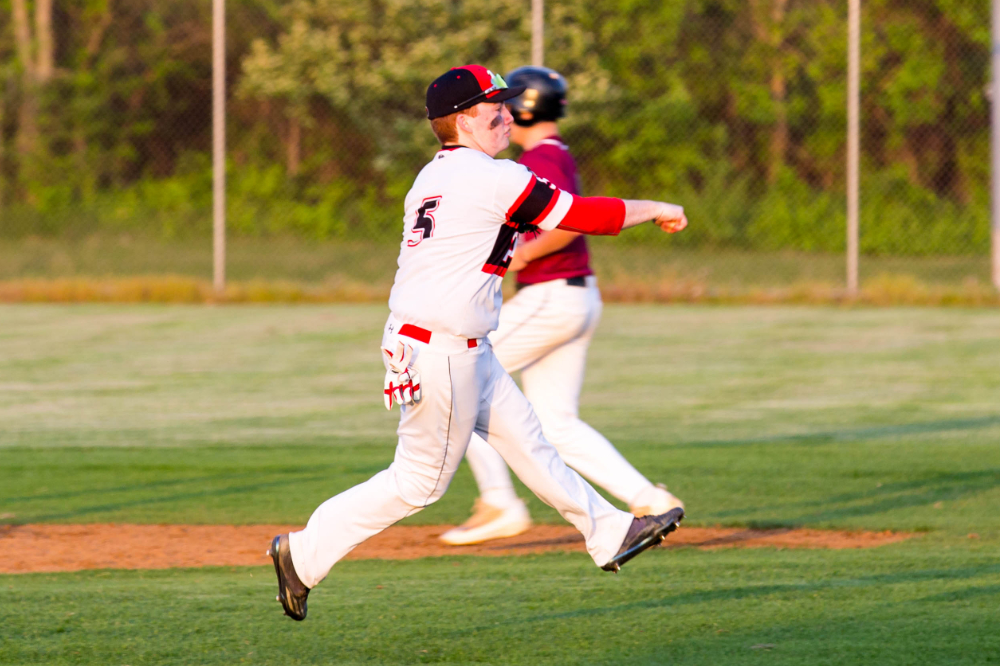 "That was a huge play; they tie the game up there if we don't secure that one," Price said. "Patrick's been a really strong defensive player for four years, and that's was he was on the varsity team as a freshman. He turned into an all-around player this year and was able to bat over .300, helping us both offensively and defensively."
Winning a conference championship is big for any team, but this win is extra special for Price. After leading the Pride baseball program for twelve years, Price will be resigning his position at the season's end to move to Chicago with his wife.
In presumably his last home game in a Heritage uniform, Price and team earned what he's been working for for twelve years: a conference championship.
"I'm holding it together. It's been a long road," Price said. "The kids played great tonight. We knew it was going to be tough to score runs, but we scratched one across early and held onto it."
Price and the Pride aren't done yet. The win gives Heritage a berth and bye in the VHSL 4A West region playoffs. The Pride will take the Conference 21B No. 1 seed into battle on May 29. Opponent, game time and location to be determined.
"It's unbelievable. It doesn't even feel real right now. I can't explain it," Craner said. "Especially for us eleven seniors, it's our last couple weeks here. We're just going to keep going as hard as we can and keep fighting, because we know when it's over, it's over."