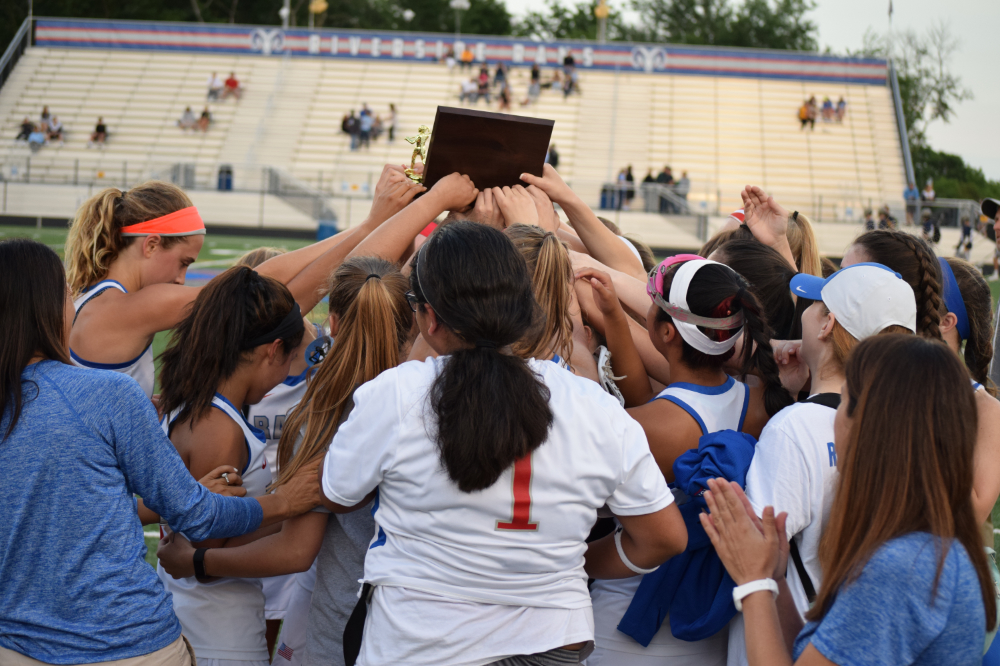 By Owen Gotimer
LoCoSports Editor-in-Chief
[twitter-follow screen_name='BigO_Gotimer']
Leesburg (May 22, 2017) — Most second year programs are content winning a few games. Some excited to go .500. But the girls lacrosse team at Riverside High School is different.
In the program's first season in 2016, the Lady Rams won more than a few games, finished four games above .500, and even hosted a group playoff game. Their young team was primed and ready to make a statement in 2017.
On May 22, Riverside – who finished the regular season undefeated – got the moment they had worked so hard for when they hosted Woodgrove High School in the Dulles West group championship game in Leesburg.
As the sun peaked through the clouds for the first time all day, the Lady Rams finished how most expected, battling through the back-to-back-to-back reigning VHSL state champion Lady Wolverines, 14-8, claiming the Dulles West championship.
"This was so important to our team. We couldn't have done it without each other. Everybody has a huge impact on what we do here," Riverside sophomore Kendra Keyser said. "It's just motivation for future teams, that we were able to do this as a second-year school."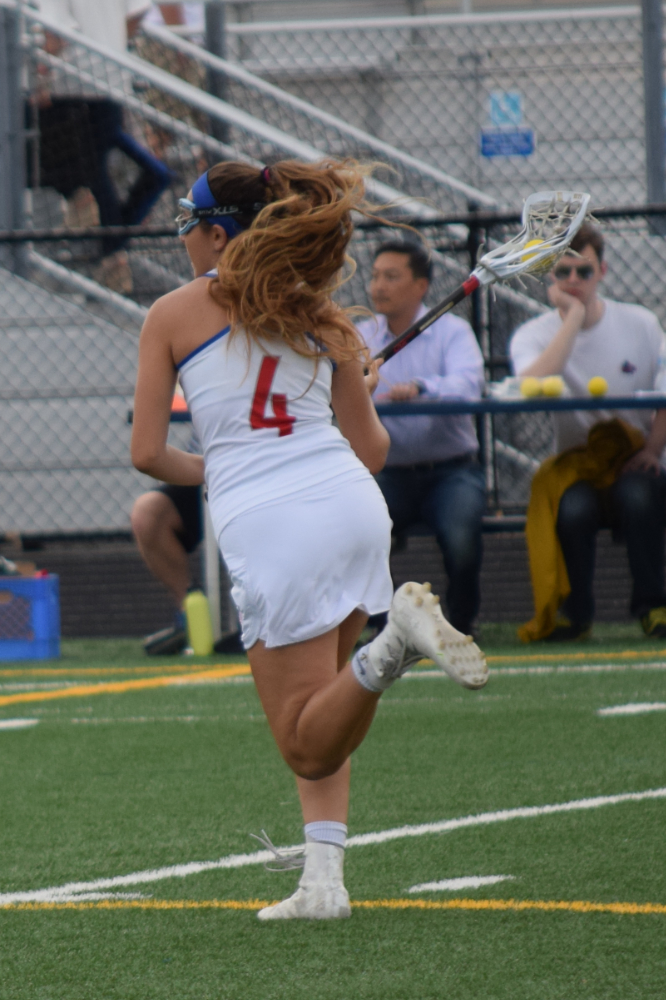 After taking a 5-1 lead midway through the first half, Riverside was tested by the Woodgrove offense, which rallied off three straight goals to cut the deficit to 1 with a minute left in the half.
However, Keyser had an answer for the Lady Rams, heading downfield for a rally-ending goal with 45 seconds left in the frame: her 100th career goal.
"We learned that we needed to connect passes rather than taking it ourselves," Keyser said. "Last year, we really forced it a lot. We just worked really well together this year and had good chemistry."
That late, first-half goal swung the momentum back towards Riverside, who came out of halftime fired up.
Less than two minutes into the second half, Riverside sophomore Lilly Boswell scored to extend the Lady Rams lead to 3. Then just 11 seconds later, Keyser added to her game-high five goals, as Riverside started to assert its dominance. A two-goal lead turned to three, which turned to four then five.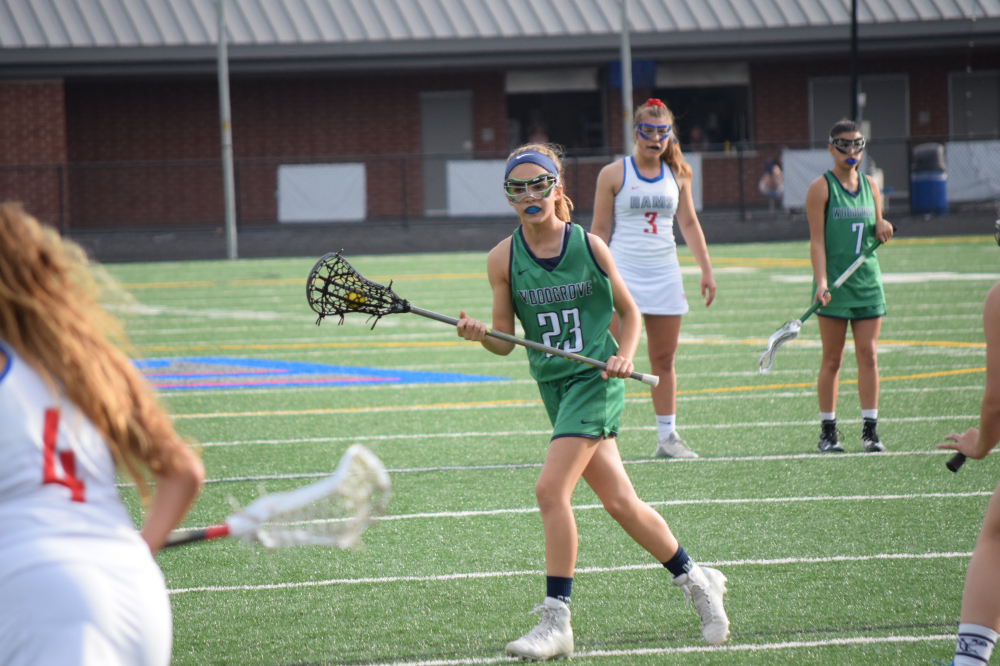 "Once the engine starts firing with this team, we are efficient," Riverside head coach Kristan Ash said. "We share the ball so well with each other. When I look through our roster, I see a diverse group who can find the back of the net."
But the Lady Wolverines' determination would not subdue.
Woodgrove juniors Camryn Norwood and Lindsey Haun scored back-to-back goals with 18 minutes to play, to bring the Lady Wolverines, once again, within three goals.
"Woodgrove is a great team. They were in it to win it. We knew they were going to give us a game," Ash said. "Catie Cavallaro is a beast. She's dangerous anywhere on the field at any time. The Earnshaws are dangerous. Camryn Norwood had a great game on the draw. They just had some excellent, excellent play."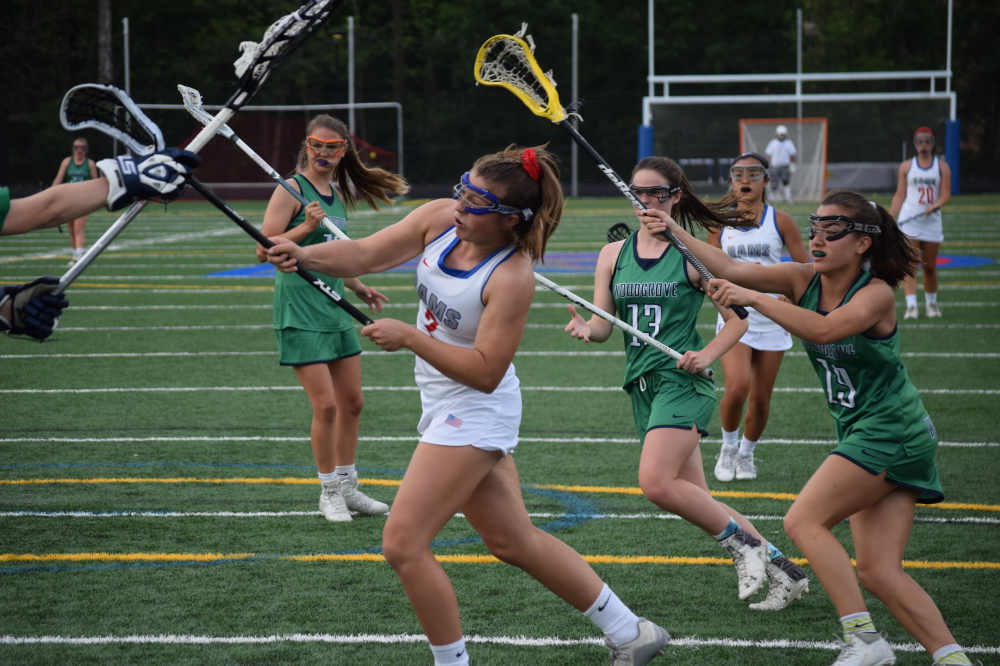 However excellent the play, the Woodgrove rally was short-lived as Riverside – who played a man down the entire second half – turned on the defense, holding the Lady Wolverines to just two goals over the game's final 16 minutes.
"Our defense comes together so well," Keyser said. "We know exactly where everyone is going to be. We know where to get, where we need to be, and how to get there. Our defense is always ready and always on top of it."
The win earns Riverside the Dulles West No. 1 seed heading into the VHSL 4A North zone playoffs. Woodgrove gets the Dulles West No. 2 and will open up zone play on May 25.
"I told the girls before the game 'The guy who never gives up is hard to beat,'" Ash said. "I didn't realize how true those words would be, having to play an entire half man down. It became that very thing. We just could not give up. We had to be so tight defensively. It's a challenge, and we were just really fired up for it."
Scoring:
1H 21:08 RS Rachel Giachinta
1H 20:09 WG Lily Cooke
1H 19:08 RS Lilly Boswell
1H 18:50 RS Kendra Keyser
1H 13:10 RS Lilly Boswell
1H 8:29 RS Kendra Keyser
1H 6:59 WG Ellie Earnshaw
1H 3:17 WG Payton Saville
1H 1:18 WG Ellie Earnshaw
1H 0:44 RS Kendra Keyser
2H 23:01 RS Lilly Boswell
2H 22:50 RS Kendra Keyser
2H 19:37 RS Mia Paschuck
2H 18:42 WG Camryn Norwood
2H 16:36 WG Lindsey Haun
2H 15:17 RS Elise Kim
2H 14:05 RS Kendra Keyser
2H 11:32 RS Jenna Greason
2H 9:42 RS Mia Paschuck
2H 7:44 WG Payton Saville
2H 2:29 WG Catie Cavallaro
2H 1:20 RS Elise Kim