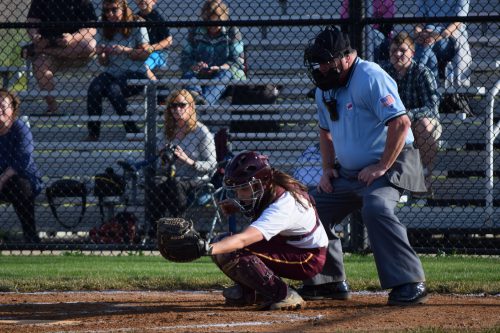 By Chloe Adam
LoCoSports Staff Writer
[twitter-follow screen_name='ChloeMAdam31′]
Ashburn (March 7, 2017) – Broad Run High School senior Grace Mattimore has made a commitment to continue her softball career at the United States Military Academy starting in the 2018-2019 school year.
"I chose West Point because it's one of the best schools in the country, and I'm excited about the education I am going to get there," the 5-foot-7 Mattimore said. "My father is a Navy Captain, and I decided that I want to make a difference, to make a contribution to my country, and be part of something bigger than myself."
In 2016, eighth-year Army head coach Michelle Dipolo led the Division I Black Knights to a 39-20 record, the winningest season in program history.
"I had the pleasure of spending time with the girls and coaches, and they are pretty intense but also a lot of fun," Mattimore said. "I'm hoping to add my own intensity and love of the game to the team."
Mattimore currently uses her intensity to lead Broad Run from both the offensive and defensive sides of the plate. In just three seasons as the Broad Run catcher, Mattimore has more than 100 career hits and picked up first team all-Conference 14, all-VHSL 5A North region, all-VHSL 5A state and all-LoCo honors in 2016.
In 2016, Mattimore – and head coach Ed Steele – helped the Lady Spartans to a 22-2 finish including an 8-0 finish in Conference 14.
"I have really enjoyed playing for coach Steele and with these girls," Mattimore said. "We had one of the most difficult situations to face when we lost Madison [Small], but with the support of the community, school and our families, we were able to bond and go on. I'm extremely grateful for the friendships I've made with my teammates, and I know that when we move on to the next chapter of our lives we'll still be a family."
The catcher has been playing softball for almost as long as she can remember, and her family is who got her to where she is today. Her dad taught her to throw at age two, and by age five, her mom was showing her how to hit a softball in the backyard.
"The opportunity to play the game I love and have my family in the stands is what keeps me motivated," Mattimore said. "I love the team aspect, each girl contributing their special talent to form a successful team."
The 2017 spring season will be bittersweet for Mattimore, who says she loves looking out onto the Broad Run field and thinking about all the endless possibilities.
"It's been a really long journey where I have challenged myself every step of the way," Mattimore said. "And now, I just can't wait to play at the next level!"