By Curtis Atkinson
LoCoSports Contributor
[twitter-follow screen_name='CurtisAtkinson']
Purcellville (February 25, 2017) — "I'm not missing the next one," junior forward Jordan Miller said as he joined the Loudoun Valley Viking huddle during a timeout with 3.4 seconds left in the VHSL 4A West region championship game on February 24 in Purcellville.
Miller had just hit the first of two free throws to tie the region championship at 63 all. John Handley High School head coach Jason Toton had called the time out to try to ice the star junior on the backend of two free throws.
Miller was in a similar position last year in a VHSL 4A state quarterfinal game against Monacan when he stepped to the line with the Vikings down one. Tired legs left that free throw a little short. But new years bring new opportunities.
"I was excited, I love getting to take the last shot," Miller said. "I knew people might think it was a lot of pressure but I was just thinking about sealing this game, and that's what I did."
Miller didn't touch the rim with either free throw, as both splashed clean through the net for his 18th and 19th points on the night, and gave the Vikings a 64-63 lead.
The Judges inbounded the ball and found a decent look from behind the arc, but only drew iron. The Vikings clenched the VHSL 4A West region championship and the top seed moving forward in the VHSL 4A state tournament, with the 64-63 win.
Loudoun Valley head coach Chad Dawson knew what that moment meant to his star forward.
"For him to step up there, that was special," Dawson said.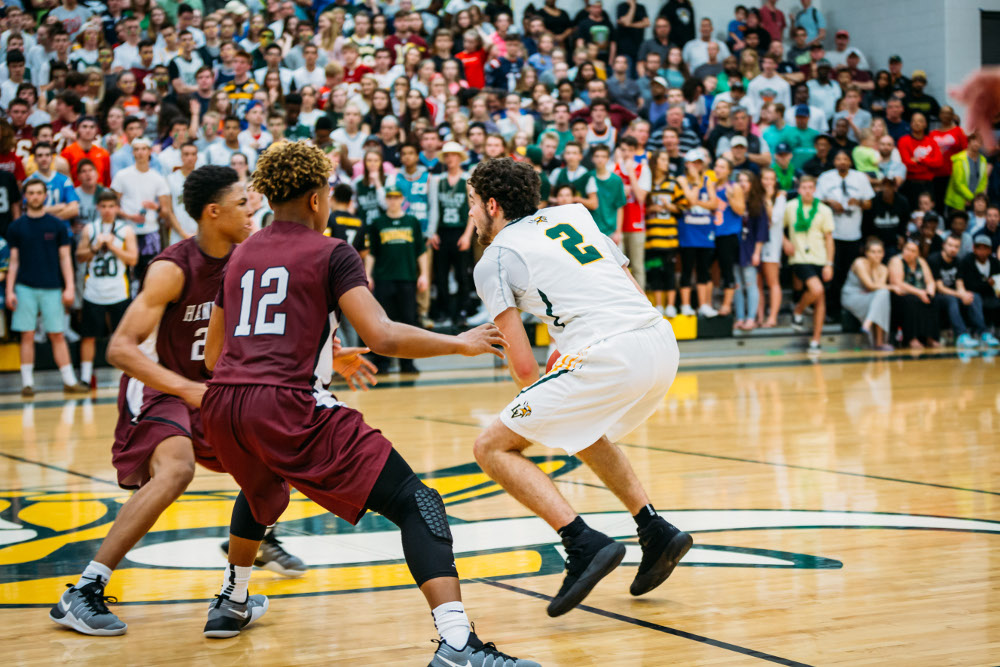 As impressed as he was with Miller's play under pressure, he was equally as impressed with the entire Vikings' calm under pressure.
"We were up 10 twice, we were up 6 and made some poor decisions," Dawson said. "But we kept battling through."
Valley was able to control the tempo, outscoring the Judges 14-4 on fast break points but Handley shot 54.5-percent from 3 and 21-for-22 from the free throw line to keep themselves in the game.
In addition to taking advantage of fast break opportunities, the Vikings made the most of their second chance opportunities, outscoring Handley 17-8 in second chance points. Dawson credited that to the hard work of senior forwards Duron Norris and Jamir Degree.
"Jamir was so strong again," Dawson said of his senior forward who is seeing increased minutes in the playoffs. "Jordan is so long and he and Duron are so special off the floor, they're tough to stop."
Valley had given up a couple leads late and Handley junior big man Gus Wise had 7 straight points for the Judges to give them a 3-point lead with just over two minutes remaining.
Loudoun Valley junior guard Dominic Peterson found himself open in the corner and found only nylon as he tied the game late. Peterson was 3-for-6 from three on the night with 15 points, but none were bigger than this to keep the Vikings in it and Peterson had no doubt it would fall.
"Just confidence," Peterson said of what was going through his mind as he caught the ball in the corner. "Practicing that shot all week, counting on my teammates to get me the ball and just stepping in and knocking it down."
The teams traded free throws in the final two minutes before Miller iced it away at the line and delivered the Vikings their second straight region championship.
Their reward? A state quarterfinal rematch with the defending VHSL 4A state champs from Monacan. The Vikings are looking forward to seeing the Chiefs again on this stage.
"I think the kids will be excited to see them again in the state tournament," Dawson said.
West region No. 1 Loudoun Valley will face East region No. 4 Monacan in a VHSL 4A state quarterfinal next Friday, March 3, at 6 p.m. at the Salem Civic Center in Salem.
"We want revenge," Peterson said. "We'd love to see Monacan again, we're ready."