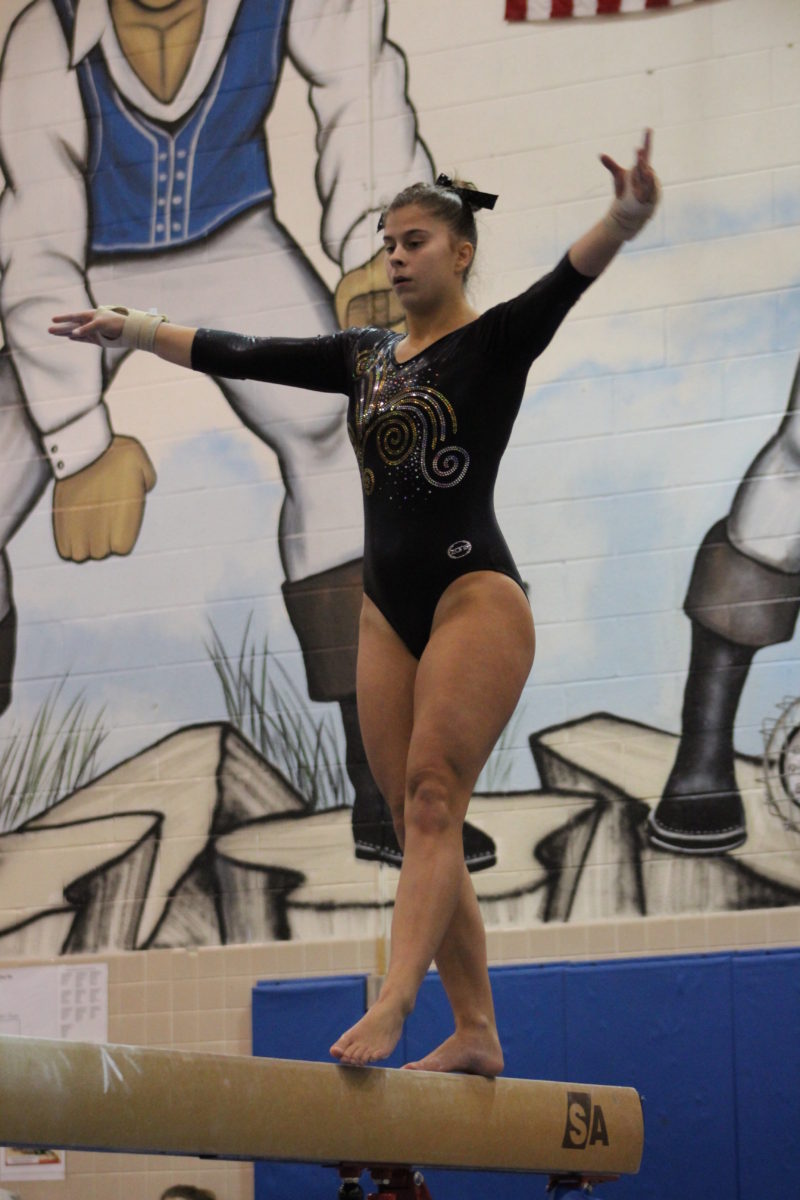 Nokesville (February 20, 2017) — For the second consecutive year, Freedom High School junior Sydney Wrighte has come away from her final high school meet of the season as the VHSL state champion on February 18 in Nokesville.
The individual "open" state championship meet consists of student-athletes from all classifications in VHSL, making Wrighte repeating as state champion that much more impressive.
On February 17, Wrighte also led the Lady Eagles to a runner-up finish in the VHSL 5A state team championship.
Nine other LoCo student-athletes joined Wrighte at the individual open state championship with Heritage High School sophomore Leah Trepal turning in the only other all-state performance, placing third on the vault.
Complete VHSL individual open championship results…

All-Around

Place
Gymnast
School
Vault
Bars
Beam
Floor
Total
1
Sydney Wrighte
Freedom
9.800
9.800
9.775
9.600
38.975
2
Samantha Simon
McLean
9.525
9.275
9.575
9.600
37.975
3
Jennah Chang
Stafford
9.475
9.775
9.325
9.325
37.900
4
Kameryn Shears
Freeman
9.600
9.325
9.375
9.525
37.825
5
Emily Ware
Kellam
9.825
9.125
9.200
9.475
37.625
6
Madison Lieurance
Salem
9.500
9.075
9.525
9.325
37.425
7
Catherine Reynolds
Robinson
9.550
8.700
9.450
9.600
37.300
8
Christina Bapple
North Stafford
9.475
9.800
8.750
9.150
37.175
9
Juliette Mitrovich
Yorktown
9.500
8.325
9.675
9.425
36.925
10
Jessie Addo
Colonial Forge
9.650
8.975
8.850
9.100
36.575
11
Julia Hays
Yorktown
9.200
9.050
9.450
8.625
36.325
12
Lizzy Lyons
Ocean Lakes
9.525
8.425
9.100
9.250
36.300
13
Jazmine Belmar
Salem
9.575
8.575
8.375
9.325
35.850
14
Lexy Holbrook
Colonial Forge
9.200
8.225
8.425
9.125
34.975
15
Cemone Moore
Kempsville
9.300
8.650
8.000
8.975
34.925
Bars

Place
Gymnast
School
Score
1
Christina Bapple
North Stafford
9.800
1
Sydney Wrighte
Freedom
9.800
3
Jennah Chang
Stafford
9.775
4
Kameryn Shears
Freeman
9.325
5
Samantha Simon
McLean
9.275
6
Emily Brutski
Mountain View
9.250
6
Erin Hayes
Freeman
9.250
8
Annie Sanchez
Kellam
9.200
9
Emily Ware
Kellam
9.125
10
Olivia Zavrel
Yorktown
9.100
11
Madison Lieurance
Salem
9.075
12
Julia Hays
Yorktown
9.050
13
Morgan Baddley
Battlefield
9.025
14
Jessie Addo
Colonial Forge
8.975
14
Hannah Schelp
Kempsville
8.975
14
Carolyn Brown-Kaiser
McLean
8.975
17
Riley James
First Colonial
8.950
17
Danielle Shapero
Tuscarora
8.950
17
Casey Meinert
Mountain View
8.950
20
Savannah Hughes
Glen Allen
8.900
21
Jenna Haran
Loudoun Valley
8.850
22
Alexa Bradley
Herndon
8.800
23
River Stone
Woodgrove
8.750
23
Megan Gutierrez
Fairfax
8.750
25
Catherine Reynolds
Robinson
8.700
26
Cemone Moore
Kempsville
8.650
27
Leah Trepal
Heritage
8.575
27
Jazmine Belmar
Salem
8.575
29
Madison Klump
Hanover
8.550
30
Lizzy Lyons
Ocean Lakes
8.425
31
Sierra Baxter
Patrick Henry
8.325
31
Juliette Mitrovich
Yorktown
8.325
33
Tory Garrett
Colonial Forge
8.250
34
Lexy Holbrook
Colonial Forge
8.225
35
Claire Pettit
Tuscarora
7.950
Beam

Place
Gymnast
School
Score
1
Sydney Wrighte
Freedom
9.775
2
Juliette Mitrovich
Yorktown
9.675
3
Samantha Simon
McLean
9.575
4
Lindsey Monteith
Oscar Smith
9.525
4
Madison Lieurance
Salem
9.525
6
Julia Hays
Yorktown
9.450
6
Catherine Reynolds
Robinson
9.450
8
Claire Pettit
Tuscarora
9.375
8
Mallory Girvin
Freeman
9.375
8
Kameryn Shears
Freeman
9.375
11
Jennah Chang
Stafford
9.325
11
Julie Armand
Riverside
9.325
13
Emily Ware
Kellam
9.200
14
Emily Ignacio
Battlefield
9.125
15
Lizzy Lyons
Ocean Lakes
9.100
16
Ashley Wilkins
Rock Ridge
9.025
17
Emily Brutski
Mountain View
8.975
18
Jessie Addo
Colonial Forge
8.850
19
Kristin Bellinghoven
Ocean Lakes
8.825
20
Christina Bapple
North Stafford
8.750
21
Tory Garrett
Colonial Forge
8.700
22
Becca Ellinger
Great Bridge
8.675
23
River Stone
Woodgrove
8.475
24
Lexy Holbrook
Colonial Forge
8.425
24
Kiran Sullivan
Marshall
8.425
26
Kaitlyn Lee
Oscar Smith
8.375
26
Jazmine Belmar
Salem
8.375
28
Katie Shiffer
Robinson
8.325
28
Hannah Schelp
Kempsville
8.325
30
Cemone Moore
Kempsville
8.000
31
Colleen Cecil
Herndon
7.950
32
Mary Munitz
Cox
7.825
33
Sophie Vota
Hanover
7.500
Vault

Place
Gymnast
School
Score
1
Emily Ware
Kellam
9.825
2
Sydney Wrighte
Freedom
9.800
3
Leah Trepal
Heritage
9.750
4
Jessie Addo
Colonial Forge
9.650
5
Kameryn Shears
Freeman
9.600
6
Jazmine Belmar
Salem
9.575
6
Courtney Dickerson
Patriot
9.575
6
Katarina Keppler
Western Branch
9.575
9
Catherine Reynolds
Robinson
9.550
10
Abbie Levine
West Springfield
9.525
10
Samantha Simon
McLean
9.525
10
Lizzy Lyons
Ocean Lakes
9.525
13
Emily Brutski
Mountain View
9.500
13
Sierra Baxter
Patrick Henry
9.500
13
Madison Lieurance
Salem
9.500
13
Juliette Mitrovich
Yorktown
9.500
17
Jennah Chang
Stafford
9.475
17
Christina Bapple
North Stafford
9.475
17
Lindsey Monteith
Oscar Smith
9.475
20
Gabrielle Spranger
Wakefield
9.450
21
Riley James
First Colonial
9.425
22
Anna Harmon
Ocean Lakes
9.325
23
Becca Ellinger
Great Bridge
9.300
23
Cemone Moore
Kempsville
9.300
25
Ashley Wilkins
Rock Ridge
9.275
26
Julia Hays
Yorktown
9.200
26
Anna Brower
McLean
9.200
26
Lexy Holbrook
Colonial Forge
9.200
29
Emily Ignacio
Battlefield
9.100
30
Erika Reiter
Godwin
9.025
30
Camden Harrison
Deep Run
9.025
32
Ciayah Johnson
Salem
9.000
Floor

Place
Gymnast
School
Score
1
Catherine Reynolds
Robinson
9.600
1
Samantha Simon
McLean
9.600
1
Sydney Wrighte
Freedom
9.600
4
Kameryn Shears
Freeman
9.525
5
Emily Ware
Kellam
9.475
6
Sierra Baxter
Patrick Henry
9.450
7
Juliette Mitrovich
Yorktown
9.425
8
Abbie Levine
West Springfield
9.350
9
Madison Lieurance
Salem
9.325
9
Jazmine Belmar
Salem
9.325
9
Jennah Chang
Stafford
9.325
12
Carolyn Brown-Kaiser
McLean
9.275
13
Lizzy Lyons
Ocean Lakes
9.250
13
Alexis Knudson
Ocean Lakes
9.250
15
Leah Daigneay
Ocean Lakes
9.225
16
Emily Ignacio
Battlefield
9.200
17
Julie Armand
Riverside
9.175
18
Nicole Ebreo
Princess Anne
9.150
18
Christina Bapple
North Stafford
9.150
20
Lexy Holbrook
Colonial Forge
9.125
20
Jenna Haran
Loudoun Valley
9.125
20
Sydney Niemala
Freedom
9.125
23
Sara Vavonese
McLean
9.100
23
Jessie Addo
Colonial Forge
9.100
23
Sarah Snare
Woodgrove
9.100
26
Riley James
First Colonial
9.000
27
Cemone Moore
Kempsville
8.975
27
Tory Garrett
Colonial Forge
8.975
27
Leah Trepal
Heritage
8.975
30
Tara Stewart
McLean
8.925
31
Mallory Girvin
Freeman
8.850
31
Hannah Schelp
Kempsville
8.850
33
Emily Good
Great Bridge
8.700
34
Julia Hays
Yorktown
8.625
35
Ashley Firnstahl
Kempsville
8.475