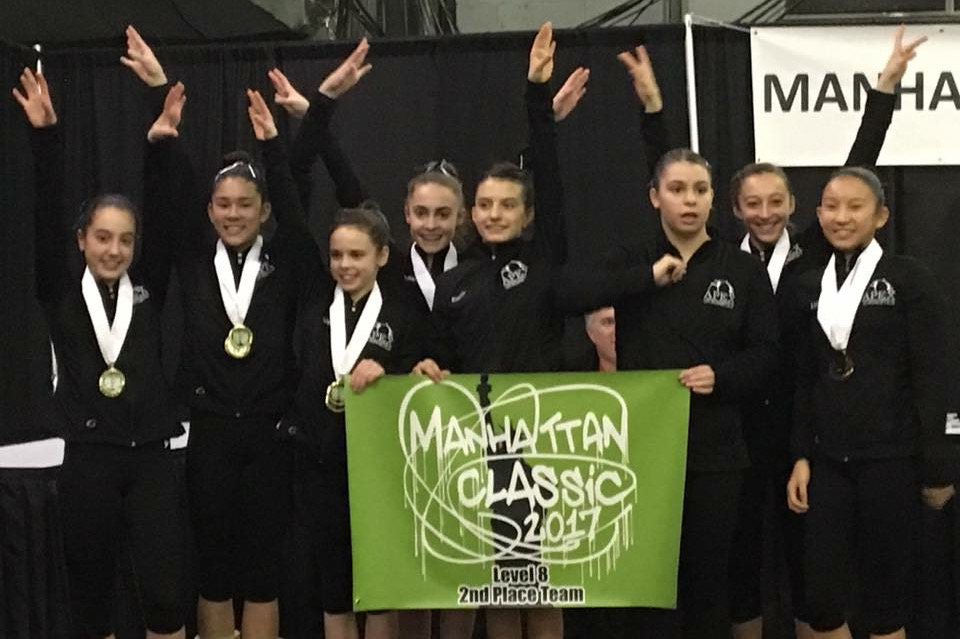 New York City (February 2, 2017) – More than 50 local gymnasts headed to New York City to compete in the Manhattan Classic at Pier 94 on January 28-29. The Manhattan Classic brings together more than 2,500 gymnasts from around the United States.
Representing APEX Gymnastics, Level 8 gymnast Ashley Bannerton won the Senior A division while fellow level 8 gymnast Mareli Muller won the Junior A division.
In total, APEX earned more than 60 top three individual medals during their trip to the Big Apple.
In the team competition, APEX's level 8 squad placed second, the level 4 team finished third, the level 7 team placed fourth and the level six squad came in fifth.
The rest of the APEX team heads off to compete in the New Orleans Jazz Invitational February 3-5 in Louisiana.
Complete APEX results below…

SENIOR A

LEVEL 9
VAULT
BARS
BEAM
FLOOR
AA
Ashley Wilkins
9.150 (5th)
8.850 (1st)
8.800 (2nd)
LEVEL 8
VAULT
BARS
BEAM
FLOOR
AA
Ashley Bannerton
9.225 (4th)
8.650 (6th)
9.025 (2nd)
9.075 (3rd)
35.975 (1st)
Marlena Costanzo
9.075 (5th)
8.250 (9th)
8.200 (9th)
8.750 (8th)
34.275 (6th)
Samantha Sommers
8.550 (9th)
8.325 (13th)
LEVEL 7
VAULT
BARS
BEAM
FLOOR
AA
Makaila Knoerzer
8.900 (6th)
8.850 (4th)
8.775 (8th)
9.350 (4th)
35.875 (5th)
Katie Khosrovi
8.675 (10th)
8.075 (9th)
8.650 (9th)
9.100 (1st)
34.500 (11th)
Nina Cacciola
8.600 (12th)
7.850 (12th)
9.300 (5th)
LEVEL 6
VAULT
BARS
BEAM
FLOOR
AA
Kayla Danjczek
8.600 (7th)
8.175 (5th)
9.325 (1st)
9.450 (2nd)
35.550 (4th)
Jessica Gelfound
8.825 (3rd)
7.850 (7th)
9.050 (5th)
9.050 (4th)
34.775 (5th)
Sophie Thomas
8.600 (7th)
7.150 (11th)
8.900 (6th)
9.000 (6th)
33.650 (8th)
Larissa Reese
7.800 (12th)
7.550 (8th)
8.900 (6th)
8.900 (9th)
33.150 (9th)
Eden Sanders
8.350 (1st)
7.050 (12th)
8.000 (16th)
9.050 (4th)
32.450 (13th)
LEVEL 4
VAULT
BARS
BEAM
FLOOR
AA
Shelby Sommers
8.200 (1st)
8.300 (1st)
9.000 (7th)
9.300 (6th)
34.800 (6th)
Faith Fanning
7.650 (13th)
8.350 (9th)
9.050 (5th)
9.200 (9th)
34.250 (9th)
Madeline Downer
8.400 (5th)
7.350 (14th)
8.400 (11th)
8.600 (14th)
32.750 (14th)
Ava Bartolomucci
7.600 (15th)
6.900 (15th)
8.700 (9th)
8.750 (12th)
31.950 (15th)
SENIOR B

LEVEL 9
VAULT
BARS
BEAM
FLOOR
AA
Allison Auten
8.800 (6th)
8.250 (5th)
8.750 (2nd)
8.250 (8th)
34.050 (4th)
Lauren Miller
8.675 (7th)
7.925 (5th)
8.700 (3rd)
LEVEL 8
VAULT
BARS
BEAM
FLOOR
AA
Lillian Lin
9.275 (1st)
8.675 (1st)
7.850 (11th)
8.850 (4th)
34.650 (2nd)
Kaitlin Bolton
7.650 (12th)
8.675 (1st)
8.525 (3rd)
8.850 (4th)
33.700 (3rd)
LEVEL 6
VAULT
BARS
BEAM
FLOOR
AA
Gabriela Goodfriend
9.050 (7th)
7.750 (15th)
9.200 (3rd)
9.350 (2nd)
35.350 (3rd)
Rachel Michitsch
9.150 (4th)
8.050 (12th)
8.775 (6th)
9.350 (2nd)
35.325 (4th)
Camryn Alvarez
9.200 (3rd)
8.150 (10th)
8.375 (12th)
9.350 (2nd)
35.075 (5th)
Reagan Rogers
8.575 (15th)
7.825 (13th)
8.050 (17th)
9.075 (6th)
33.525 (15th)
LEVEL 4
VAULT
BARS
BEAM
FLOOR
AA
Bailey Fleming
8.400 (2nd)
8.850 (4th)
9.200 (3rd)
8.900 (11th)
35.350 (4th)
Caitlyn Nash
8.175 (8th)
9.000 (2nd)
9.150 (5th)
9.000 (9th)
35.325 (5th)
Katherine Burke
8.350 (5th)
8.600 (8th)
9.050 (9th)
9.150 (7th)
35.150 (6th)
Gianna Costanzo
8.050 (9th)
8.350 (12th)
9.075 (7th)
8.950 (1st)
34.425 (9th)
Surabhi Bangarbale
8.250 (7th)
7.450 (17th)
8.750 (12th)
8.800 (13th)
33.250 (15th)
JUNIOR A

LEVEL 8
VAULT
BARS
BEAM
FLOOR
AA
Mareli Muller
9.425 (1st)
9.375 (2nd)
9.150 (4th)
9.200 (4th)
37.150 (1st)
LEVEL 7
VAULT
BARS
BEAM
FLOOR
AA
Jaelyn Hawes
9.050 (2nd)
9.150 (3rd)
9.625 (1st)
9.400 (4th)
37.225 (2nd)
LEVEL 6
VAULT
BARS
BEAM
FLOOR
AA
Lizzy Ebersole
8.775 (11th)
8.000 (10th)
9.075 (5th)
8.750 (11th)
34.600 (8th)
LEVEL 4
VAULT
BARS
BEAM
FLOOR
AA
Clara Jolly
8.400 (1st)
8.000 (7th)
8.750 (7th)
9.300 (2nd)
34.450 (3rd)
Mary Marr
8.400 (1st)
8.100 (5th)
8.950 (4th)
8.700 (8th)
34.150 (4th)
Olivia Cole
8.150 (5th)
8.400 (3rd)
8.325 (11th)
8.900 (6th)
33.775 (6th)
Kelsey Rogers
8.000 (7th)
7.900 (1st)
8.975 (3rd)
8.825 (7th)
33.700 (7th)
Courtney Combs
7.725 (1st)
8.000 (7th)
8.775 (6th)
8.950 (5th)
33.450 (8th)
Samantha Debolt
8.050 (6th)
8.050 (6th)
8.700 (8th)
8.400 (1st)
33.200 (9th)
JUNIOR B

LEVEL 8
VAULT
BARS
BEAM
FLOOR
AA
Abbie Knox
8.050 (10th)
7.800 (11th)
9.000 (5th)
8.850 (8th)
33.700 (9th)
Emily Liabraaten
7.800 (12th)
8.200 (11th)
8.825 (1st)
LEVEL 7
VAULT
BARS
BEAM
FLOOR
AA
Rachel Lawlor
8.725 (11th)
9.150 (5th)
9.450 (2nd)
9.475 (3rd)
36.800 (3rd)
Anna Reed
9.000 (5th)
7.150 (14th)
9.375 (3rd)
9.325 (5th)
34.850 (12th)
LEVEL 6
VAULT
BARS
BEAM
FLOOR
AA
Kristin Knoerzer
8.500 (12th)
7.700 (12th)
8.200 (15th)
9.100 (4th)
33.500 (14th)
LEVEL 4
VAULT
BARS
BEAM
FLOOR
AA
Ava Gearing
7.900 (12th)
8.450 (1st)
8.175 (12th)
9.050 (9th)
33.575 (1st)
Abby Perez
8.650 (3rd)
9.000 (3rd)
9.250 (2nd)
9.400 (4th)
36.300 (2nd)
Grace Semler
7.550 (18th)
8.650 (7th)
8.500 (9th)
9.225 (5th)
33.925 (9th)
Teagan Butler
8.250 (7th)
7.850 (14th)
8.800 (7th)
8.575 (13th)
33.475 (11th)
Berkley Gardner
7.800 (14th)
7.800 (15th)
8.000 (14th)
8.150 (17th)
31.750 (14th)
Kylie Windows
7.800 (14th)
7.500 (16th)
7.550 (16th)
8.650 (11th)
31.500 (15th)
JUNIOR C

LEVEL 4
VAULT
BARS
BEAM
FLOOR
AA
Camryn Robinson
8.500 (5th)
8.175 (14th)
9.250 (3rd)
8.850 (12th)
34.775 (1st)
Stella Blum
8.250 (11th)
9.375 (2nd)
8.850 (9th)
9.450 (4th)
35.925 (5th)
Adriana Perodin
8.625 (2nd)
8.850 (7th)
9.100 (5th)
9.300 (8th)
35.875 (6th)
Sabrina Scanlon
8.425 (8th)
8.300 (11th)
8.825 (1st)
9.325 (7th)
34.875 (9th)
Vivian Blum
8.500 (5th)
8.300 (11th)
8.800 (11th)
8.800 (14th)
34.400 (11th)
Pia Patel
8.350 (9th)
8.600 (8th)
8.225 (15th)
8.975 (11th)
34.150 (12th)
Addison Wivagg
7.850 (14th)
8.250 (13th)
8.000 (17th)
8.800 (14th)
32.900 (15th)