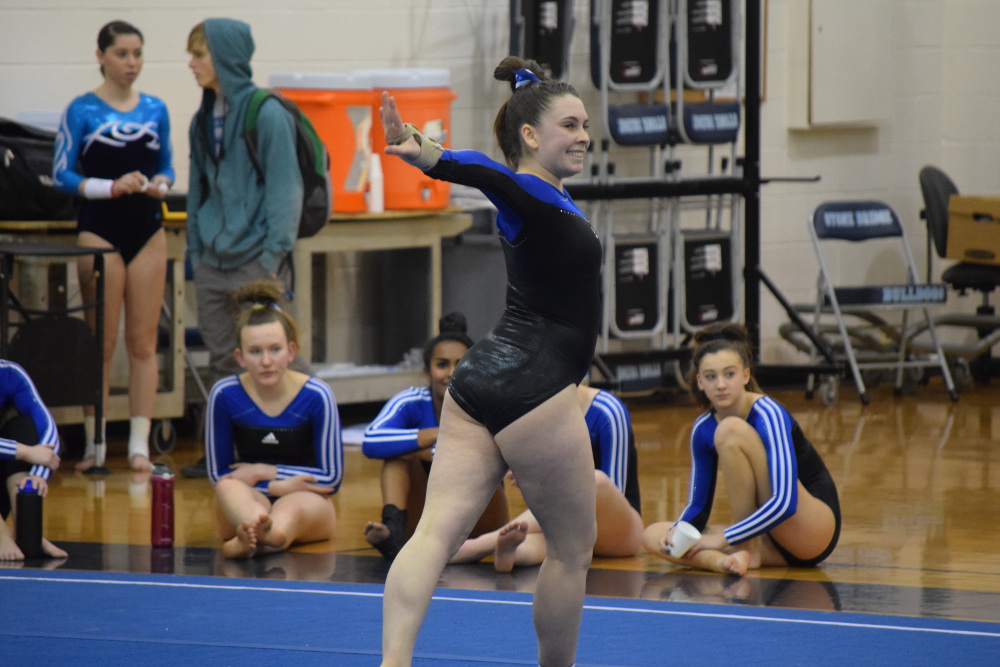 By Owen Gotimer
LoCoSports Editor-in-Chief
[twitter-follow screen_name='BigO_Gotimer']
Ashburn (February 1, 2017) — The Tuscarora High School gymnastics team headed to Ashburn on January 31 in an attempt to defend their 2016 conference title. Led by all-around champion Claire Pettit, the Lady Huskies accomplished their mission with a team score of 139.325, outlasting Potomac Falls High School, to repeat as Conference 14 champion.
"It feels even better than last year, because it means it wasn't just a fluke," Tuscarora senior Julia Thoppil said. "We actually have the skill, and we were able to do it again."

After narrowly escaping the Lady Panthers last season in the conference meet, the Lady Huskies cruised to a seven-point win in 2017. Tuscarora's victory was possible in part because of Pettit, who improved her conference all-around performance from last winter.
"It's huge. Claire loves gymnastics and she's great at it," Tuscarora head coach Abby Cheatham said. "She's a big part of our team, and the other girls look up to her. I'm sure she's super excited."
Pettit improves on 2016 conference all-around performance
Pettit started off her all-around night with a second place finish on the vault, tying with Thoppil at 8.85. Tuscarora sophomore Tali Klaff earned first place in the event with an 8.900.
In the Lady Huskies' second rotation, Pettit once again tied for second place, this time with Potomac Falls senior Jordan Smith at 9.050. The Lady Huskies earned first prize in the event as junior Danielle Shapero scored a 9.150.
Pettit finally got an event gold when she took to the beam scoring a 9.325 – the biggest margin of victory in a single event on the night.
Trio of gymnasts turn in top-notch performances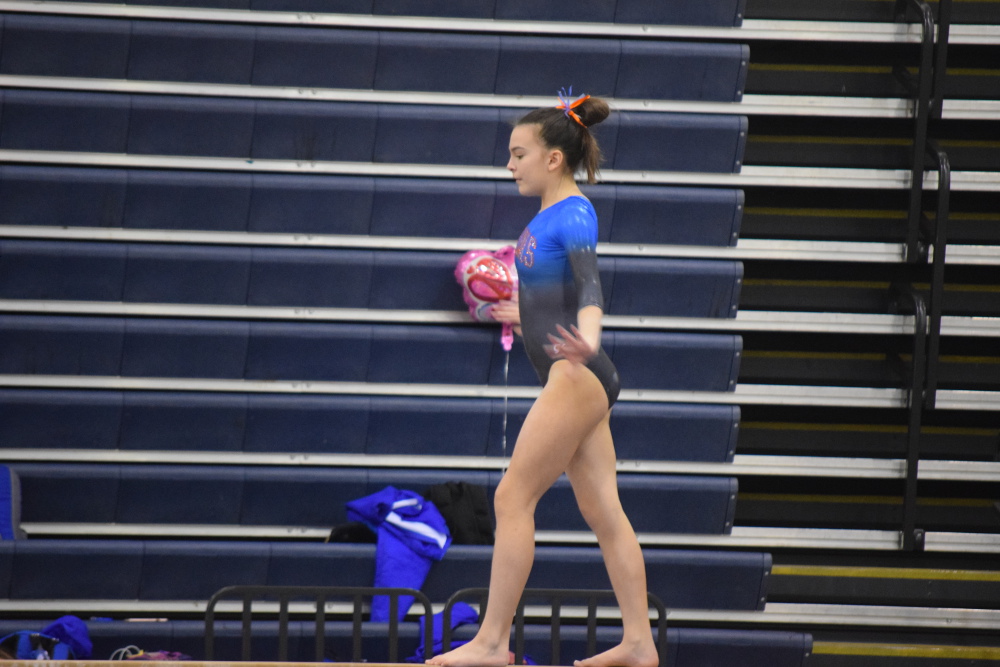 Klaff and Briar Woods freshman Maddy Corson – both APEX gymnasts – tied for second place at 8.800 on the beam.
Corson then went on to win the floor routine with a 9.125, edging out Stone Bridge senior Kallie Starr (9.050) and Thoppil (8.825).
Thoppil – who also competes locally for APEX Gymnastics – used her floor routine and a 34.525 to place third in the conference all-around.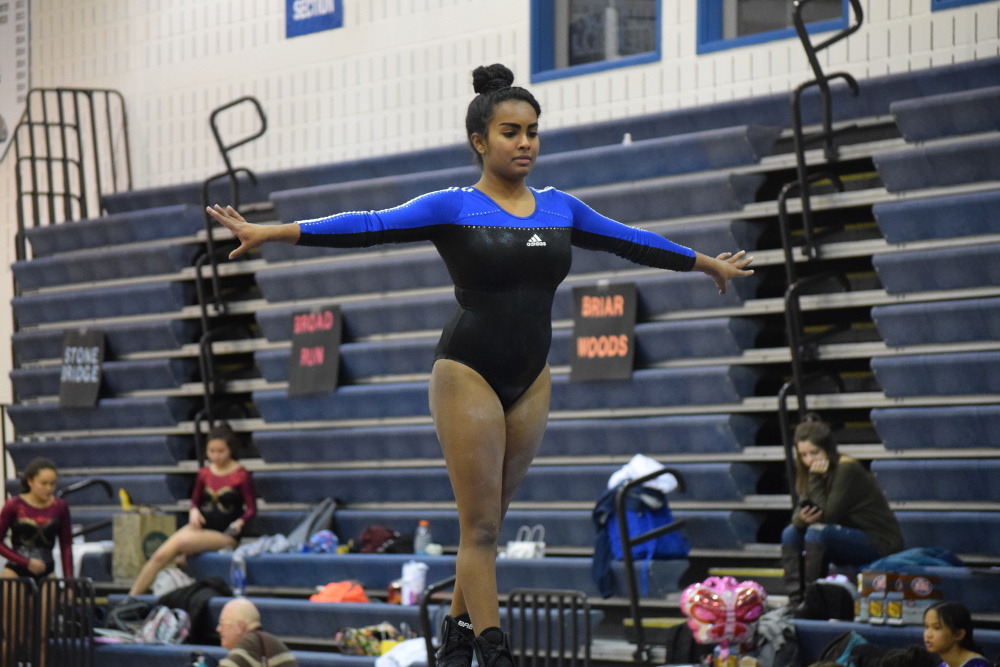 "I had trouble earlier this year with my ankles," Thoppil said. "Coming off two sprained ankles, it felt good to be able to come out and do just as good as I did last year, maybe even better."
Corson's scores on beam and floor helped lift her to a Conference 14 runner-up performance in the all-around.
"I never thought at the beginning of this season that I would come this far and make it to the region meet in the all-around," Corson said. "I can't even explain how excited I am."
First-year head coach leads Tuscarora back to conference title
Tuscarora didn't graduate a single gymnast from their 2016 conference championship squad. However, they did have to replace a key player on their team.
In her first season at the helm of the Lady Huskies program, head coach Abby Cheatham led Tuscarora back to the conference championship, but credited her three seniors – Pettit, Thoppil and APEX gymnast Colleen Haines – for creating a team chemistry that allowed them to hold onto their conference title.
"[The seniors] encourage the other girls, and they work together," Cheatham said. "But most importantly, they make it fun. They bring good energy which draws in more good energy."
While Cheatham recognized the girls' efforts in the gym, Pettit made it clear that their new head coach played a role in Tuscarora's continued success.
"She's done a really good job making sure the whole team works hard, but also has fun during practices so it's not too much pressure on us when it comes to the meets," Pettit said.
Tuscarora and Potomac Falls, along with the top eight finishers in each event, will advance to the VHSL 5A North region championship on February 8 at Park View High School.
"The girls are just really good," Cheatham said. "It's very exciting, and we're excited to go to regions next week."
| | | | | | | | |
| --- | --- | --- | --- | --- | --- | --- | --- |
| Name | School | Vault | Bars | Beam | Floor | AA | Place |
| Claire Pettit | Tuscarora | 8.850 | 9.050 | 9.325 | 8.725 | 35.950 | 1 |
| Maddy Corson | Briar Woods | 8.600 | 8.675 | 8.800 | 9.125 | 35.200 | 2 |
| Julia Thoppil | Tuscarora | 8.850 | 8.600 | 8.250 | 8.825 | 34.525 | 3 |
| Jordan Smith | Potomac Falls | 8.750 | 9.050 | 8.050 | 8.600 | 34.450 | 4 |
| Kallie Starr | Stone Bridge | 8.650 | 8.150 | 7.950 | 9.050 | 33.800 | 5 |
| Emma Nocera | Briar Woods | 8.400 | 8.550 | 8.150 | 8.675 | 33.775 | 6 |
| Kaitlin Starr | Stone Bridge | 8.550 | 8.275 | 8.225 | 8.625 | 33.675 | 7 |
| Colleen Haines | Tuscarora | 8.550 | 8.100 | 8.400 | 7.825 | 32.875 | 8 |
| Bree Puterio | Tuscarora | 8.200 | 7.950 | 7.900 | 8.050 | 32.100 | 9 |
| Emma Kipp | Stone Bridge | 7.750 | 7.575 | 7.900 | 8.300 | 31.525 | 10 |
| Olivia Hornung | Potomac Falls | 8.500 | 7.275 | 7.400 | 8.100 | 31.275 | 11 |
| Makenzie Flake | Stone Bridge | 8.200 | 5.125 | 8.250 | 8.625 | 30.200 | 12 |
| Makayla Harper | Broad Run | 8.250 | 6.950 | 7.450 | 6.925 | 29.575 | 13 |
| Laila Al Rawi | Stone Bridge | 8.250 | 4.775 | 5.550 | 7.550 | 26.125 | 14 |