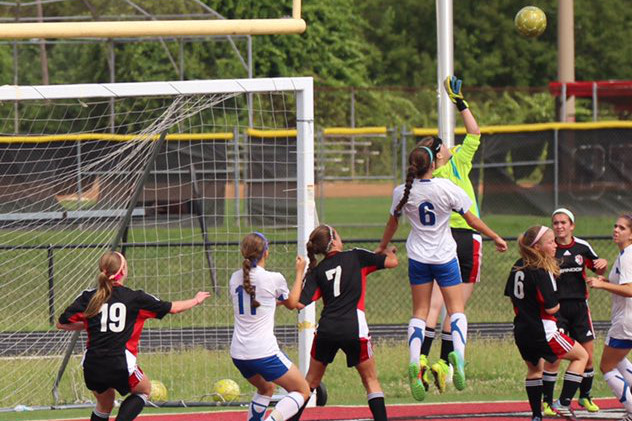 By Spencer DuPuis
LoCoSports Copy Editor
[twitter-follow screen_name='SpencerDuPuis']
Leesburg (January 29, 2017) – Loudoun County High School senior Rachael Cullen has made a commitment to continue her soccer career at North Carolina Wesleyan starting in the 2017-2018 academic year.
"It's a dream come true. I always had this goal since I was a little kid that I was going to play college soccer, and it was always my goal to strive for," the 5-foot-10 goalkeeper said. "It's so nice to know that when I continue my education I will also continue to grow my skills in the sport that I love. I'm so lucky, some people never get to fulfill their dreams, but I get to continue playing."

The Division III Battling Bishops are coached by Beverly Biancur — who will enter her 10th season at the helm of the program. Last season, they finished 10-6-2 overall and 9-4-1 in the USA South Conference. They fell to Averett, 1-0, in the first round of the conference tournament to end the season.
"The second I stepped foot on campus, it felt like home and I knew that I was going to go there," Cullen said. "They have exactly what I want to major in–elementary education– and I was also lucky enough to get [to be able]to play soccer for them. I know that the soccer coach will help me grow as a player and be the best goalkeeper that I can be."

The goalkeeper mentioned that she will bring positivity among other things to the team when she arrives over the summer.
"I want to definitely add positivity to the team, not that they aren't positive enough already, but when a team is positive I believe that they will be more successful," Cullen said.
Cullen — a multi-sport athlete — mentioned that after playing her freshman season for the Lady Raiders soccer team, she chose to not play for them and just play for Herndon — her club team — as she was played for the Lady Raiders volleyball team and also played club volleyball.
"It was a blast, I had so much fun with my team, it was a very successful year and it developed me into a greater player," Cullen said. "But after that season of doing club soccer, club volleyball, Lady Raiders soccer and Lady Raiders volleyball, I decided that it was too much, so I only continued [to play]high school volleyball and club soccer."
Cullen said that all of her coaches have helped her become a better player on and off the field throughout her time with Herndon Soccer.
"I've played club soccer for Herndon for about six years now, and my experience there was phenomenal, my coaches were always there for me and always pushing me to do my hardest," Cullen said. "My goalkeeper trainer played in college and he has taught me so many new skills, I definitely wouldn't have gotten the opportunity to play college soccer without him."
Cullen mentioned of all the sports she played as a kid, she knew soccer was the one she would stick with long term.
"I first started playing soccer when I was around four-years-old and I just knew that it was the sport I wanted to stick with," Cullen said. "I played nearly [every sport that was]available when I was little and the only two I really stuck with were soccer and volleyball."
Cullen went on to say that her club coaches mean the world to her and they helped her find out that playing soccer makes her really happy.
"My motivation definitely comes from my club coaches, they're always here for me supporting me through soccer and pushing me to do my hardest," Cullen said. "The main reason I play soccer is because it's my happy place. You hear other people talking about that one place or activity that makes them happy and you think, wow I'd love to have that. That's what soccer is for me: whenever I step onto the field whether it's a practice or game, I'm always happy because I'm doing what I love."