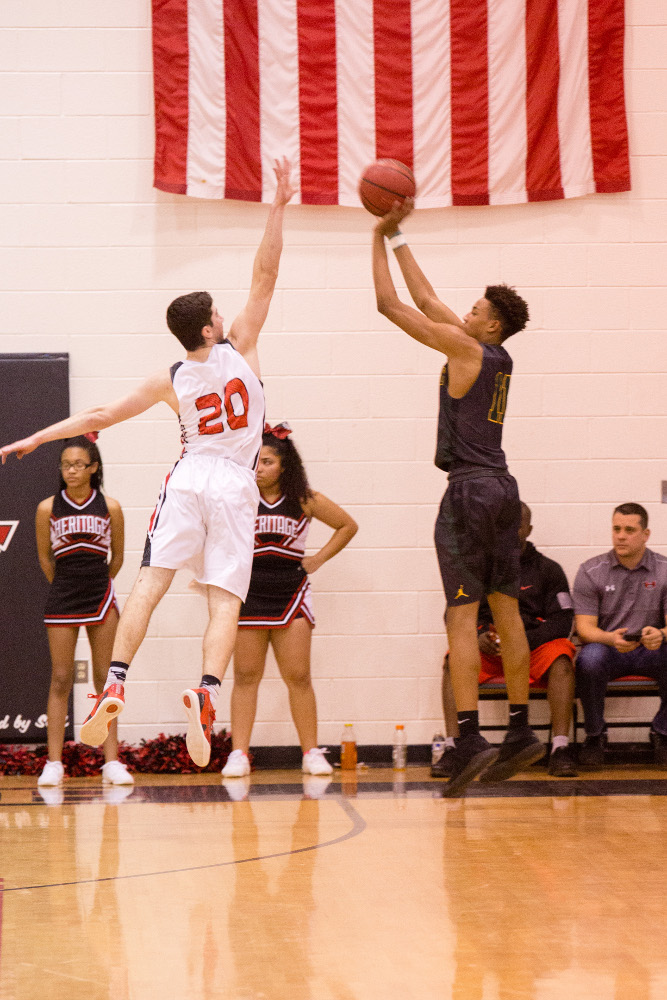 By Owen Gotimer
LoCoSports Editor-in-Chief
[twitter-follow screen_name='BigO_Gotimer']
Leesburg (January 27, 2017) – In front of a home crowd in Leesburg, Heritage High School senior point guard Zach Garrett tallied a near triple-double as the No. 2 Pride knocked off the previously-undefeated No. 1 Loudoun Valley Vikings, 63-60, in a Conference 21B clash of the titans on January 26.
"We really played as a team. We moved the ball great and shot the ball great," Garrett said. "But, most importantly, we had the heart. We were ready for this game, ready for this moment."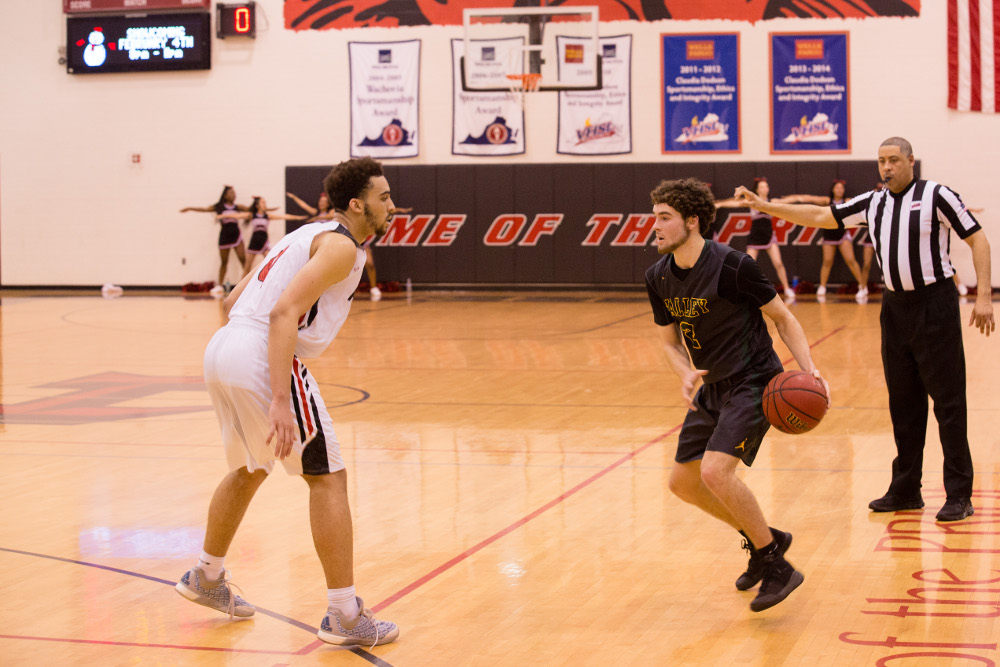 This isn't a new story. It's been written before. But it doesn't get old seeing the underdog prevail.
In five of the last twelve seasons, the Loudoun Valley High School boys' basketball team started 10-0 or better. In three of those seasons – 2005-2006, 2012-2013 and, now, 2016-2017 – the Heritage Pride were the team to end the Vikings' winning ways.
"I don't know how our confidence is going to shake out now," Loudoun Valley head coach Chad Dawson said. "We're going to have to take care of business down the stretch, but we obviously need to get better."
Down the stretch, the Pride gave the ball to Garrett – their biggest scoring threat – who distributed assists and scored on possession after possession, finishing with 15 points, 11 rebounds and 6 assists.
"He does it all: points, rebounds, assists. He averages about 12 points, 10 boards and 6 assists a game. And he'd average more points if he didn't defer to the assist," Heritage head coach Sam Carpenter said. "We put him at the point during the summer, because I knew it would make us really diverse with his size and his ability. Once he gets it out of his hands, then we can get him involved in other ways."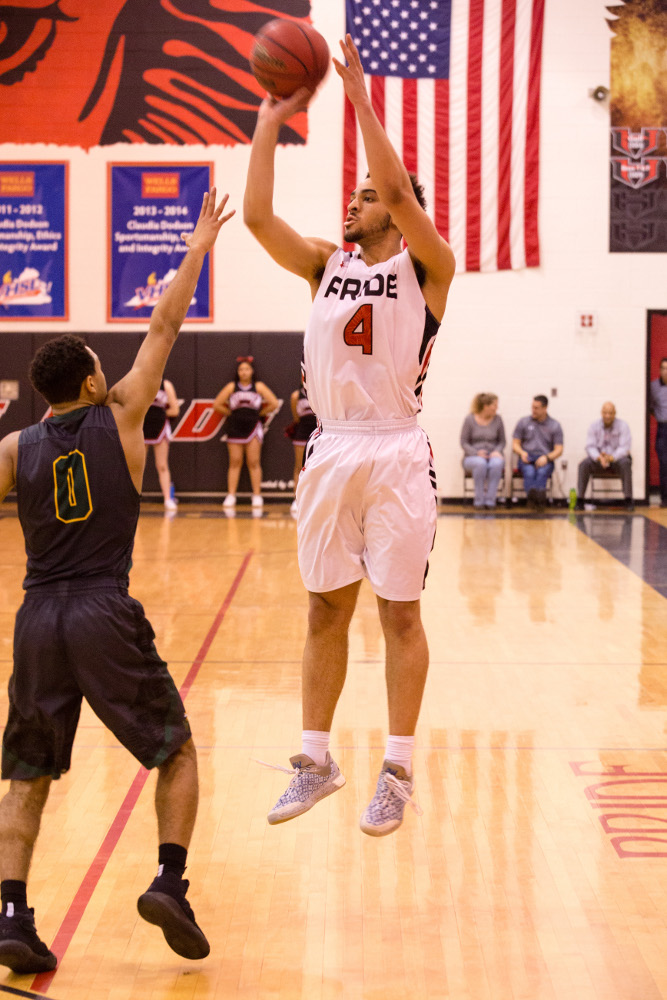 More important than the offensive numbers Heritage put up, were the lack of offensive numbers Loudoun Valley put up. While superstar junior forward Jordan Miller scored 19 points while adding 8 rebounds, the Vikings never found a rhythm offensively. That is in part because of the defensive play of junior forward Aaron Maisus, who played an unprecedented amount of minutes because of his defensive prowess and freakish athleticism.
"We preach playing defense," Carpenter said. "They haven't been held to 60 points very often in the last two years."
Loudoun Valley took two big lumps, late in the fourth quarter when Miller and senior forward Duron Norris both fouled out, pushing the Vikings towards the middle of their limited bench.
"Obviously with Jordan in the game and with Duron in the game, it's different," Carpenter said. "But them fouling out was a product of the style of play we created with our defense. We made it physical, so fouls happen. We made them play our game, and it worked out for us."
The Pride's game also included domination on the boards. Heritage only outrebounded Loudoun Valley 36-29, but put up uncanny rebounding numbers in the first half which aided their confidence.
"In the first half, we got outrebounded 21-9. I think that set up a lot of confidence for them and a lot of doubt in our minds," Dawson said. "We played not to lose the entire game, instead of playing to win. We always emphasize putting a winning effort out on the court."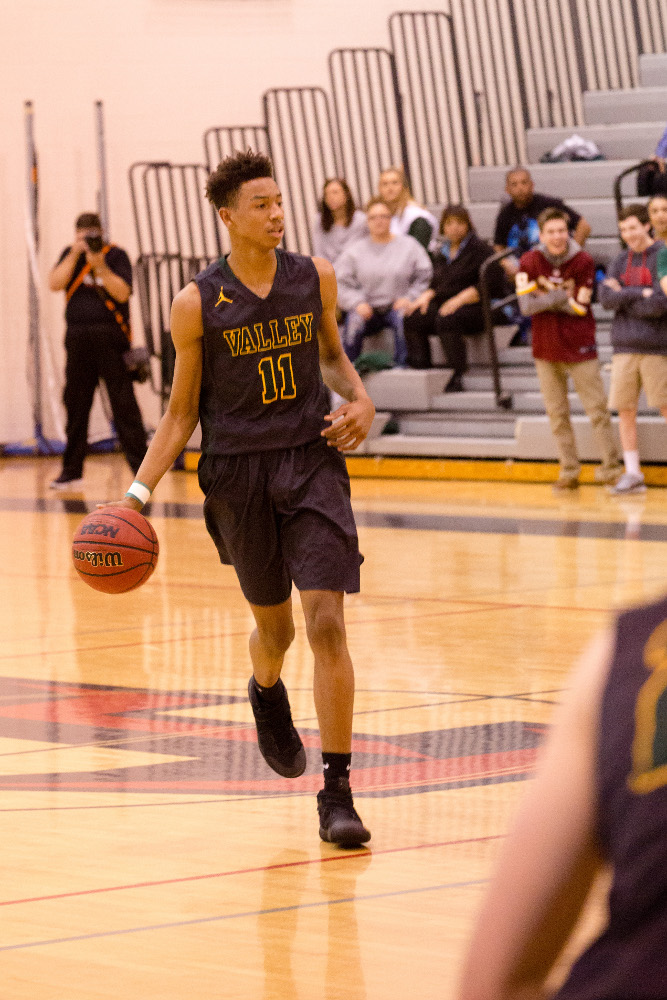 While Loudoun Valley's defense forced 17 Heritage turnovers, the Pride found their opportunities by quickly breaking a typically-daunting Viking press and scoring on easy layups.
"We weren't defending anyone. They would make two passes and get a layup," Dawson said. "Obviously, I have to do a better job as a coach, getting them in the right defensive positions. We weren't there."
For anyone who has seen Heritage play this season, this win did not come as a grand surprise.  Loudoun Valley is the top team in Loudoun County, but Heritage has been nipping at their heels all winter.
"I had a feeling that we were ready for this game," Carpenter said. "I just wanted to hang in there. I knew that if we could keep it within four possessions with four minutes left, then we had a chance. And we had a chance. And we took advantage of that opportunity."
The Vikings still hold the top spot in the Conference 21B standings at 8-1 with just one conference game remaining for each team, while the Pride currently sit in the No. 2 position at 6-1 with conference games remaining against Park View, Loudoun County and Dominion High Schools. Although the Heritage win didn't lift the Pride to the No. 1 spot in Conference 21B, it did open the eyes of a lot of teams throughout the region.
"We did our thing and won the game," Garrett said. "We came out and did the impossible."
| | | | | | | |
| --- | --- | --- | --- | --- | --- | --- |
| Heritage | Points | Rebounds | Assists | Steals | Blocks | FT |
| Zach Garrett | 15 | 11 | 6 | 1 | 0 | 2-for-2 |
| Garrett Ganley | 12 | 7 | 0 | 1 | 0 | 4-for-8 |
| Mohamed Sene | 9 | 5 | 0 | 0 | 0 | 1-for-3 |
| Nathan Olafson | 9 | 2 | 0 | 0 | 0 | 0-for-2 |
| Chris Chapman | 7 | 6 | 1 | 0 | 0 | 1-for-1 |
| Aaron Maisus | 7 | 3 | 1 | 1 | 0 | 3-for-4 |
| Gio Wooten | 4 | 3 | 3 | 1 | 1 | 2-for-6 |
| Pride Totals | 63 | 37 | 11 | 4 | 1 | 13-for-26 |
| | | | | | | |
| --- | --- | --- | --- | --- | --- | --- |
| Loudoun Valley | Points | Rebounds | Assists | Steals | Blocks | FT |
| Jordan Miller | 19 | 8 | 4 | 2 | 0 | 9-for-14 |
| Dom Peterson | 14 | 1 | 1 | 1 | 0 | 0-for-2 |
| Nick Ball | 12 | 9 | 0 | 5 | 0 | 1-for-2 |
| Jamir Degree | 6 | 3 | 2 | 0 | 0 | 2-for-8 |
| Jalen Williams | 5 | 3 | 1 | 1 | 0 | 2-for-4 |
| Duron Norris | 2 | 3 | 2 | 3 | 0 | 0-for-2 |
| Cameron Hippler | 2 | 2 | 1 | 0 | 0 | 0-for-0 |
| Vikings Totals | 60 | 29 | 11 | 12 | 0 | 14-for-32 |