By Owen Gotimer
LoCoSports Editor-in-Chief
[twitter-follow screen_name='BigO_Gotimer']
Purcellville (January 19, 2017) – One word describes the Loudoun Valley High School boys' basketball team: dominant.
Since the start of the 2015-2016 season, the Vikings are 41-1. Their only loss came against eventual 2016 VHSL 4A state champion Monacan in a state quarterfinal. Loudoun Valley lost that game by just two points.
In 2016-2017, their 15 wins have come with an average margin of victory of 36 points.
Loudoun Valley's dominance didn't stop when they met Conference 21B foe Rock Ridge High School on January 17 in Purcellville. Led by senior guard Nick Ball and junior forward Jordan Miller, the Vikings ran away with the game in the second quarter, defeating the Phoenix, 75-36, in front of a home crowd.
"They're returning all-state players. We've never had a situation where we had one returning all-state player, let alone two. That's a nice problem to have," Loudoun Valley head coach Chad Dawson said. "The leadership they provide, they're ball-handling, and their staying active in passing lanes keeps them involved in lots of ways. Sometimes both of them are too unselfish and pass up open shots, which makes us difficult to defend."

Miller led the Vikings with 28 points and 7 rebounds while Ball contributed 20 points and junior guard Jalen Williams 17.
Although the Vikings had three players score double digits, Loudoun Valley's highlight of the night might have been the play of senior forward Duron Norris, who tallied 6 points, 9 rebounds, 5 assists, 2 steals, 3 blocked shots and went a perfect 4-for-4 from the free throw line.
"We try to get out early with quick scores and getting people in positions to succeed," Norris said.
Even with all of the offensive firepower, the Vikings harp defense.
"We try to hold teams to under 10 points per quarter," Norris said. "Sometimes it's hard, but a lot of the time, we're able to do it because we talk on defense and play good team defense."
Loudoun Valley surrendered 12 points to Rock Ridge in the first quarter, but then held the Phoenix to 9 points, 9 points and 6 points over the next three frames thanks in part to a long, full court press.
"The press is key," Norris said. "If we have our hands up, if we're talking and moving, there are not many teams who are going to be able to beat our press."
The Phoenix did show some life, however, when they had the opportunity to set up their half-court offense. Rock Ridge senior forward Zach Howard found his stroke early, leading the Phoenix with 22 points.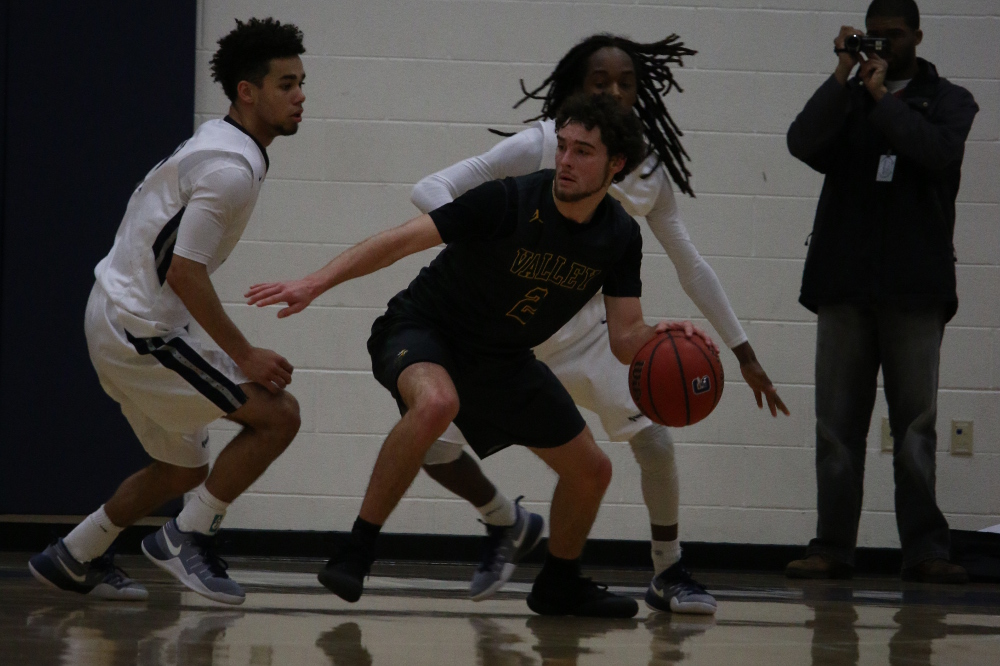 "He's very long. He's a good player," Dawson said. "He shoots the ball well from the outside. We talked about keeping him off the boards and on the perimeter, but he definitely stepped up and made some big shots."
While the Vikings didn't slow down Howard's scoring ability, they did hold him to just six rebounds while Loudoun Valley outrebounded Rock Ridge as a team, 34-22.
"We always talk about finishing the defensive play with a defensive rebound," Dawson said. "Jamir [Degree] came in there and really hit the boards hard. It really opened up the eyes of the rest of the team. We were praising him as a coaching staff for his efforts on the boards tonight."
There's no rest for the weary as Rock Ridge (2-3, 9-4) plays host to the current Conference 21B No. 2 Heritage Pride on Thursday, January 19 in Ashburn.
Loudoun Valley (7-0, 15-0) looks to continue their dominant ways when they travel to Sterling on Monday, January 23 to battle the Dominion Titans.
"We feel the targets on our backs. But we expect it. It makes us want to push harder," Miller said. "We definitely want to change how we ended last year and win it all this year."
| | | | | | | |
| --- | --- | --- | --- | --- | --- | --- |
| Loudoun Valley | Points | Rebounds | Assists | Steals | Blocks | FT |
| Jordan Miller | 28 | 7 | 0 | 3 | 0 | 5-for-6 |
| Nick Ball | 20 | 2 | 1 | 1 | 0 | 3-for-3 |
| Jalen Williams | 17 | 2 | 0 | 1 | 0 | 0-for-0 |
| Duron Norris | 6 | 9 | 5 | 2 | 3 | 4-for-4 |
| Jamir Degree | 2 | 4 | 2 | 1 | 0 | 0-for-0 |
| Dom Peterson | 2 | 0 | 2 | 0 | 0 | 0-for-0 |
| Cameron Hippler | 0 | 4 | 0 | 0 | 0 | 0-for-0 |
| Nick Kallivokas | 0 | 4 | 0 | 0 | 0 | 0-for-0 |
| Nick Dize | 0 | 1 | 0 | 0 | 1 | 0-for-0 |
| Dylan Jones | 0 | 1 | 0 | 0 | 0 | 0-for-0 |
| Vikings Totals | 75 | 34 | 10 | 8 | 4 | 12-for-13 |
| | | | | | | |
| --- | --- | --- | --- | --- | --- | --- |
| Rock Ridge | Points | Rebounds | Assists | Steals | Blocks | FT |
| Zach Howard | 22 | 6 | 0 | 0 | 0 | 3-for-4 |
| Blake Blalock | 5 | 4 | 0 | 0 | 0 | 2-for-2 |
| Terrell Eldridge | 4 | 2 | 0 | 0 | 0 | 0-for-0 |
| James Larsen | 3 | 3 | 3 | 1 | 0 | 1-for-3 |
| Tony Parkman | 2 | 2 | 0 | 1 | 0 | 0-for-0 |
| Rob Byas-Smith | 0 | 2 | 3 | 1 | 0 | 0-for-0 |
| Ben Wright | 0 | 2 | 0 | 0 | 0 | 0-for-0 |
| Chico Bennett | 0 | 1 | 0 | 0 | 0 | 0-for-2 |
| Phoenix Totals | 36 | 22 | 6 | 3 | 0 | 6-for-11 |