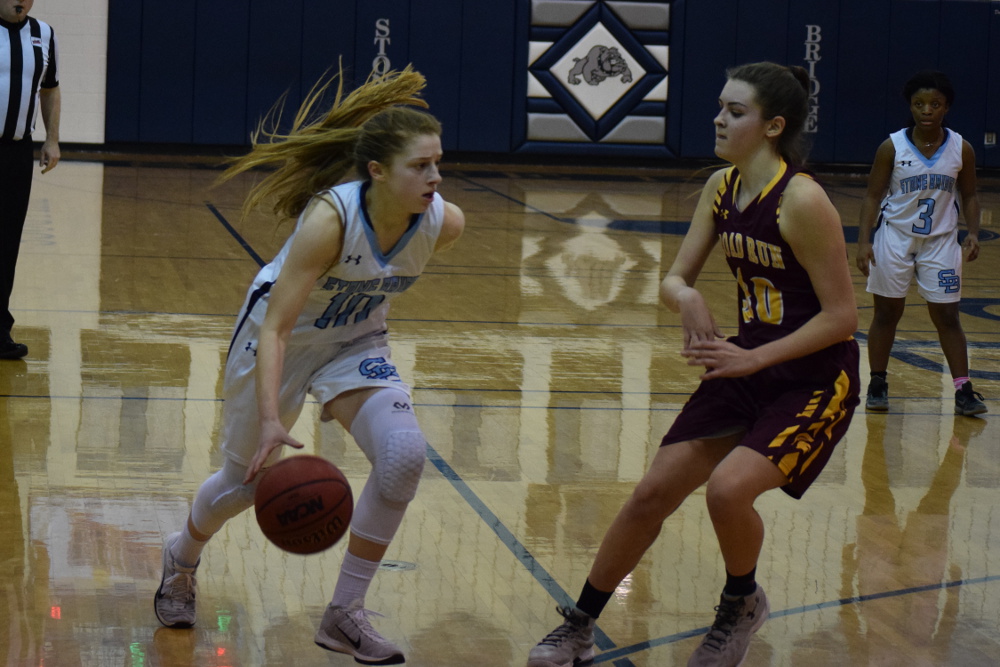 By Kyle Gotimer
LoCoSports Managing Editor
[twitter-follow screen_name='KyleGotimer42′]
Ashburn (January 16, 2017) – After recently losing her grandfather, Stone Bridge High School freshman shooting guard Anna LeMaster stepped on to the court in a rivalry matchup dedicated to her late grandpa. LeMaster put on a show in front of a huge Ashburn crowd as she scored 31 points on the way to a 55-45 victory over Conference 14 rival Broad Run High School.
"My grandfather recently passed away, so I wanted to dedicate this game to him," LeMaster said. "That's what pushed me. I hustled for every loose ball, passed to my teammates and drove to the basket."

LeMaster – the only freshman on the Stone Bridge roster – opened up the scoring for the Bulldogs as she knocked down multiple three-pointers en route to her 17-point first quarter. But the deep ball wasn't LeMaster's only weapon on the night; the freshman continuously drove to the lane, drawing fouls and knocking down free throws. She took advantage of her ten chances from the charity stripe: adding nine points to her already impressive night.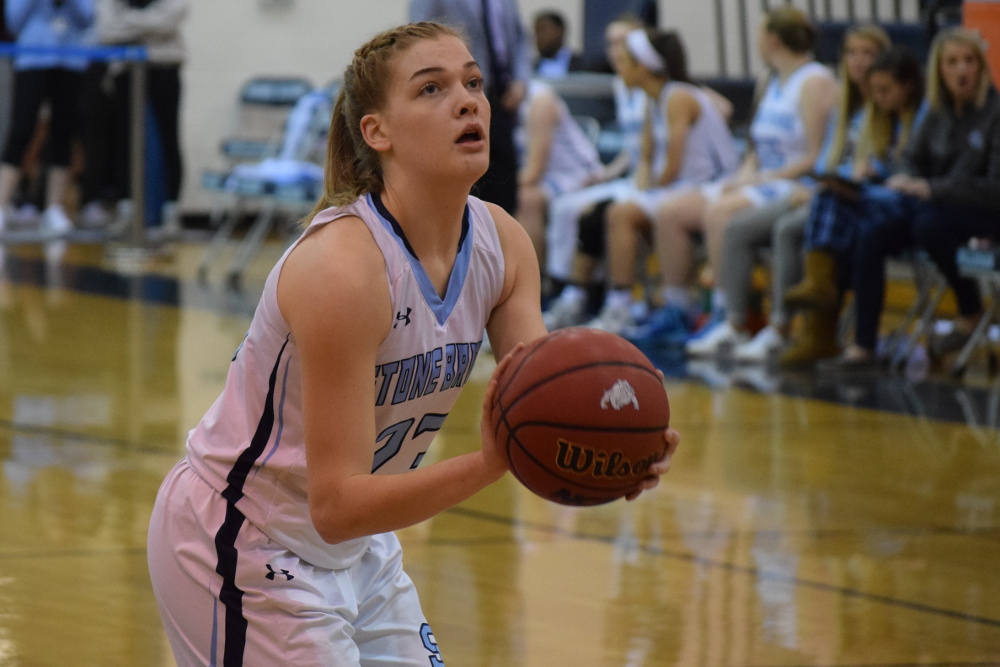 "We got them in foul trouble early in the second half so every timeout we hit on let's keep attacking. With a lead, they're going to have to start fouling and sending us to the line," Stone Bridge head coach Kyle Linder said. "That's something we've been working with Anna on. She's a great shooter, but sometimes she falls in love with the three. But when she gets to the basket, gets fouled and gets to the line, she's a great foul shooter, as well."
Broad Run sister duo senior guard Chyna Roberts and sophomore guard Jade Roberts kept the struggling Spartans in the game with a combined 23 points. But their scoring efforts weren't enough to derail LeMaster and Stone Bridge junior guard Chloe Madgwick.
"Chloe from a year or two ago, if she doesn't get anything going offensively, she's going to shut down," Linder said. "Tonight, she found another way to help her teammates. She went to the boards, especially defensively in the second half, which was huge for us. That's big time, finding a way to help the team in different ways besides scoring."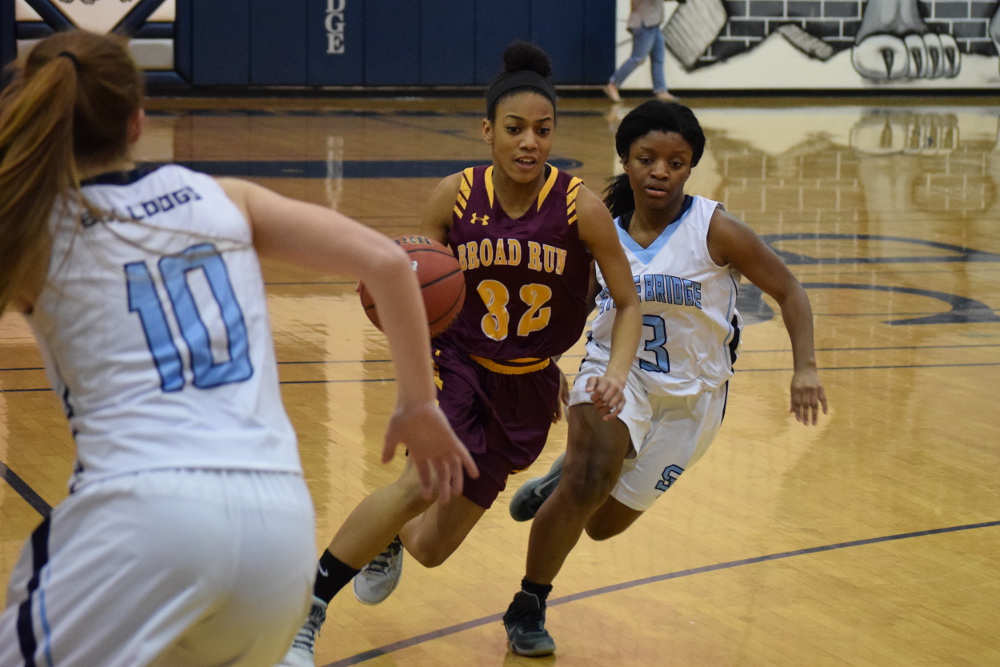 Madgwick – who led Stone Bridge in points per game coming into the contest – only contributed eight points on the night, but was able to get the job down on the glass – reeling in 14 boards as the Bulldogs outrebounded the Spartans 41-32.
"You have to treat it like every other game," Madgwick said. "You can't come in nervous. You can't come in overthinking it or psyching yourself out. You just got to go out there and play."
Falling 0-2 in Conference 14, Broad Run looks to bounce back against Loudoun Valley High School on Friday, January 20. Stone Bridge – now 1-2 in conference – will try to stretch their win streak to two as they host Potomac Falls on Tuesday, January 17.
"We're a young team, and this is our first conference win. That's huge for us. In my three years here, that's the first time beating Broad Run," Linder said. "We've played a tough schedule so far, so getting this win, definitely gives us a lot of confidence moving forward."
| | | | | | | |
| --- | --- | --- | --- | --- | --- | --- |
| Stone Bridge | Points | Rebounds | Assists | Steals | Blocks | FT |
| Anna LeMaster | 31 | 5 | 1 | 1 | 0 | 9-for-10 |
| Chloe Madgwick | 8 | 14 | 2 | 4 | 1 | 2-for-6 |
| Madison Jolly | 5 | 2 | 2 | 3 | 0 | 5-for-6 |
| Emma Harwood | 4 | 4 | 0 | 4 | 0 | 0-for-2 |
| Allison Kreyer | 3 | 5 | 0 | 0 | 0 | 1-for-1 |
| Kyra Lenderman | 2 | 3 | 0 | 0 | 1 | 2-for-2 |
| Lauren Hines | 2 | 1 | 0 | 1 | 0 | 0-for-0 |
| Natalie Barnes | 0 | 4 | 0 | 0 | 0 | 0-for-0 |
| Ella Ferrin | 0 | 2 | 0 | 0 | 0 | 0-for-0 |
| Katana Alston | 0 | 1 | 0 | 1 | 0 | 0-for-0 |
| Bulldogs Totals | 55 | 41 | 5 | 14 | 2 | 19-for-27 |
| | | | | | | |
| --- | --- | --- | --- | --- | --- | --- |
| Broad Run | Points | Rebounds | Assists | Steals | Blocks | FT |
| Jade Roberts | 12 | 4 | 2 | 3 | 0 | 6-for-8 |
| Chyna Roberts | 11 | 3 | 1 | 2 | 0 | 2-for-2 |
| Kelly O'Brien | 6 | 5 | 0 | 0 | 0 | 0-for-0 |
| Abagail Neff | 6 | 0 | 0 | 1 | 0 | 1-for-2 |
| Awo Mohamed | 5 | 7 | 2 | 6 | 4 | 1-for-2 |
| Hodan Mohamed | 4 | 2 | 0 | 0 | 1 | 0-for-0 |
| Karleigh Pollock | 1 | 11 | 0 | 0 | 1 | 1-for-4 |
| Spartans Totals | 45 | 32 | 5 | 12 | 6 | 11-for-18 |