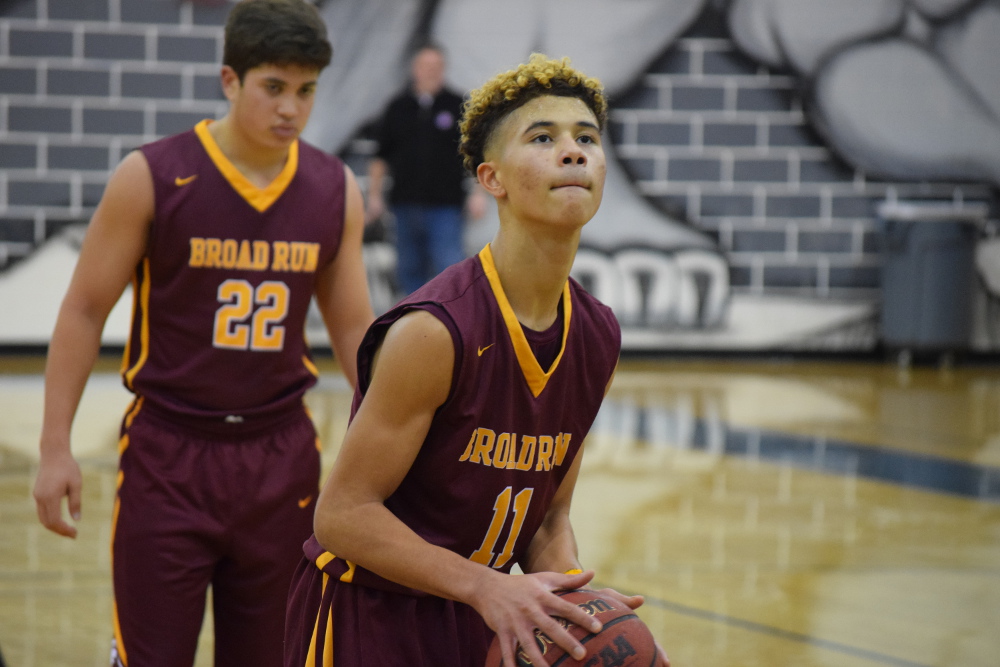 By Owen Gotimer
LoCoSports Editor-in-Chief
[twitter-follow screen_name='BigO_Gotimer']
Ashburn (January 14, 2017) – Down three points with 30 seconds left in the fourth quarter, everybody in the gym knew who the ball was going to. But it didn't matter. He had the answer.
Then in a tie game 20 seconds later, everybody in the gym once again knew who the ball was going to. But once again it didn't matter. He had the answer.
The answer: Anthony Cooper.
After trailing for the majority of the game, Broad Run High School turned to senior point guard Anthony Cooper when they needed him most. In a Conference 14 rivalry clash against Stone Bridge High School – at Stone Bridge, in front of a huge Ashburn crowd – Cooper pulled up from downtown to knock down a game-tying three-pointer with 32 seconds left. Then with just 5 seconds left, Cooper drove the lane, hitting a tear drop from the middle of the paint as the Spartans sealed their come-from-behind win over the Bulldogs, 62-60.
"I don't even know. It's just crazy. It was just a rush of energy," Cooper said. "I'm a quiet kind of guy, so it was crazy. The crowd was live. My teammates pumped me up. It helped me get it done. I trusted myself. I trusted my instincts."

As the Broad Run and Stone Bridge head coaches traded timeouts down the stretch, Spartan head coach John Costello didn't draw up a fancy play. He didn't orchestrate magic. He didn't have to.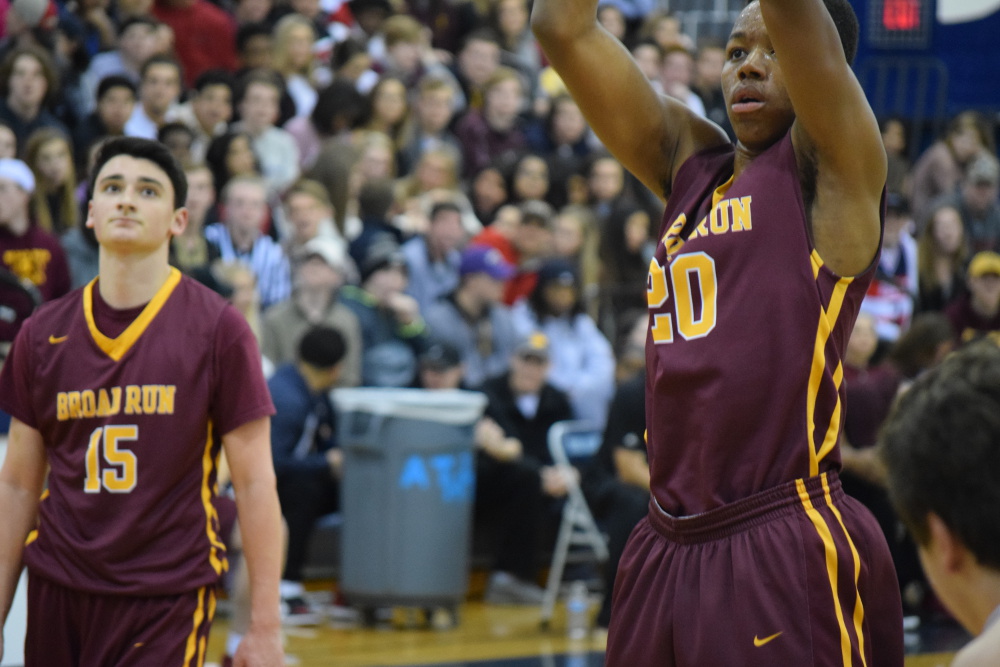 "At the end of the game, I'm smart enough to get out of the way and just give the ball to your best player, and let him win the game. That's what Anthony does. He gets it done," Costello said. "He's in a special zone right now, and I couldn't be happier for him."
The happiness came on the backend of a ferocious battle in which Stone Bridge knocked down three after three after three.
"That's a mismatch for us, because we're big," Cooper said. "They're guard-heavy and everyone on their team can shoot. They hit it at a crazy rate tonight."
Led by junior shooting guard Ben Kling and sophomore point guard Evan Buckley, the Bulldogs hit 15 three-pointers in the loss. Kling – who scored a team-high 21 – hit four from beyond the arc, Buckley hit five, while junior shooting guard James DiLuigi and freshman shooting guard Tyler Warden hit three apiece.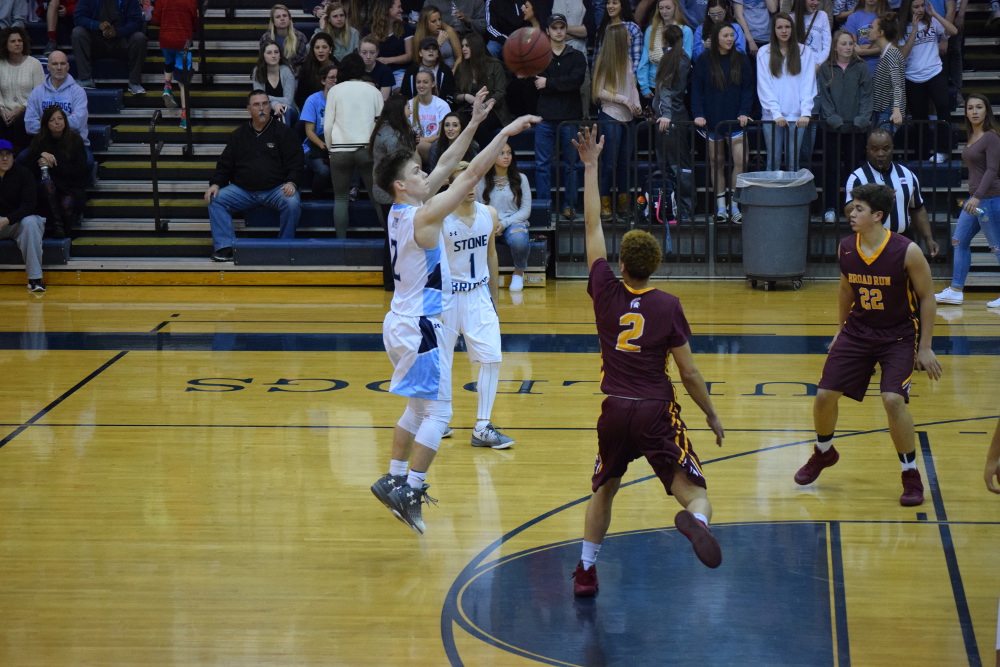 "Stone Bridge made nine three-pointers in the first half. They shot it almost 48-percent," Costello said. "We knew if we went out there for the next 16 minutes and limited their good looks at the basket, we could stay even with them. If we stay even, we're pretty tough."
Broad Run gained some momentum heading into the half as they turned to man-to-man on defense and got two big rallying plays from junior center Isaac Dove.
Late in the second quarter, on the offensive end of the court, Dove finished a fast break with a slam dunk. Then on the defensive end of the court, went airborne to swat away a Stone Bridge field goal attempt.
"I thought our team really needed a spark," Dove said. "We put in hard work all season, all offseason, so it's just about coming through when the time is right."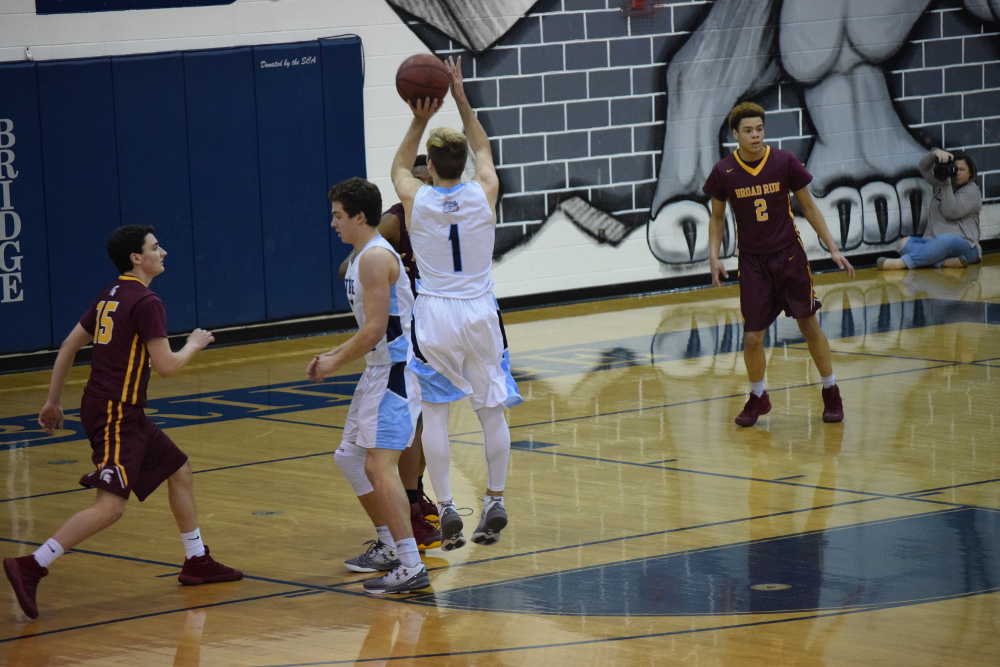 Even with the spark, Broad Run didn't take a lead until 30 seconds into the fourth quarter. And that lead was short-lived as Stone Bridge retook the lead just a few seconds later.
Overcoming multiple double-digit deficits in their win over the Bulldogs hadn't been the Spartans' only challenge this winter.
In mid-December, Broad Run lost their leading scorer and starting shooting guard Drew Johnson to an injury. Johnson – who averaged 19.6 points per game before his injury – is currently the fourth leading scorer in Loudoun County.
"I'm really proud of the kids. We had a major blow with the adversity of losing Drew. We've gone 5-1 since he went down," Costello said. "It just shows the kind of strength we have. It's not how many times you get knocked down, it's how many times you get back up. These guys refuse to lose."
Despite a three-point shooting display from Stone Bridge (2-1, 5-8), Broad Run (3-0, 8-6) found a way to weather the obstacles, like they have all season.
"We've beaten Stone Bridge, Potomac Falls and Tuscarora. Those are three great teams," Cooper said. "We're for real. We feel confident that we can go through this schedule and win the conference."
| | | | | | | |
| --- | --- | --- | --- | --- | --- | --- |
| Broad Run | Points | Rebounds | Assists | Steals | Blocks | FT |
| Anthony Cooper | 25 | 2 | 2 | 2 | 0 | 8-for-10 |
| Bryson Dolly | 12 | 7 | 0 | 1 | 0 | 0-for-0 |
| Isaac Dove | 7 | 7 | 0 | 0 | 3 | 1-for-2 |
| Willie Jordan | 6 | 2 | 0 | 0 | 0 | 1-for-1 |
| Andre Deocampo | 4 | 1 | 1 | 0 | 0 | 4-for-4 |
| Detwaun Turner | 3 | 1 | 0 | 0 | 0 | 3-for-3 |
| Spencer Payne | 3 | 0 | 0 | 0 | 0 | 1-for-1 |
| Hunter Hauser | 2 | 1 | 0 | 0 | 0 | 0-for-0 |
| Alex Huff | 0 | 3 | 0 | 0 | 0 | 0-for-0 |
| Scott Collins | 0 | 2 | 0 | 1 | 0 | 0-for-0 |
| Renzo Guevarra | 0 | 0 | 0 | 0 | 0 | 0-for-0 |
| Spartans Totals | 62 | 26 | 3 | 4 | 3 | 18-for-21 |
| | | | | | | |
| --- | --- | --- | --- | --- | --- | --- |
| Stone Bridge | Points | Rebounds | Assists | Steals | Blocks | FT |
| Ben Kling | 21 | 2 | 6 | 1 | 0 | 3-for-3 |
| Evan Buckley | 15 | 2 | 2 | 1 | 0 | 0-for-0 |
| Tyler Warden | 11 | 4 | 1 | 0 | 0 | 2-for-2 |
| James DiLuigi | 9 | 2 | 1 | 1 | 0 | 0-for-0 |
| Mark Williams | 2 | 5 | 4 | 0 | 0 | 2-for-3 |
| Neeraj Thokala | 2 | 1 | 0 | 0 | 0 | 0-for-0 |
| Eric Palmer | 0 | 2 | 1 | 1 | 0 | 0-for-0 |
| Sean O'Day | 0 | 0 | 0 | 0 | 0 | 0-for-0 |
| Zion Ware | 0 | 0 | 0 | 0 | 0 | 0-for-0 |
| Joey Miles | 0 | 0 | 0 | 0 | 0 | 0-for-0 |
| Shane Foster | 0 | 0 | 0 | 0 | 0 | 0-for-0 |
| Bulldogs Totals | 60 | 18 | 15 | 4 | 0 | 7-for-8 |