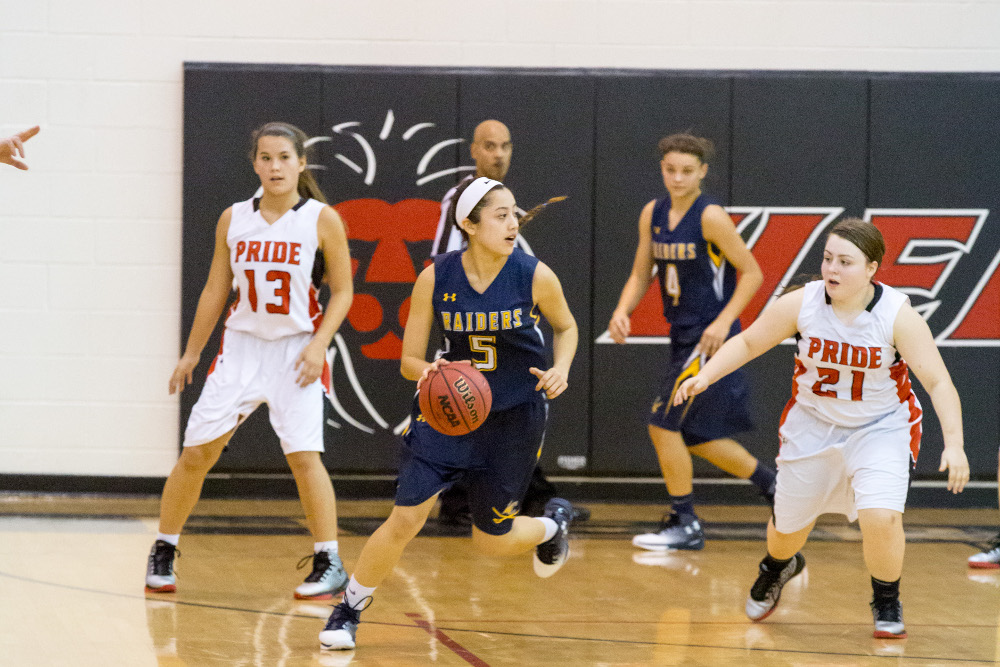 By Kyle Gotimer
LoCoSports Managing Editor
[twitter-follow screen_name='KyleGotimer42′]
Leesburg (January 9, 2017) – On the first snowy day of the school year, the Loudoun County High School and Heritage High School girls basketball teams met to play in their first match up of the season. Led by junior duo Natalie Villafor and Julia Ng, the Lady Raiders defeated the Pride, 62-40.
"It's January 6, so we know that both teams have a long way to go, both teams are going to be better a month from now," Loudoun County head coach Derek Fisher said. "We got off to a nice start and that was important for us. We were able to play a solid game. They're a good team with a lot of weapons."

The Loudoun County offense jumped off to an early lead and maintained it with their outstanding rebounding effort. The Lady Raiders reeled in 29 boards led by their center Villaflor and sophomore forward Morgann Harden with eight each.
"I was really nervous in the beginning because Heritage is a good team and they really wanted to beat us. I'm happy we got the win," Harden said. "A lot of my teammates are really good at rebounding, but since I'm the youngest starter, I feel like I have step up and really rebound for my team, and I think I did a good job on that tonight."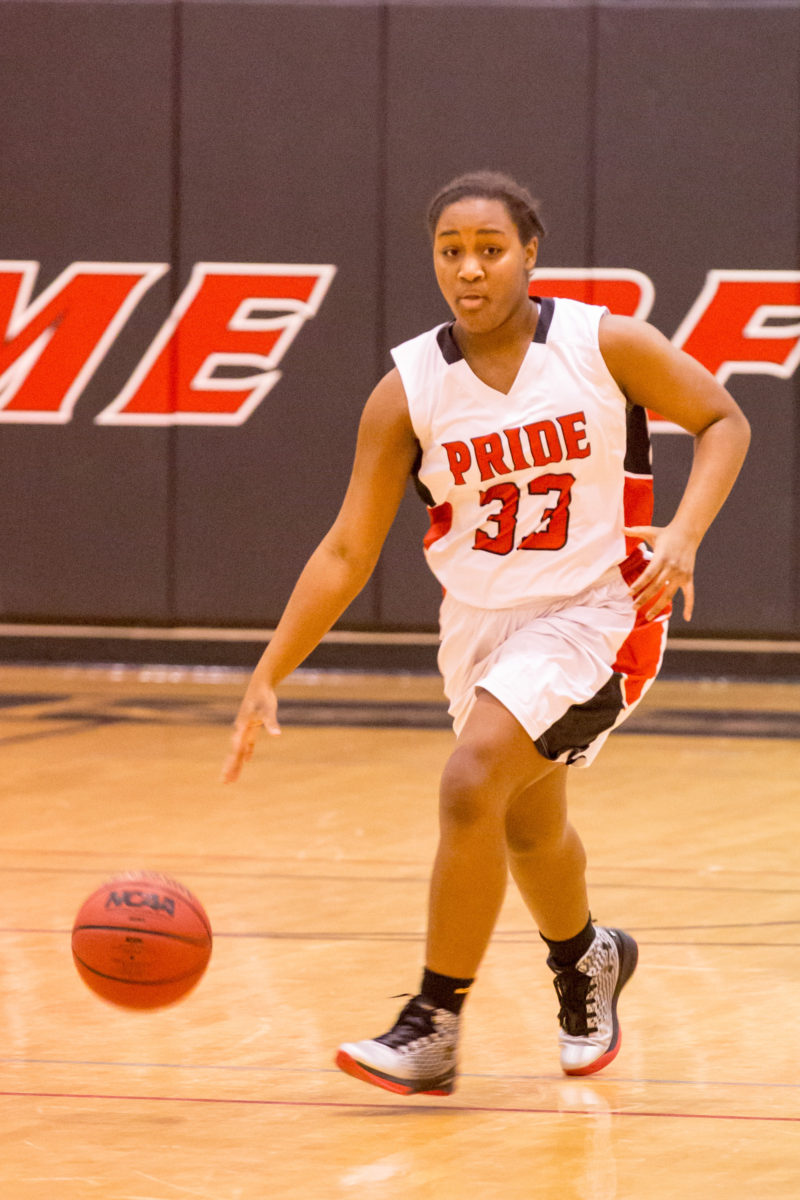 Rebounding has been a focus for the top-ranked Raiders this season. As a team who struggles on the boards, Fisher emphasizes keeping the differential close enough to win games rather than winning the rebounding battle.
"Rebounding is something that is really one of our problem areas. We are not a very big team so we ask girls like [Harden] to get in there and mix it up with some taller and bigger players," Fisher said. "It's really just the focus; we try to tell them that we don't have to win the rebounding battle, we just can't get killed. As long as we're holding our own we feel okay with it."
Not only did they keep their rebounding numbers close with Heritage, the Lady Raiders actually outrebounded the Pride, 29-26.
"Tonight, we wanted to attack the glass because, again, Heritage has a lot of people in there that can get an offensive rebound and stick it back in," Fisher said. "You're not done playing defense until you have the ball. So that was part of our defensive package tonight."
The Loudoun County defense was also able to control Heritage's top scoring threats – senior forward Corrianna Calloway and senior guard Lana Zjajo.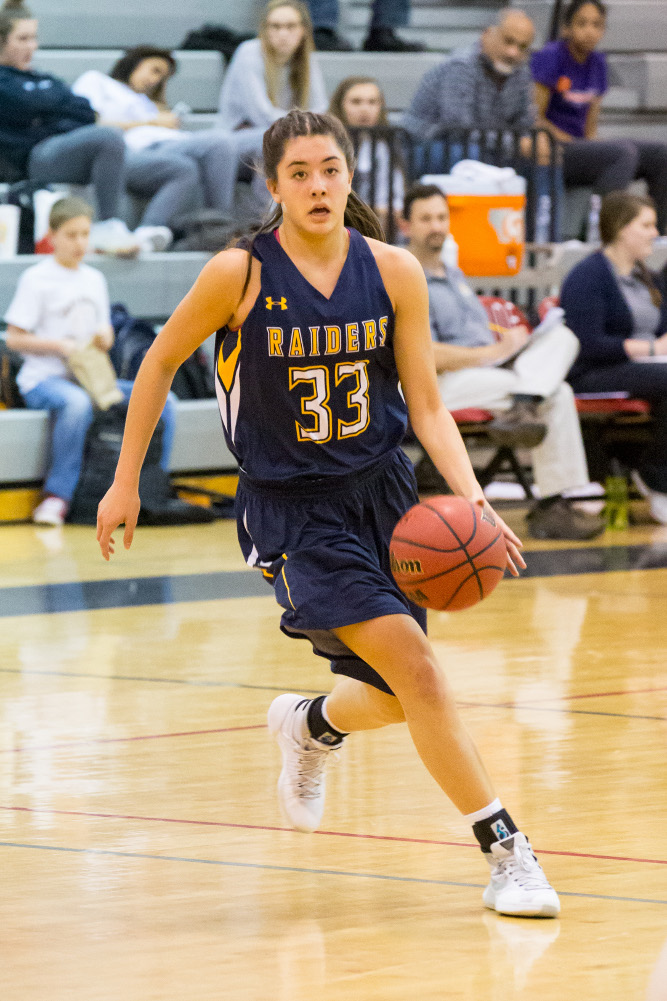 The Pride offense struggled to score until Zjajo dropped her first points of the game with just 28.1 seconds left in the first half. Coming out of the locker room after halftime, Zjajo and junior forward Kendall Edmond opened up the scoring for the Pride and closed the difference to just ten points.
"We definitely have to be aware of [Zjajo]. She's a very talented player and you know we all have those nights, sometimes the ball doesn't go. There is no question in my mind that we could go back and play again and she could put up about 20," Fisher said. "It's just a question of team defense and trying to make things difficult for her and their whole team, and like I said they have a lot of weapons that are not easy to guard."
But after a technical foul on the Pride, Edmond and Zjajo started to wear down. The Loudoun County offense took advantage of the struggling Heritage offense as Ng knocked down free throw after free throw, scoring 12 of her game-high 20 points on 16 attempts from the free throw line. Villaflor added to the lead with a quiet 16 points.
"We feel like we're at our best when we have multiple people scoring," Fisher said. "We had a lot of people who were able to score and we just try to find the right match up, find the hot hand, and go with what's working."
Heritage has a two-week hiatus in conference before they look to bounce back from this conference loss when they host Rock Ridge on Friday, January 20. Loudoun County looks to continue their Conference 21B win streak on Friday, January 20 when they host Park View High School.
"I'm so happy we won," Harden said. "The next time we play Heritage, they're really going to want to win. I just hope we can play how we did to tonight and beat them again."
| | | | | | | |
| --- | --- | --- | --- | --- | --- | --- |
| Loudoun County | Points | Rebounds | Assists | Steals | Blocks | FT |
| Julia Ng | 20 | 7 | 0 | 0 | 0 | 12-for-16 |
| Natalie Villaflor | 16 | 8 | 0 | 3 | 0 | 5-for-11 |
| Emily Miller | 11 | 2 | 2 | 1 | 1 | 7-for-8 |
| Morgann Harden | 10 | 8 | 2 | 3 | 0 | 0-for-2 |
| Cammie Warter | 3 | 0 | 0 | 0 | 0 | 0-for-0 |
| Anhai Allen | 2 | 4 | 0 | 1 | 1 | 2-for-2 |
| Grace Allen | 0 | 0 | 0 | 0 | 0 | 0-for-0 |
| Kaylee Frye | 0 | 0 | 0 | 0 | 0 | 0-for-1 |
| Lady Raiders Totals | 62 | 29 | 4 | 8 | 2 | 26-for-40 |
| | | | | | | |
| --- | --- | --- | --- | --- | --- | --- |
| Heritage | Points | Rebounds | Assists | Steals | Blocks | FT |
| Lana Zjajo | 9 | 1 | 0 | 1 | 0 | 2-for-3 |
| Lauren Phelps | 7 | 3 | 0 | 1 | 0 | 2-for-3 |
| Kendall Edmond | 5 | 6 | 3 | 1 | 0 | 1-for-3 |
| Corrianna Calloway | 5 | 1 | 0 | 1 | 1 | 1-for-2 |
| Morgan Gray | 4 | 8 | 2 | 1 | 0 | 0-for-0 |
| Amber Kaiser | 4 | 1 | 1 | 0 | 0 | 2-for-5 |
| Bri Campion | 2 | 3 | 0 | 0 | 0 | 0-for-2 |
| Kayren Gaither | 2 | 2 | 0 | 1 | 0 | 2-for-2 |
| Grace Sibley | 2 | 1 | 1 | 0 | 1 | 2-for-3 |
| Pride Totals | 40 | 26 | 7 | 6 | 2 | 12-for-23 |