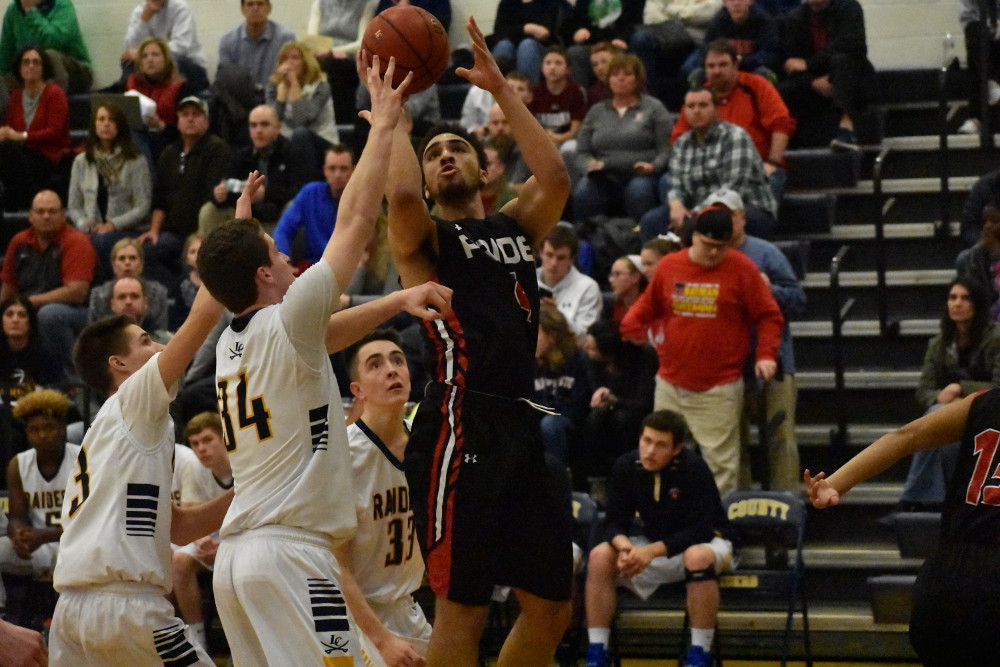 By Owen Gotimer
LoCoSports Editor-in-Chief
[twitter-follow screen_name='BigO_Gotimer']
Leesburg (January 7, 2017) — Even with a two-hour delay to start the school day, the Heritage High School boys basketball team did not arrive at Loudoun County High School sluggish. The Pride roared to an early lead and never looked back as they defeated their crosstown rival Raiders, 71-38, in a Conference 21B match up.
"We're starting to buy into what we're supposed to be doing defensively. That's enabling us to start scoring more points because we've been a little more aggressive," Heritage head coach Sam Carpenter said. "We're also playing with a whole lot more confidence. I think that's a by-product of everyone finally starting to be on the same page."

The defensive game plan for Heritage was simple: stop Loudoun County senior guard Tyler Karol.
"We were face-guarding, just trying to keep the ball out of Karol's hands. He's their biggest threat," Carpenter said. "The focus was to minimize his ability to have an effect on the game."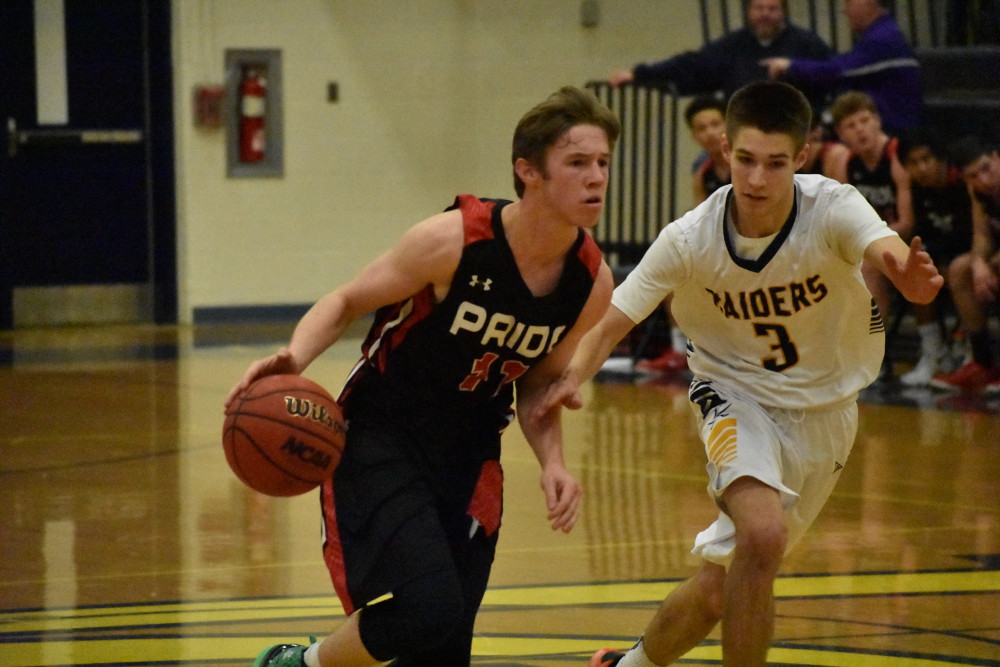 While Karol scored a game-high 21 points, the Pride were content with their defensive effort.
"Tyler Karol is a good guard: one of the best in the county," Heritage senior guard Chris Chapman said. "It is hard to guard him. But I think we did pretty well."
The Raiders' next two biggest scoring threats – sophomore guard Joe Alexander and senior guard Charlie Turnage – combined for just four points.
Whereas Loudoun County struggled to get going offensively, Heritage found no problem scoring from all parts of the court. All but two of the Pride's 12 players scored in the winning effort.
"A lot of teams around here only have one or two great scorers," Chapman said. "For us, anyone can really score, so teams don't know how to guard us."
Led by senior guard Zach Garrett – who scored 19 points, going 9-for-9 from the charity stripe – the Pride offense saw three players in double-digits: Garrett, Chapman and freshman guard Dylan Saale.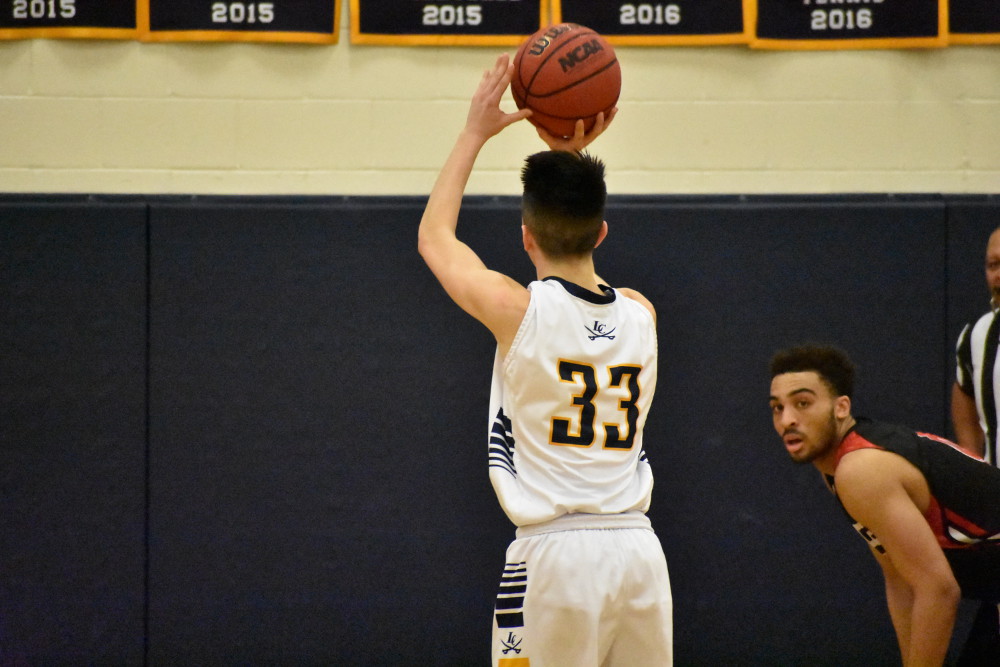 The big difference in the game was rebounding. Heritage dominated the glass, outrebounding the guard-heavy Loudoun County roster, 32-16. Every single player on the Pride roster corralled at least one rebound.
Heritage will need that type of rebounding dominance when they meet Rock Ridge High School in their next Conference 21B match up on January 11 in Leesburg.
"Quite honestly, I'm not worried about Loudoun Valley. Loudoun Valley is the Alabama. They're the big dog. You're not supposed to be Valley. But when we play them, we're going to do everything we can to try to beat them," Carpenter said. "I'm worried about Rock Ridge because we're looking at getting into the No. 2 seed in the conference."
| | | | | | | |
| --- | --- | --- | --- | --- | --- | --- |
| Heritage | Points | Rebounds | Assists | Steals | Blocks | FT |
| Zach Garrett | 19 | 6 | 2 | 1 | 1 | 9-for-9 |
| Garrett Ganley | 6 | 6 | 2 | 1 | 2 | 1-for-4 |
| Chris Chapman | 12 | 4 | 1 | | 1 | 0-for-1 |
| Gio Seigler | 2 | 2 | 2 | 2 | | 0-for-1 |
| Kyle Turner | 6 | 2 | | | | 2-for-2 |
| Mohammed Sene | | 3 | | | | |
| Dylan Saale | 11 | 2 | 1 | 2 | 1 | 1-for-1 |
| Jason Richards | 2 | 1 | | | | 2-for-4 |
| Josh Gray | 2 | 3 | 1 | 1 | | |
| Darick Edmond | 4 | 1 | | | | |
| Nathan Olafson | 7 | 1 | | | | 2-for-3 |
| Aaron Maisus | | 1 | | 1 | | |
| Pride Totals | 71 | 32 | 9 | 8 | 5 | 17-for-25 |
| | | | | | | |
| --- | --- | --- | --- | --- | --- | --- |
| Loudoun County | Points | Rebounds | Assists | Steals | Blocks | FT |
| Tyler Karol | 21 | 5 | 1 | 5 | | 7-for-7 |
| Cam Corbett | 8 | 1 | 1 | | | 1-for-2 |
| Charlie Turnage | 4 | 3 | | | | 1-for-3 |
| Pierce Brenner | 3 | | 1 | | | |
| Mike Mozeyko | 2 | 1 | 1 | | 1 | |
| Derek McCandless | | 5 | | | | 0-for-2 |
| Steven Bowers | | 1 | | | | |
| Justin Loehnis | | | | 2 | | |
| Joe Alexander | | | | | | |
| Raiders Totals | 38 | 16 | 4 | 7 | 1 | 9-for-14 |