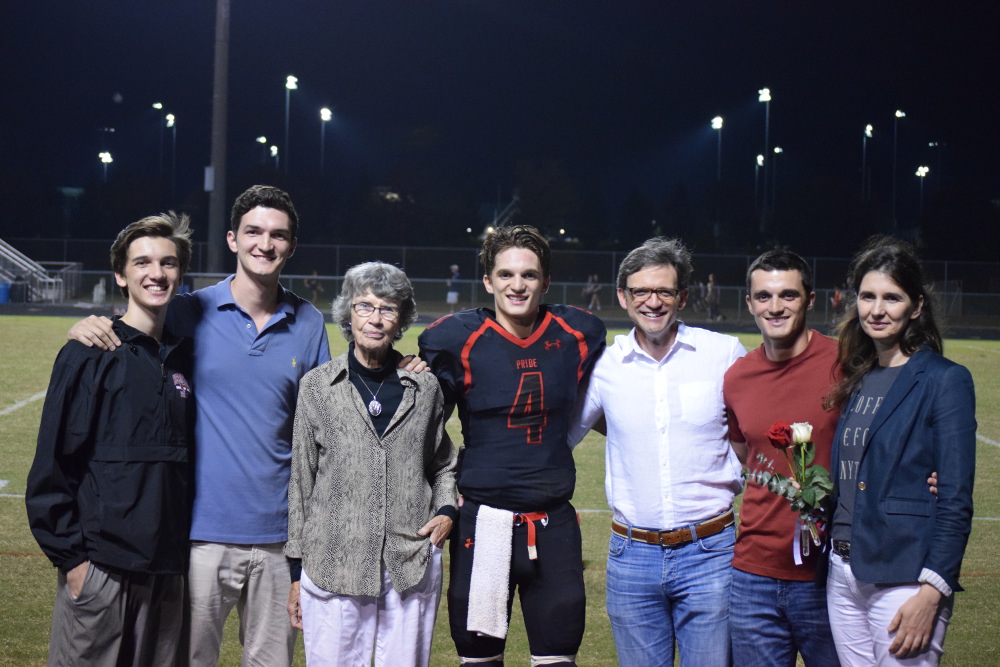 By Kyle Gotimer
LoCoSports Managing Editor
[twitter-follow screen_name='KyleGotimer42′]
Leesburg (October 22, 2016) – Third down, on the goal line, down by three points, 24 seconds left with no timeouts remaining. The third down run is unsuccessful and the clock is ticking. Rushed back to the line, tick, tick, tick, two seconds left. The snap and a dive around the outside. TOUCHDOWN.
Heritage senior quarterback Alex Carlin dove into the end zone as time expired to defeat the John Champe Knights 41-38.
"Initially we called a sneak on the goal line, but then I saw a bunch of players right in the middle and I just thought to myself 'no one is on the outside wash 'em down a little bit, give me just a little bit of room.' Then, as the play started, that's what I saw and I just dove right in," Carlin said.
After the Pride defense forced a stop with six minutes left, Carlin's offense pounded their way down the field and onto the goal line where they burned almost too much time. Heritage head coach Reed Prosser called his last timeout with just 24 seconds left before a key third-and-one play.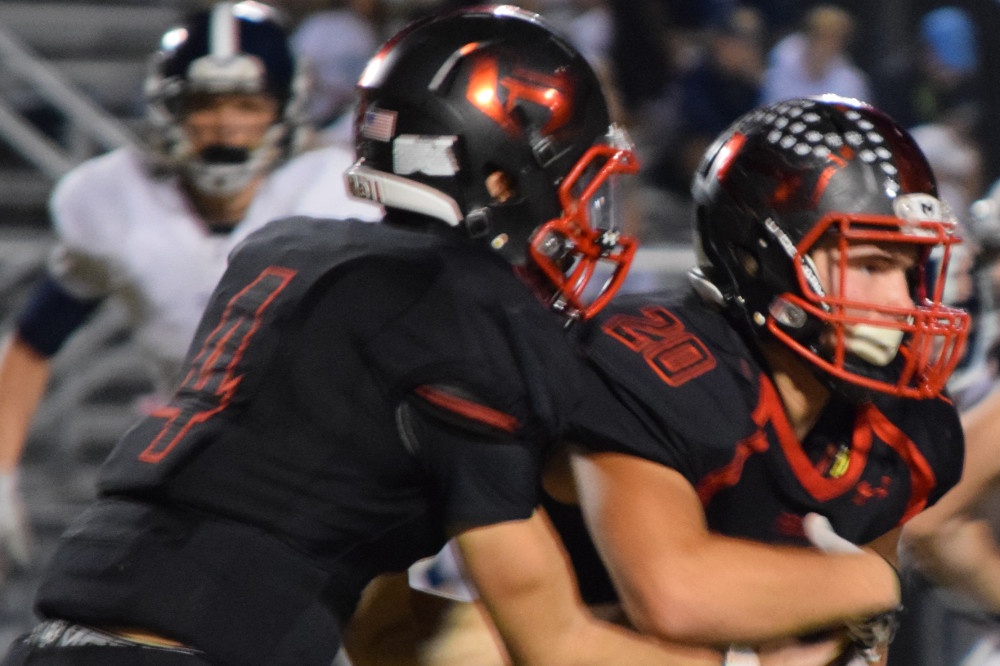 "When we got the ball back again with six minutes to go, we talked about we're gonna keep it, we're gonna take our time, we're gonna win or lose on this drive," Prosser said. "We weren't gonna give it back to them and then we got down there on the goal line. Our kids are used to situational football. They don't freak out, they know how much time is necessary to run stuff. We had a two play huddle and we didn't get in so we're gonna reset and try it again. Alex Carlin made a great play, I can't say enough about him."
Carlin made a quick decision to cut to the outside and dive for the end zone. His play call payed off and his team went up by four with no time left.
"Situational football. It was a gutsy call, the first play up the middle didn't work and Alex made the gutsiest call I've ever seen him make in his life and it payed off and we got the dub," Heritage senior running back Luke Schaub said.
While Carlin's game-ending touchdown gave the Pride the win, the running backs from both teams worked hard to give their respective teams a chance.
John Champe struck first as senior running back Carl Garmon III went for a 1-yard rushing touchdown with 7:58 left in the first quarter. Garmon III went on to rush for three more touchdowns on the night including a 30-yard rushing score with 1:23 left in the third quarter.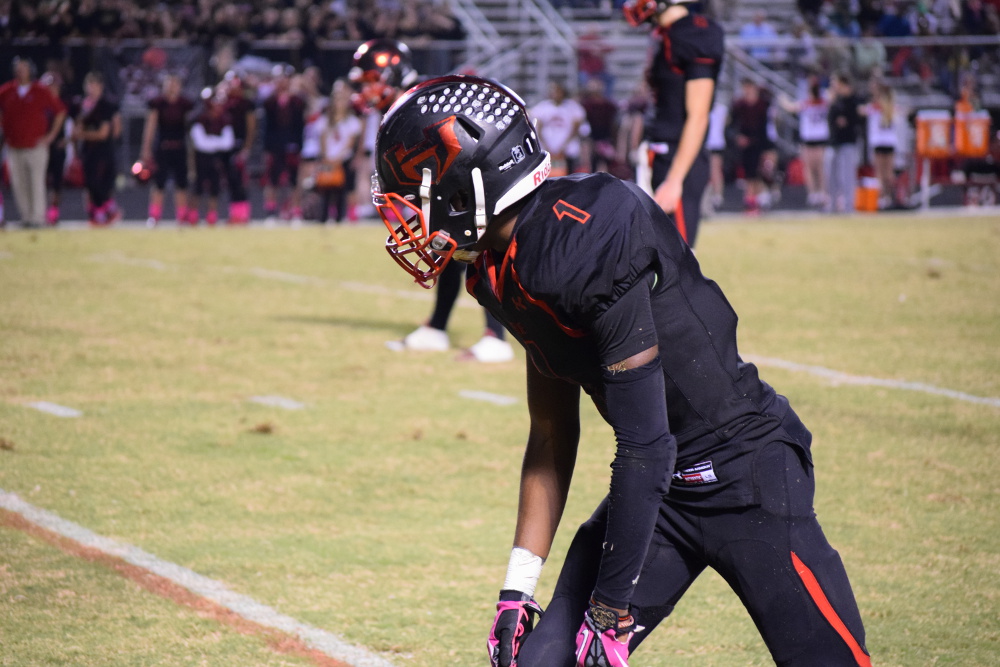 "[Garmon]'s definitely a great player. He was running all over us a little bit but our defense stepped up when it really mattered and made a big play and was able to get our offense back on the field," Carlin said. "I told them in the locker room, 'We've got you guys, this is a shootout we know, but the offense is gonna prevail at some point' and that's exactly what we did."
Garmon III touchdowns weren't the only scoring efforts John Champe on the night. Knight sophomore running back Jo Garmon – Carl Garmon III's younger brother – caught a 9-yard touchdown pass from junior quarterback Cameron Parson.
"They've got a great running back and they're really well coached," Prosser said. "It's Big 12 football, that's what Loudoun County is turning into Big 12 football."
For the Pride, Schaub rushed for three touchdowns including back-to-back rushing scores from over 30 yards out each. Not only scoring touchdowns, Schaub also helped Carlin lead the Pride offense down the field every chance he got.
"Offensively we were able to just keep running," Schaub said. "We were so confident that we could just keep going, we just relied on our defense to get a couple stops so we could go ahead."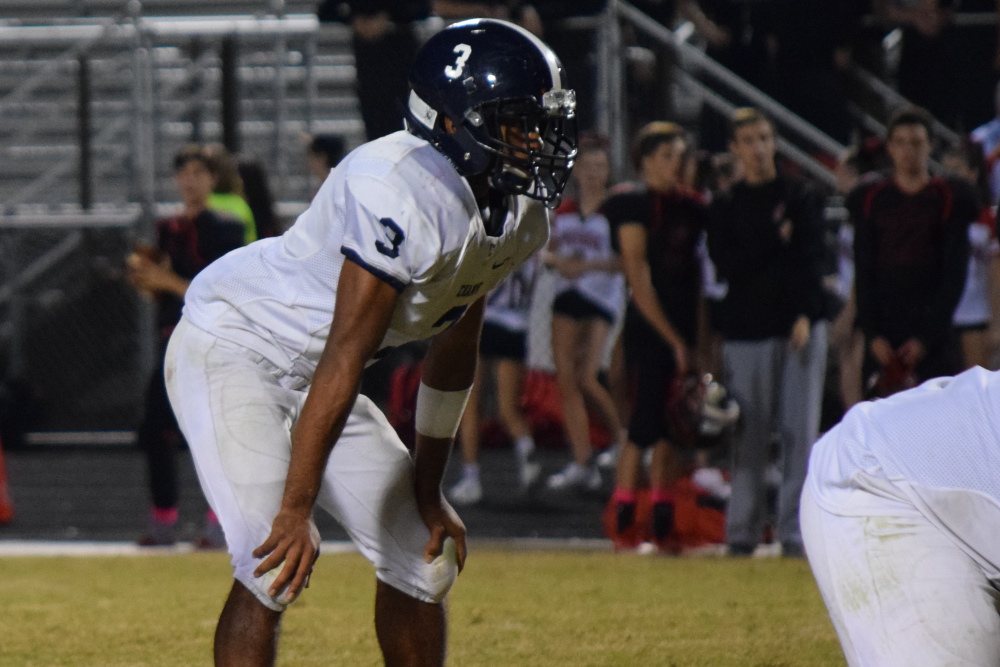 Along with Schaub's three rushing touchdowns and a rushing touchdown of his own, Carlin threw for two more scores. Carlin first found junior receiver Aaron Maisus for a 20-yard touchdown to give the Pride a six-point lead early in the second quarter.
"We've just got players that are stepping up this season," Schaub said. "With the amount of talent we lost this season, we had so many kids step up this season and we were able to replace it."
Fourth-and-one in the second quarter, Carlin connected with senior receiver DJ Hutcherson for a 10-yard score.
"Obviously our spirits are low after Woodgrove, we kinda played well in the second half of the Woodgrove game last week and we carried that through practice the whole week," Carlin said. "Everyone was kinda energetic and flying around knowing we had a good chance against John Champe."
Despite giving up five touchdowns to the Garmon brothers, when it came down to it, the Heritage defense stepped up and got a stop to give the Carlin-Schaub led offense the ball with six minutes to go.
"I'm really proud of our defense for making that big play and giving us the ball with a lot of time left," Carlin said. "We led a good drive and chewed up a lot of clock and won the game, so it's really a lot of fun to have a defense to make a big play when it really matters."
Heritage will travel to Sterling to take on Dominion High School on October 28 while John Champe returns to Leesburg to battle with Loudoun County High School.
"I just couldn't be more proud of my team right now, I'm so pumped up," Carlin said. "I don't know a word to describe it other than excited. We're excited for each other and we're excited for this team. It's a signature win for us in this program, we haven't had a big win like that in a long time and to get it, on senior night especially, is really a lot of fun for us."
Scoring:
1Q 7:58 JC Carl Garmon III 1-yard TD run (2pt failed)
1Q 6:20 H Luke Schaub 38-yard TD run (Henriquez PAT)
1Q 4:20 H Luke Schaub 34-yard TD run (Henriquez PAT)
1Q 4:14 JC Cameron Parson to Jo Garmon 9-yard TD pass (2pt good)
2Q 10:04 H Alex Carlin to Aaron Maisus 20-yard TD pass (Henriquez PAT)
2Q 9:19 JC Carl Garmon III 4-yard TD run (2pt good)
2Q 5:03 H Alex Carlin to DJ Hutcherson 10-yard TD pass (Henriquez PAT)
2Q 3:53 JC Carl Garmon III 5-yard TD run (2pt good)
3Q 3:47 H Luke Schaub 2-yard TD run (Henriquez PAT)
3Q 1:23 JC Carl Garmon III 30-yard TD run (2pt good)
4Q 0:00 H Alex Carlin 1-yard TD run