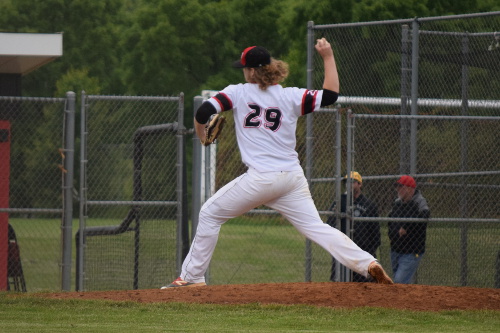 By Owen Gotimer
LoCoSports Editor-in-Chief
[twitter-follow screen_name='BigO_Gotimer']
Leesburg (May 19, 2016) — Heritage High School senior ace Brent Smith faced just four Phoenix batters over the minimum, but failed to pick up the win as an evenly impressive start from Rock Ridge High School junior ace Nick Stewart – who retired 18 straight Pride batters at one point – meant the Phoenix and Pride had to go to their bullpens in the ninth inning of their Conference 21B quarterfinal in Leesburg on May 18.
Heritage junior relief pitcher Cameron Taylor earned the win as a pinch hit walk-off sacrifice fly by senior Carsten Wahl plated the only run of the night for either team in the Pride's, 1-0, nine-inning victory.
With the bases loaded after a walk, sac bunt and two intentional passes, Wahl – who started defensively for the Pride – entered as a pinch hitter. Wahl hit a short flyball to right field, but a bobble on the cutoff meant senior third baseman Brandon Keiper tagged up and slid home without a play as Heritage walked off.
"We were sitting there with a guy at third, and we hadn't had a guy there all night," Heritage head coach Ryan Price said. "We had to be aggressive and make them make two throws. That was it."
Smith – who allowed just one Phoenix baserunner to reach third base all night – was lifted in the ninth inning in a 0-0 ballgame for junior relief pitcher Cameron Taylor who retired the Rock Ridge 2-3-4 hitters in order to give his Pride a chance in the bottom half of the inning.
"[Smith]'s been one of our most consistent – if not, our most consistent – arm all year," Price said. "We had him lined up for today hoping that he could give us a very good chance to win. He certainly kept us in the ball game as long as he had innings for the week."
Smith allowed leadoff baserunners in the first and second innings, but erased both threats – the only two threats he dealt with throughout the night – with double play balls.
"The fastball was working good, moving. The curveball was looking nice," Smith said. "It felt good that we finally got one run to end the game and finish it up."
The true essence of a pitchers' duel is when both teams' starters go round-for-round with each other trading blows, and Stewart proved to be a worthy opponent to Smith's one-hit shutout.
Stewart – who allowed just two hits over eight innings – settled in after a second-inning threat, retiring 18 straight Heritage batters including seven strike outs over that span.
"He had a great fastball, great slider, worked ahead and had a lot of quick innings early that kept his pitch count down," Rock Ridge head coach Paul Koch said. "He just did a great job for us."
For the third time in three starts against Heritage this season, Stewart's Phoenix fell just short.
Keiper – one of only two Heritage players to reach base safely twice along with junior first baseman Kyle Gotimer – made it clear that beating Stewart once a season, much less three times, is no easy feat.
"Nick's a really good pitcher. He uses a lot of pitches to get you out and all of his pitches, he can get you out with. He really used the zone to his advantage today," Keiper said. "He threw a really good game, but we just figured out how to get a run across before they could."
While Stewart didn't get the run support he needed, Koch hopes that pattern will change in 2017 when his young Phoenix return a healthy part of their 2016 lineup.
"Tonight, we started six sophomores, two juniors, one senior, so we feel like those sophomores need to get a year bigger and stronger. That's what we're looking forward to," Koch said. "But it's time to stop saying that. Next year, we'll be bigger and stronger. Next year, it will be time for it to pay off."
As the Phoenix prepare for next season, the No. 4 Pride get one more chance to knock off the No. 1 Vikings when they travel to Loudoun Valley High School on May 20 for a Conference 21B semifinal.
"I think we have to continue pitching the way we have over the last few weeks. The defense has been playing stellar over the last few weeks. We have to make routine plays, and we'll probably have to come up with a couple great plays. And we have to figure out how to scratch a run across the plate again," Price said. "We're very excited about the result. We get to play a little more baseball on Friday. We're excited about that opportunity."
Offensively:
Heritage
Baer 0-2, BB, 2 K
Koehler 0-4, K
Keiper 1-3, BB, K, R
Smith 0-3, K
Schaub 0-3, BB, K
Gotimer 1-3, 2B, BB
Feldner 0-2, BB, 2 K
Tyree 0-3, ROE, K
Howard 0-3, K
Lannes 0-1
Taylor 0-0, sac bunt
Wahl 0-0, sac fly, RBI
Rock Ridge
Carlson 0-2, 2 BB, K, SB
Apodaca 0-2, BB, sac bunt, SB
Goldman 0-4, K
Stewart 0-4
Jessie 1-3, K
Brown, C. 0-3
Brown, D. 0-3, K
Wright 0-3, ROE, SB
McGovern 0-3, K
Pitching:
Heritage
Smith 8 IP, 0 R, 0 ER, 1 H, 3 BB, 4 K
Taylor W 1 IP, 0 R, 0 ER, 0 H, 0 BB, 1 K
Rock Ridge
Stewart 8 IP, 0 R, 0 ER, 2 H, 2 BB, 10 K
Brown, C. L .1 IP, 1 R, 1 ER, 0 H, 3 BB, 0 K