(May 9, 2016) – In an effort to better recognize student-athletes in Loudoun County who positively affect high school athletics in the area, the LoCoSports team has selected its April 2016 Athletes of the Month for baseball, lacrosse, soccer, softball, tennis and track & field.
If you wish to nominate a student-athlete for athlete or teammate of the month, please reach out through our contact form or email us at locosportsnews@gmail.com.The selections were made from nominations based on the following criteria: success, hustle, work ethic, attitude and heart.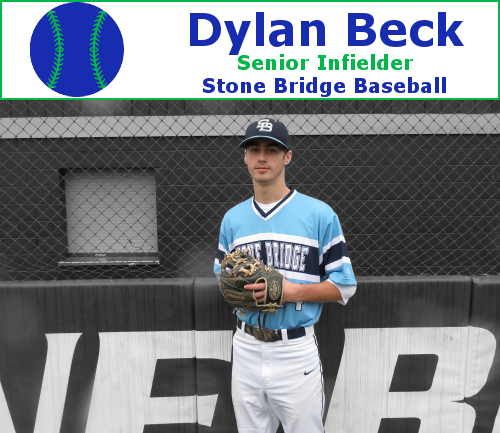 Nominated by Lawton Riggs
After winning the program's first VHSL 5A state championship in 2015, Stone Bridge High School senior Dylan Beck is on a mission to bring the Bulldogs' baseball team back to the top. Sitting at 11-6 and 3-2 in Conference 14, Stone Bridge certainly has the talent to make another deep postseason run, and Beck's passion is a key piece to that puzzle.
"Dylan is driven both internally and externally. His fire within feeds him to work hard and learn every day," Stone Bridge head coach Andrew Baird said. "A love for those around him — teammates, friends, family — ensures he works to improve himself as well as those he loves. He understands that hard work is the root of his athletic talent and makes sure each day he out works the competition.
Through April 25, Beck was hitting just over .400 with three doubles, five RBI and ten runs scored. But his stats alone are not what make Beck the next level player that he is.
"Dylan demonstrates strong leadership skills both through his actions as well as the ability to rally his teammates through his words," Baird said. "He desires to improve himself and those around him. This is apparent in his work ethic. Every day he comes to the field with a purpose, wanting to learn and grow both as a ball player as well as a leader."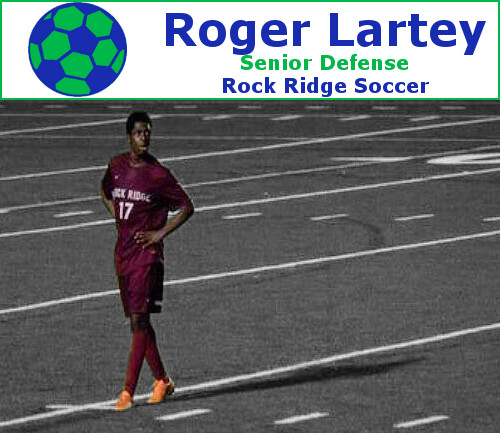 Nominated by Tommy Caldwell
Rock Ridge High School senior Roger Lartey is in the midst of helping the Phoenix battle back in the top-heavy Conference 21B. Currently, sitting at 5-4-0 – 6-6-1 overall – Rock Ridge is going to have to work to get past two of LoCo's top boys soccer teams: Heritage and Park View. With the help of Lartey, the Phoenix defense has allowed one or less goals in six games this season including falling to the top-seeded Pride 2-1 in both of their clashes this spring.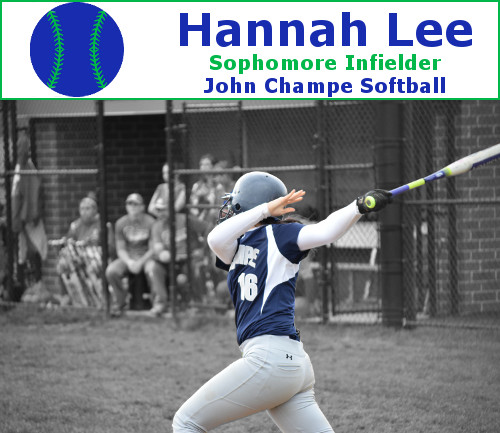 Nominated by @JCHSVSB
John Champe High School sophomore Hannah Lee has helped on both sides of the ball this spring as the Lady Knights' softball program is off to a 9-5 start including a 3-2 mark in Conference 22. An offensive threat every time she steps in the box, Lee had multiple extra-base and late-game hits in April as John Champe went 7-4 in the month.
"Hannah is a talented athlete because of the dedication she puts into her sport. She loves softball and that shows by the effort she puts into getting better every day," John Champe head coach Kaitlin Murray said. "It's easy for a gifted athlete to rely on natural born talent, but Hannah pushes herself day in and day out to be the best she can be."
On top of her work at the plate and in the circle, Lee adds that something extra that all coaches look for in their student-athletes.
"Hannah positively impacts her team by knowing how to motivate her teammates. She has a strong work ethic that carries over in everything she does — she's a natural leader," Murray said. "Hannah has a dedication — that is rare for a young athlete — that her peers see and work to emulate."
Nominated by Malia Sample
One of the top distance runners in the county, Heritage High School senior Georgie Mackenzie is having an excellent spring.
Mackenzie – who helped the Pride cross country team to a state championship in 2015 – ran a personal best time in the 800-meter (2:16.91) on April 23 at the Apple Blossom Invitational, in the 1,600-meter (5:00.33) on May 7 at the Dogwood Track Classic and in the 3,200-meter (10:59.37) on April 2 at the Crimson Tide Invitational.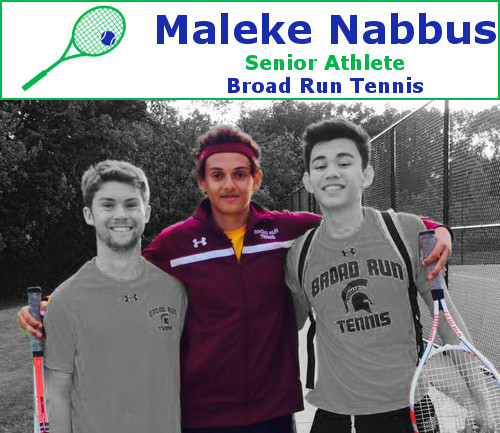 Nominated by Michael Pollatos
Broad Run High School senior Maleke Nabbus has helped the Spartans' boys tennis team to an 8-1 start in 2016 including a 4-1 mark in Conference 14.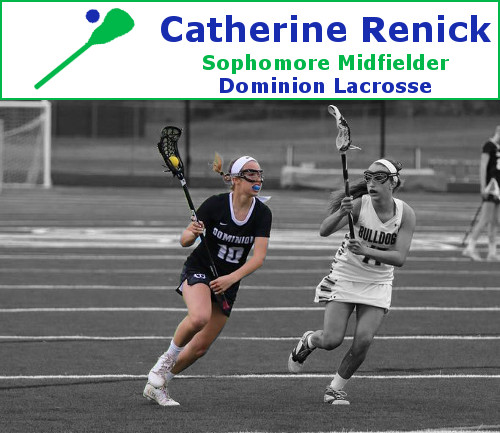 Nominated by Diane Traynor
Dominion High School sophomore midfielder Catherine Renick is in top-form in helping the Lady Titans to a 5-1 mark in the Dulles Group and 11-1 overall this spring.
Through April 27, Renick scored thirteen goals and added seven assists in April. In a 17-10 win over reigning VHSL 5A state champion Stone Bridge on April 22, Renick scored a career-high six goals.
"[Catherine is a] key contributor to the team's success in many areas including draw controls, ground balls and caused turnovers," Dominion head coach Diane Traynor said.