By Owen Gotimer
LoCoSports Editor-in-Chief
[twitter-follow screen_name='BigO_Gotimer']
Purcellville (April 29, 2016) — The Loudoun Valley High School (4-2-1, 5-4-1) girls varsity soccer team knew Riverside High School (2-9-0) would be no joke of a matchup on April 28 in Purcellville after the first-year Rams hung around with reigning VHSL 4A state champion Loudoun County, 2-0, and reigning VHSL 4A state runner up Heritage, 1-0, just a week before. But the Lady Vikings rose to the challenge and came out fast as sophomore Ally Major scored in the game's first five minutes with the goal that would prove to be enough in Loudoun Valley's, 3-0, shutout victory.
"We needed that. I told them we needed to go out hard and strike fast. And we did that for about ten minutes, but unfortunately, we let off," Loudoun Valley head coach Kerry Davidson said. "I wish we had kept that pace going for the whole first half."

The Lady Vikings' attack faltered a bit for the remaining 35 minutes of the first half before junior Taylor Creel found the back of the net just six minutes into the second half.
"It really helps motivate the team and keep the momentum going," Major said. "We were able to keep pressing. It just helps with the whole mentality of the game and staying positive."
Less than a minute later, Creel once again broke free and found the back of the Rams' net to put the Lady Vikings up 3-0 early in the second half.
"It definitely helps us because we knew we had a big lead," Creel said. "We were able to push it a bit more."
The Rams – with a short roster and a number of injuries – put a handful of shots on goal in the waning minutes, but were unable to find an answer.
"Especially since Riverside's a brand new school – and brand new schools typically struggle a little bit because they don't have as many people – I thought they were impressive," Major said.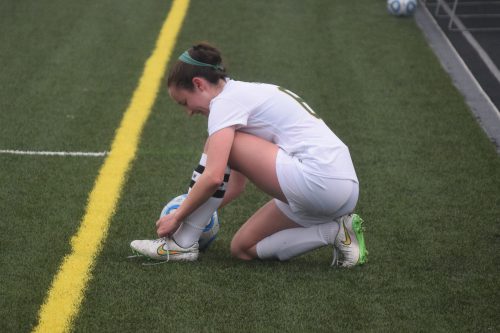 The Lady Vikings – riddled with injuries – used their 3-0 lead to give their starters some rest and get their reserves some valuable playing time late in the regular season. With just six games remaining before the start of the Conference 21B postseason, Loudoun Valley is working to maintain their No. 2 seed in the conference.
"We came out the second half and needed to turn it around, play smarter and put some balls in the back of the net. And we did," Davidson said. "What was great was we were able to do that early in the second half then get our bench in. We've got a lot of major injuries right now, so it was good to get some of our players off the field to rest up and protect and get other girls in who needed to get some experience and playing time."
Scoring:
5′ LV Ally Major
46′ LV Taylor Creel
47′ LV Taylor Creel