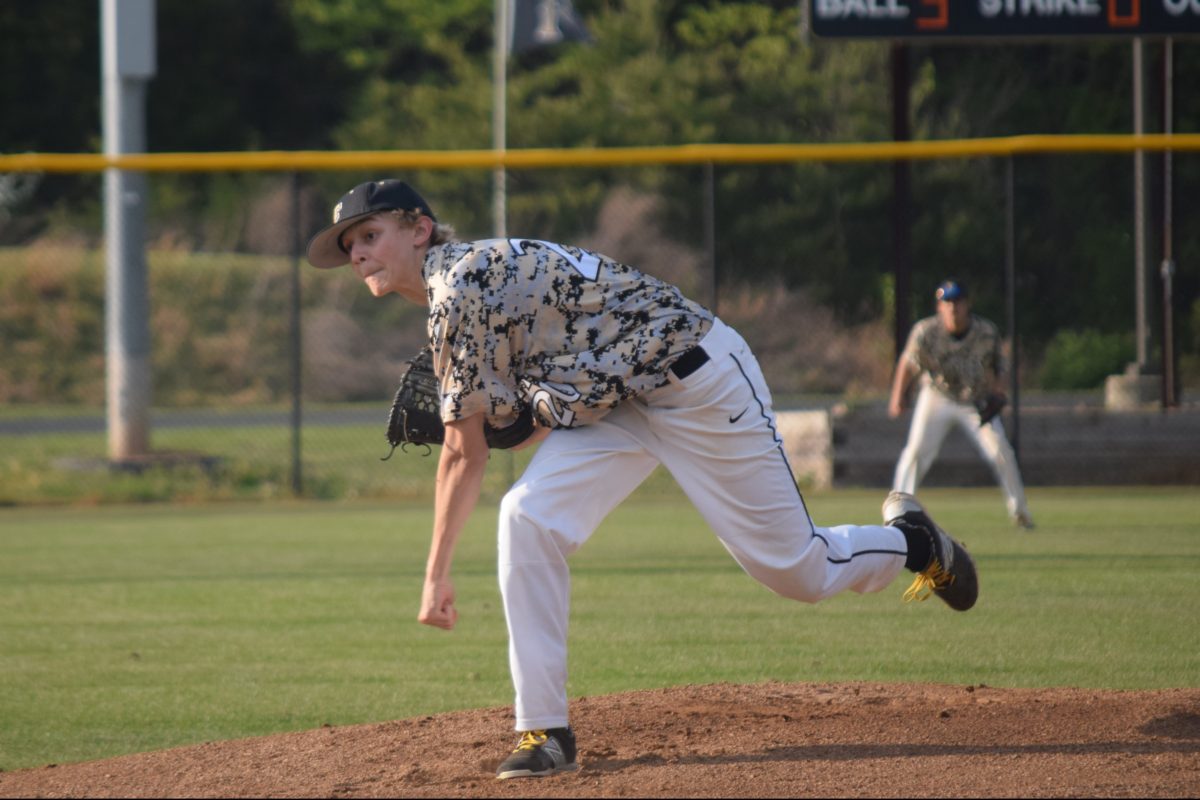 By Owen Gotimer
LoCoSports Editor-in-Chief
[twitter-follow screen_name='BigO_Gotimer']
South Riding (April 27, 2016) — With two outs and a strike to his name, trailing by a single run with two runners in scoring position in the bottom of the seventh inning in a non-conference game against Heritage High School on April 26 in South Riding, Freedom High School sophomore Kyle Schofield found himself in a situation very similar to one he found himself in just a season before.
"Kyle Schofield is a gutsy kid," Freedom head coach Mark Wrighte said. "He competed at the plate tonight, so that's a big moment for him."
In a May 2015 game, Schofield had a chance to complete an Eagles' comeback against the Broad Run Spartans, but was unable to find the answer. On April 26, 2016, his answer against the Pride came in the form of a two-RBI single which bounced off a first base scoring both the tying and game-winning runs in walk-off fashion: Freedom 6, Heritage 5.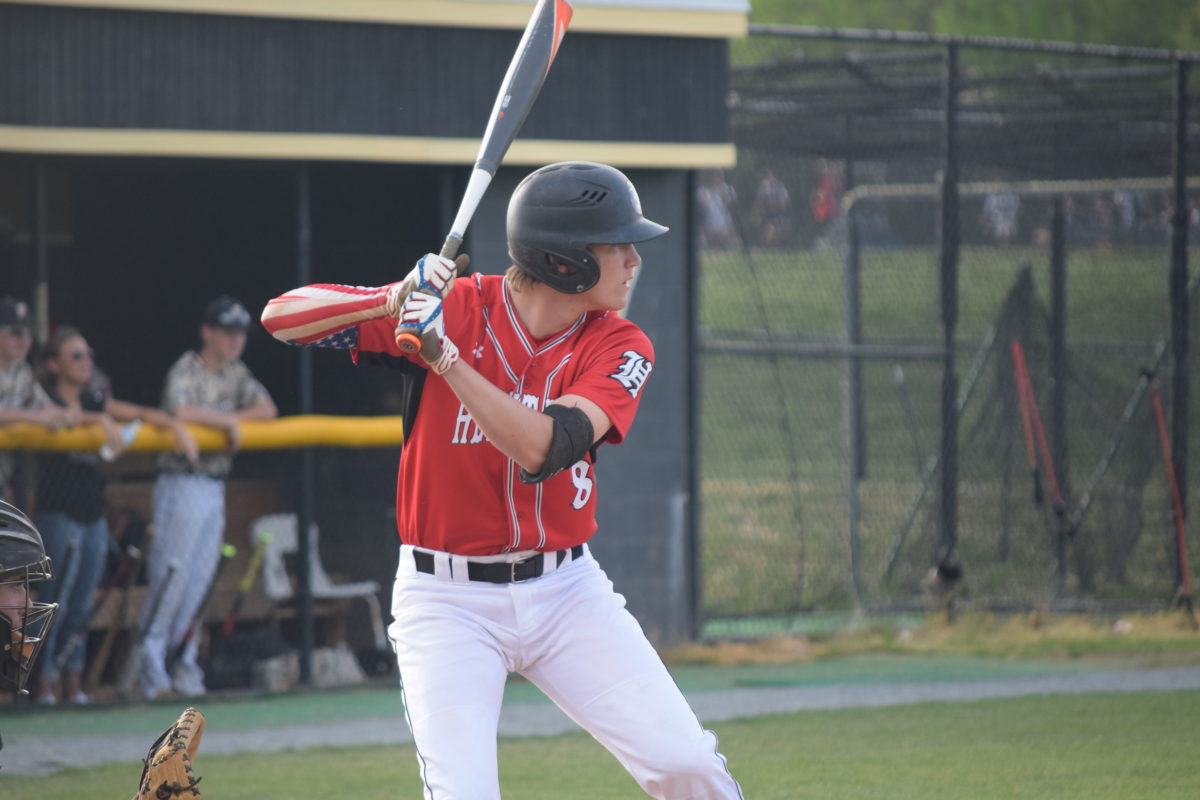 "Coming off of a loss Friday against Dominion on a walk off, the walk off win tonight gave us a little bit more experience," Freedom junior Joe Skinner said. "We have a relatively young team, so having two pressure cooker situations under our belts already will help with the experience when we play in May and June."
After taking an early 2-0 lead in the second inning — thanks to timely hitting and run manufacturing by sophomore Jack Fitzgerald, junior Mitchell Pfaff and seniors Robert Van Pelt and Michael Zubovich — Freedom relinquished their lead in the fourth when Heritage senior third baseman Brandon Keiper hit a booming triple to left center to plate junior outfielders Chris Baer and Luke Schaub. Keiper later scored on a wild pitch as the Pride took a 3-2 lead heading into the fifth inning.
"We didn't start out too well, but deeper into the game we began to rely on each other much more and that was the key to us keeping it close," Heritage junior Kyle Gotimer said.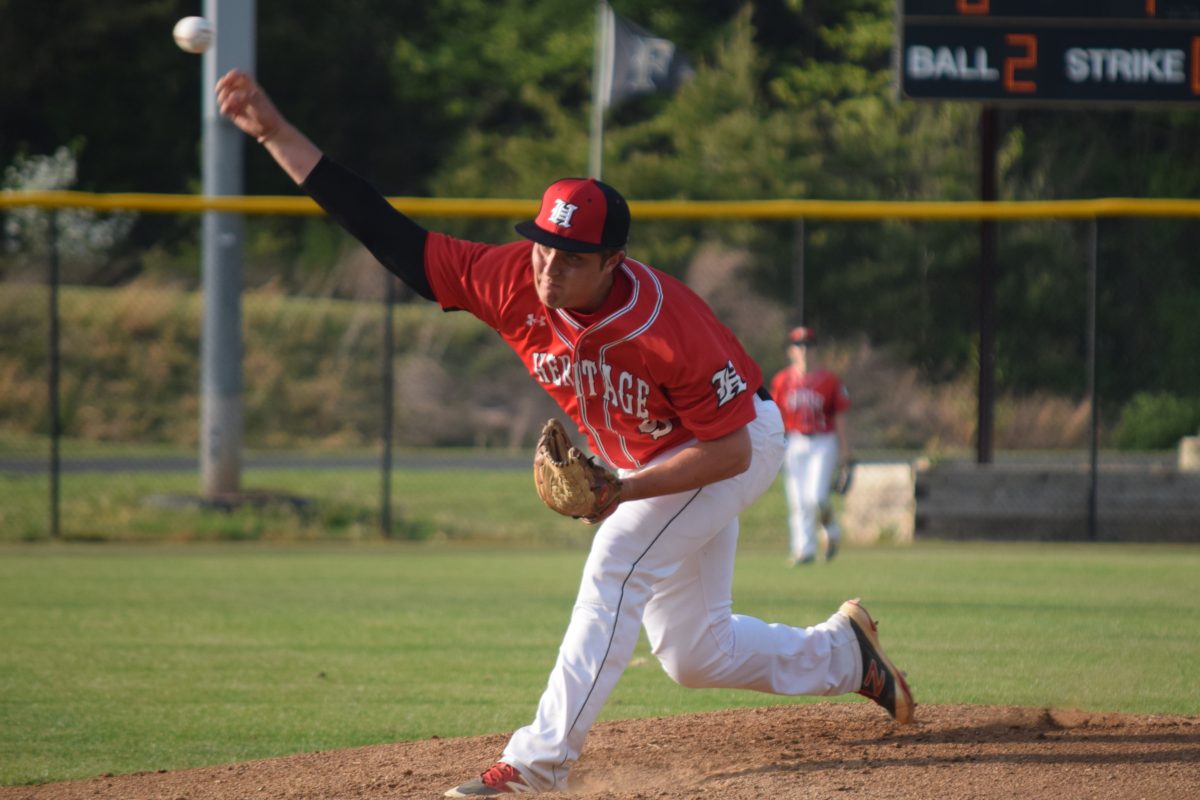 Eagles relief pitcher Sean Hall retired four consecutive Pride hitters to end the fourth and cruise through the fifth, before Freedom evened out the score in the bottom half of the fifth. The Eagles seemed to be in motion.
But a leadoff walk in the sixth meant Heritage (2-3, 3-11) got deeper into the Freedom (3-1, 6-5) bullpen. Eagles sophomore Jonathan Fisher picked off the inherited baserunner at first base before giving his own free pass. Two batters later, Fisher hung a 2-2 curveball over the middle of the plate and Pride senior designated hitter Brent Smith made him pay with a long ball to left center. Smith's home run rebroke the Heritage record for career homeruns (6) after he broke and set it just four days before in a loss to Woodgrove.
"Heritage had some pretty big hits at big times. They were competitive at the plate," Skinner said. "I don't think their record shows how good they really are."
Schofield's two-out at-bat in the bottom of the seventh was the epitome of Freedom's approach at the plate for most of the night: make solid contact and find a hole – or in Schofield's case a base – at the right time in order to score their baserunners.
"The theme for us is competing at the plate. We've done a much better job of that over the last few weeks; we're tough outs," Wrighte said. "We grinded at the plate getting their pitchers' pitch counts up, getting our pitches to hit. We have really disciplined hitters at the plate right now who are getting into hitter's counts."
The seventh-inning escapade should be a big rallying cry for the No. 2 Eagles who travel to No. 1 Kettle Run on April 26 for a Conference 22 clash which could determine the conference's No. 1 seed come the end of the regular season.
"We threw four different guys tonight to set up for tomorrow. We'll have one of our seniors on the mound. We were able to not use him, and we have two other arms available," Wrighte said. "So for a conference game, we have the three arms we like the best. Our pitchers are ready to go, and hopefully, it will end up being a pitcher's duel."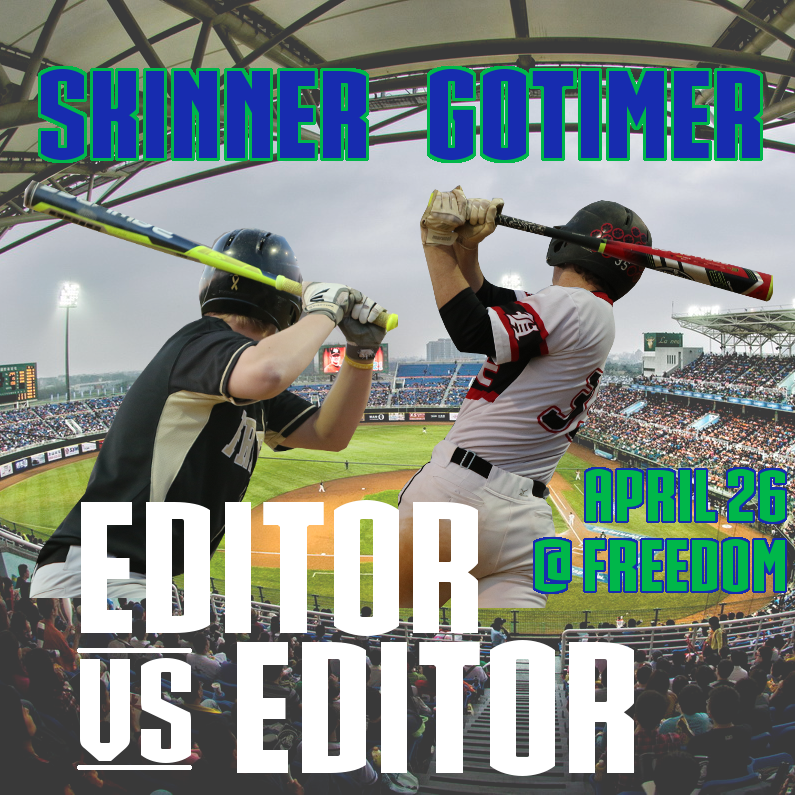 For the fans out there keeping track at home, this was the first time two LoCoSports editors have met in a varsity athletic contest: Heritage's Kyle Gotimer and Freedom's Joe Skinner. Skinner's Eagles got the last laugh, but the two's respect for each other is about as serious as it gets.
"Joe does a good of being there for his team, cheering them on and making sure all goes smoothly on the field," Gotimer said. "I wish him the best the rest of the season."
"Kyle's a competitor," Skinner said. "He battles everywhere: at first base, at the plate, even in the dugout with his team. He's the ultimate competitor."
#ICYMI @kyleschofield28's walk off winner for @FRENZY_FHS last night against @RoarPride. pic.twitter.com/ZJhLbzaole

— LoCoSports (@LoCoSports) April 27, 2016
Offensively:
Freedom
Hall, Z. 0-1, HBP, R, K
Wroniewicz 1-2
Fisher 1-4
Schofield 1-3, BB, 2 RBI, K
Pfaff 2-3, 2 R
Zubovich 2-3, R, RBI, 2 SB
Van Pelt 0-0, 2 BB, sac bunt, R
Fitzgerald 1-3
Lau 0-3, K
Ball, K. 0-2, BB, R
Heritage
Baer 0-2, 2 BB, R
Schaub 0-2, BB, R
Keiper 1-2, 3B, BB, 2 RBI, R
Koehler 0-1, 2 BB, R
Gotimer 0-3, K
Smith 2-3, HR, 2 RBI, R
Wooden 1-3
Taylor 0-3, 2 K
Howard 0-3, K
Pitching:
Freedom
Stopper 3.2 IP, 3 R, 3 ER, 3 H, 4 BB, 1 K
Hall, S. 1.1+ IP, 0 R, 0 ER, 0 H, 1 BB
Fisher .2 IP, 2 R, 2 ER, 1 H, 1 BB, 1 K
Zubovich W 1 IP, 0 R, 0 ER, 0 H, 0 BB, 2 K
Heritage
Taylor 6.1 IP, 5 R, 4 ER, 7 H, 4 BB, 3 K
Smith L .1 IP, 1 R, 1 ER, 1 H, 0 BB, 1 HBP