By Sarah Snare
LoCoSports Staff Writer
[twitter-follow screen_name='SarahSnaree']
Leesburg (April 10, 2016) — The Tuscarora High School boys soccer team faced their third tie of the season in a shutout game against Frederick County's Millbrook High School on Friday, April 8.
The first ten minutes of the game were action-packed. With possession continuously changing and more than five goal attempts on both sides, the crowd was sure it was going to be a close, intriguing game. At the end of the first half, the score was still 0-0. Faces of coaches and players on both teams took an intense mien as they huddled for mid-game plans.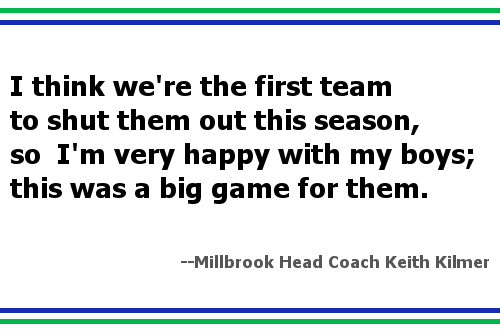 As the second half began, Tuscarora was a little disoriented, with numerous steals and interceptions by Millbrook. It didn't take long for them to get their groove back, though, for the Huskies took control in the last 30 minutes.
The tail end of the second half was spent entirely in the 30 yards surrounding the Tuscarora goal. Various scoring efforts were made by Husky striker Noal Zyglowicz, but Millbrook goalie Dylan Frederick was able intercept every attempt.
With the conclusion of the second half, still neither team had scored. Even into double overtime, neither the Huskies nor the Pioneers were able to find their edge. With a final score of 0-0 both teams lined up to shake hands and then scattered to their respective sides of the field.
Although the Pioneers did not win, they were treating it like a victory.
"I think [my team]played really well," Millbrook head coach Keith Kilmer said. "They stepped up to a 5A school that hasn't lost yet this year. I think we're the first team to shut them out this season, so  I'm very happy with my boys; this was a big game for them."
With an updated season record of 3-2-1, Kilmer is happy with where the season is headed. Although his team possesses great speed and work ethic, Kilmer really wants his boys to focus on quick touches and increasing their "speed of game" in the weeks leading up to conference championships.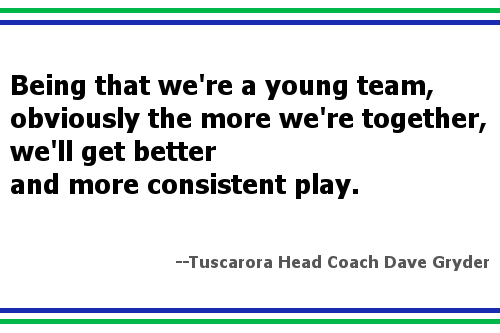 Post-game discussion on the Tuscarora side was a bit more somber. The team is having a hard time coping with all the change that has come with this season. Losing ten starters from last year along with several recent injuries, the team has lost quite a bit of vital experience.
"Being that we're a young team, obviously the more we're together we'll get better and more consistent play. They just need to get a little more used to each other," Tuscarora head coach Dave Gryder explained.
Although the Tuscarora boys may be slightly struggling with this challenge, they do not outwardly show it. With four wins and three tie games, they haven't lost yet this year. As the season progresses, Gryder's main goal is to just keeping pushing through, helping his boys to gain both maturity and experience in the sport they love.