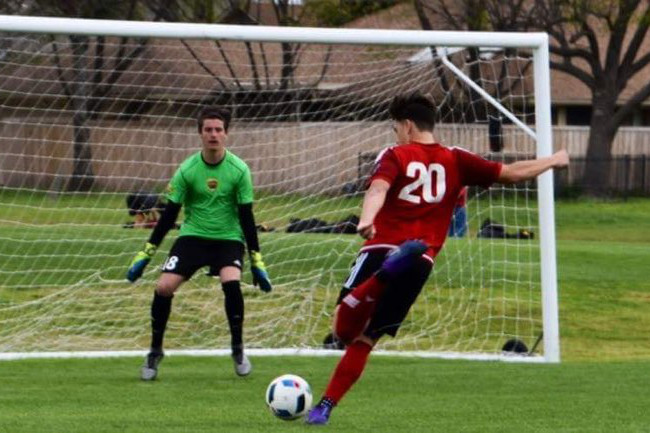 By Spencer DuPuis
LoCoSports Staff Writer
[twitter-follow screen_name='SpencerDuPuis']
Leesburg (April 7, 2016) — Heritage High School junior Gio Vasquez has made an early verbal commitment to continue his soccer career at the University of Maryland starting in the 2017-2018 school year.
"This is only the beginning, now I have to work even harder with academics and on the field," the 5-foot-9 forward said. "It's going to be a lot harder now because I'm going to be playing with and against the best players in the nation."
The Division I Terps are coached by Sasho Cirovski — who will enter his 24th season at the helm of the program in the fall. Since taking over the program in 1993, he has led Maryland to a record of 356-131-43. In the last 11 years, Cirovski has led the Terps to three NCAA Championship game appearances and two NCAA titles.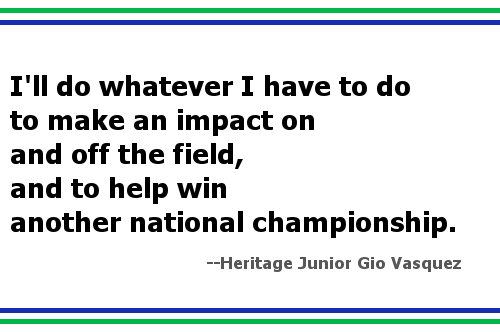 "I chose Maryland because in my opinion they are the best soccer program in the nation," Vasquez said. "When I went there for my visit I felt like I fit in, the players and coaches made me feel welcome and [I felt] like I was apart of them. I want to go pro and I know that Maryland will help me achieve that. I was sold from the start of my visit, the atmosphere at their games are crazy and [that's] something I always liked. I know I made the right decision and I can't wait to start the next chapter of my life with them."
In 2015, the Terps finished the season with a record of 10-5-5 and won the Big Ten Tournament, but fell to Clemson in penalty kicks in an NCAA Elite Eight contest.
Vasquez mentioned that although he won't be playing for Maryland until the fall of 2017, he feels he can bring his great scoring ability to College Park.
"They have a really good team so it's kind of hard to say at this point, but I'll try to score as many goals as I can and work extremely hard," Vasquez said. "I'll do whatever I have to do to make an impact on and off the field, and to help win another national championship."
The Reston-native mentioned that his dad got him started in the sport, has been his biggest supporter ever since and will continue his support at the collegiate level.
"I play soccer because it's the thing I've dedicated myself to since day one and I won't give up until I reach my goal of becoming a pro," said Vasquez who plays his club soccer for Loudoun 98 Red — ranked eighth in the nation. "My dad always told me I could become anything I put my mind to but I just had to believe in myself. I owe all the things I've gotten so far to my parents and God. No matter how hard it gets I always think about the people who got me here, and I force myself to not give up and to keep chasing my dream. A quote I live by is 'I'm better than yesterday but worse than tomorrow'."
Last season, Vasquez helped Heritage to a successful season where they finished 11-3-4, putting up a gouty 23 goals, but the team eventually fell to Park View 5-2 in Conference 21 semifinal.
"The experience [at Heritage]has been good," Vasquez said. "Playing with and against my friends has been really fun. I love scoring and playing with my best friends Jonathan and Kosta. Our celebrations and our goofiness on and off the field has made it something to remember. I'm going to miss that."
So far in their 2016 campaign, the Pride are 3-0-1 overall and 2-0 in Conference 21B with 12 games remaining. Vasquez has one mission for him and his team to finish out the season: win.
"My expectations are high," Vasquez said. "I hate losing, therefore my expectations are to win every game. And another thing is I love scoring goals so I have an even higher expectations on myself to score a lot of goals and do whatever I have to do to make sure we win."