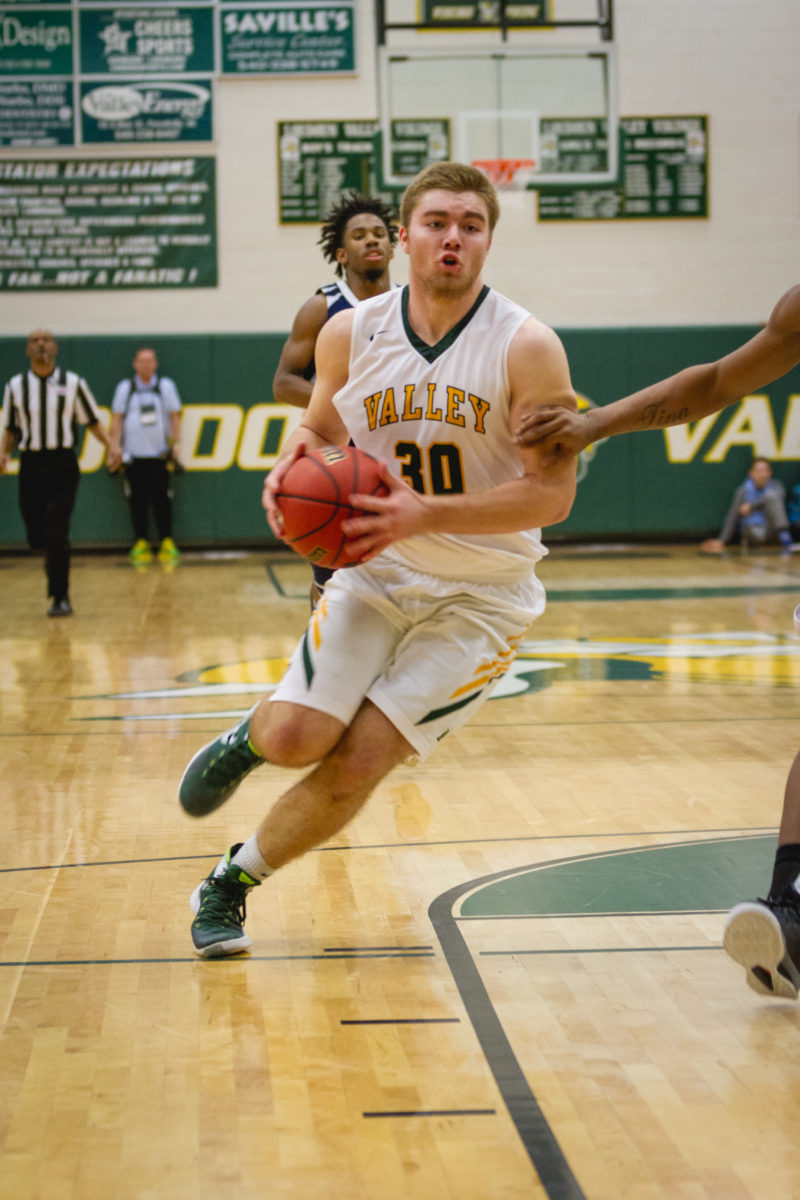 By Curtis Atkinson
LoCoSports Contributor
[twitter-follow screen_name='CurtisAtkinson']
Purcellville (February 26, 2016) — Loudoun Valley High School had a first quarter to remember on February 25 and a second quarter to forget. Sprinting to a large lead then giving it all back before grinding through a second half free throw contest that saw Valley move to 25-0 on the season with an 80-59 victory over George Washington-Danville.
The win keeps the Vikings' record unblemished and moves them into the VHSL 4A West region championship game.
The Vikings again got off to a quick start with a few early buckets highlighted by sophomore guard Jordan Miller using his length at the top of the zone to grab a couple easy steals and lay ups that had Valley up 11-3. Then fellow Viking sophomore guard Dom Peterson checked in and caught absolute fire, shooting a perfect 4-for-4 from 3-point land over the last four minutes of the first quarter to stake Valley to a 26-13 lead. Even Peterson was a little surprised by the scoring outburst.
"It was kind of a blur at first," Peterson said. "Then I came out and on the bench I was like, 'Man, 4-for-4, that's pretty great.'"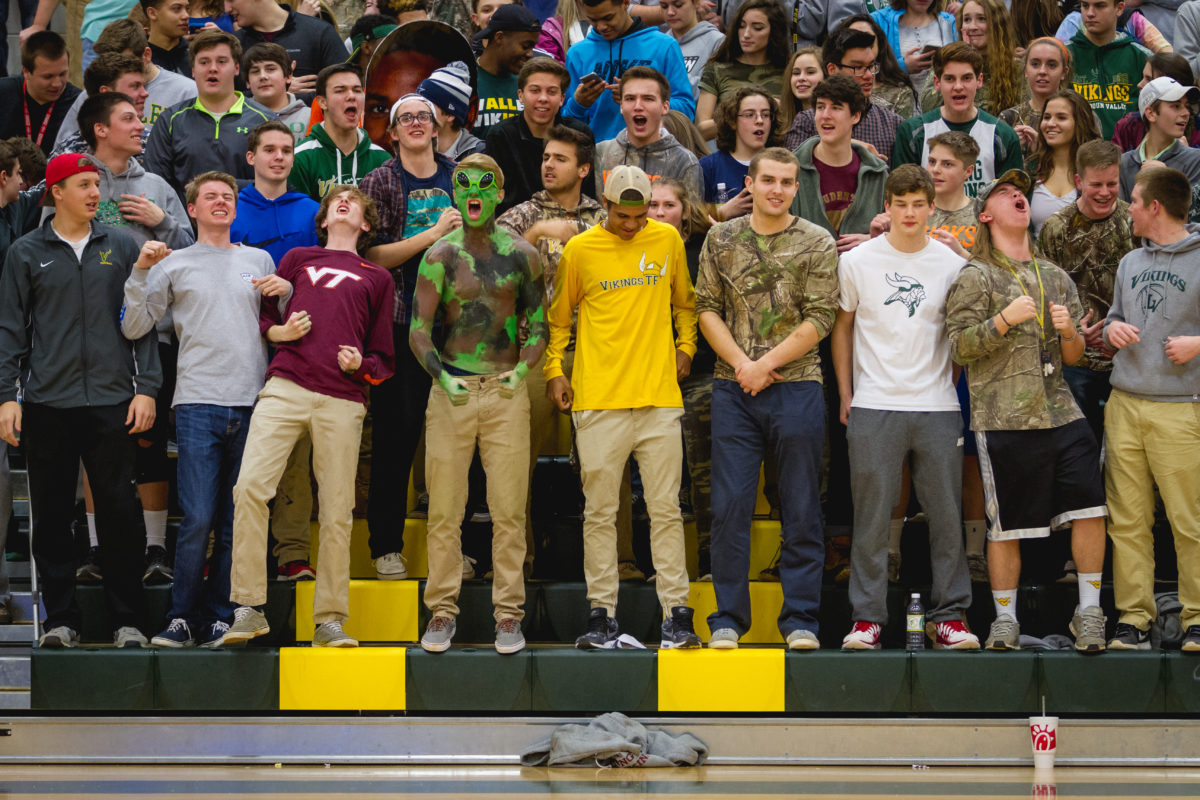 The Vikings hit the first couple shots of the second quarter to get the lead to 31-13 before the wheels came off. The Eagles from Danville began to find gaps in the zone and found cutters time and again on nifty inside passes that powered a 21-5 run, including a 15-0 surge to close the half, that saw the Vikings' lead all but evaporate as they went into the break up only 36-34.
Loudoun Valley head coach Chad Dawson thought maybe that early success affected the Vikings' approach in the second quarter.
"We started focusing on offense when we were up big in the second quarter," Dawson said. "The main problem was our defense wasn't very good."
GW-Danville would score 6 of the first 9 points to open the second half and take their only lead of the game, 40-39, before the Vikings halftime talk came into focus with a dedicated effort to fundamentals. Valley strapped down on the defensive end and began driving to the basket, taking only three second half three-pointers after attempting 13 in the first.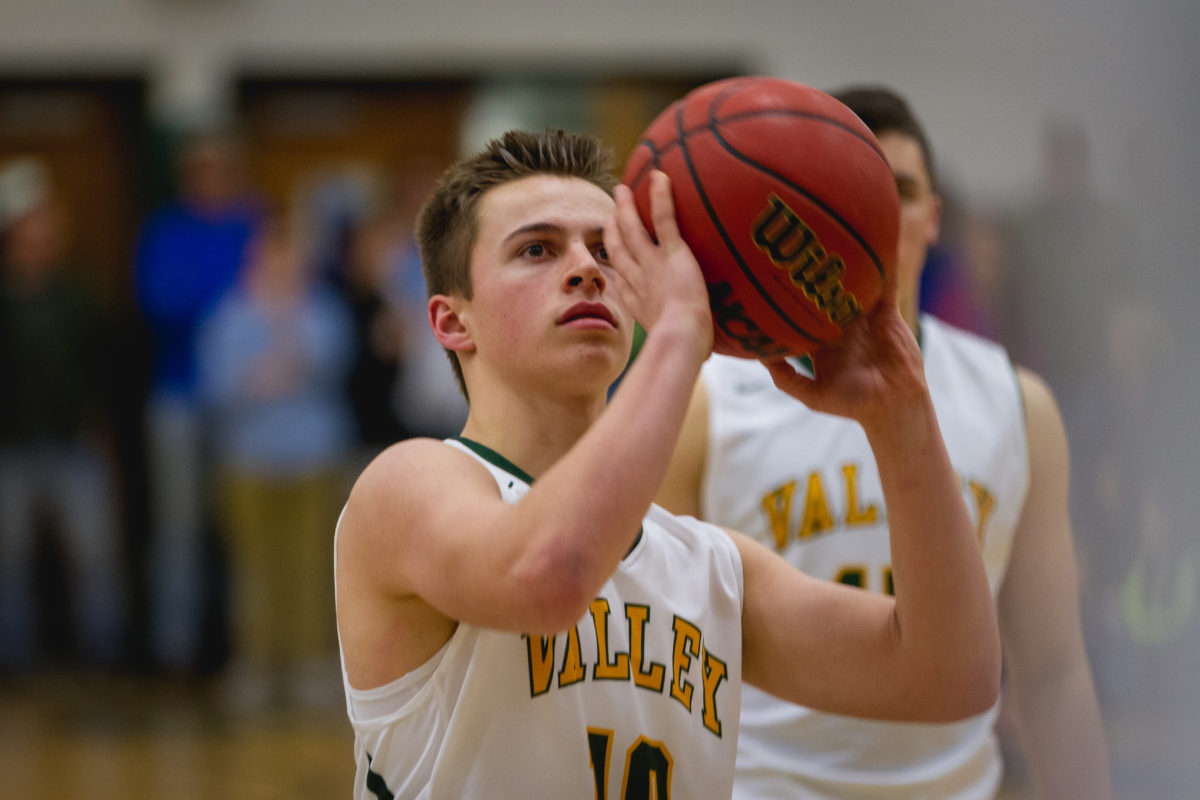 Valley's aggressiveness was rewarded as they shot 32 second half free throws, converting on 25 for a cool 78-percent. This was a 21-percent improvement over their 57-percent performance from the charity stripe in their VHSL 4A West region quarterfinal on February 23.
"We talked about it," Dawson said of his Vikes' free throw shooting. "It's all mental focus. They know how to shoot them, just a matter of focusing in."
The win sets up a rematch with fellow Loudoun conference champion John Champe High School — who the Vikings defeated 82-66 in January to give the Knights one of their three losses on the year.
Dawson knows the battle for the region crown will be a tough one.
"They're a very talented team," Dawson said. "They've got their player of the year [senior Kouny Deng], we've got our player of the year [junior Nick Ball]. They've got a great supporting cast, and we've got a great supporting cast. It's going to be a good one."
Loudoun Valley will host John Champe in the VHSL 4A West region championship game on February 27 at 7 p.m. in Purcellville.
Loudoun Valley Vikings Stats per Legit Sports Stats
Nick Ball 17 points, 9 rebounds, 1 assist, 1 steal, 1 blocked shot, 6-for-8 free throws
Jordan Miller 17 points, 4 rebounds, 5 assists, 4 steals, 1 blocked shot, 7-for-7 free throws
Dominic Peterson 14 points, 1 assist, 2-for-3 free throws
Trey McDyre 12 points, 3 rebounds, 1 assist, 4-for-7 free throws
Jalen Williams 9 points, 2 rebounds, 4 assists, 1 steal, 1-for-4 free throws
Jamir Degree 7 points, 5 rebounds, 2 assists, 7-for-9 free throws
Jason Yoxthimer 2 points, 5 rebounds
Tyler Hunt 2 points, 1 rebound
Matthew Traub 2 rebounds, 1 assist
Nick Kallivokas 1 rebound
LVHS Totals
80 points, 32 rebounds, 9 turnovers, 15 assists, 6 steals, 2 blocked shots, 27-for-38 free throws
GW-Danville Eagles Stats per Legit Sports Stats
Devonte Grasty 13 points, 6 rebounds, 1 assist, 3 steals, 1 blocked shot, 3-for-4 free throws
Isaiah Bethel 13 points, 4 rebounds, 1 assist, 3-for-5 free throws
Patrick Robinson 11 points, 3 rebounds, 3 assists, 1 steal, 1 blocked shot, 2-for-3 free throws
Amardius Jones 9 points, 11 rebounds, 2 blocked shots, 1-for-2 free throws
Camryn Lewis 4 points, 4 rebounds, 4 assists, 1 steal, 1 blocked shot
Daquan Hairston 4 points, 1 rebound, 2 assists, 1-for-2 free throws
Caymen Wilson 3 points, 2 rebounds, 2 assists, 1 blocked shot, 1-for-2 free throws
Curtis Brooks 2 points, 1 rebound, 1 blocked shot
GWHS Totals
59 points, 32 rebounds, 12 turnovers, 13 assists, 5 steals, 7 blocked shots, 11-for-18 free throws