(February 9, 2016) – In an effort to better recognize student-athletes in Loudoun County who exemplify the values classmates, coaches, spectators, officials, families and friends look for in teammates, the LoCoSports team has selected its January 2016 Teammates of the Month for basketball, gymnastics, swimming and wrestling.
The selections were made from nominations based on the following criteria: selflessness, hustle, work ethic, attitude, team-first mentality, spirit and heart.
If you wish to nominate a student-athlete for athlete or teammate of the month, please reach out through our contact form or email us at locosportsnews@gmail.com.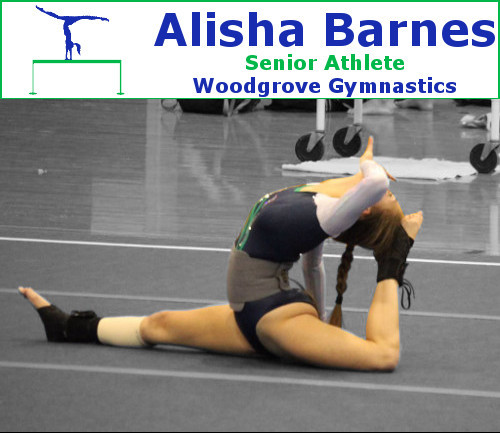 By Kyle Gotimer
[twitter-follow screen_name='KyleGotimer42′]
Nominated by Sarah Snare
A third-year participant of gymnastics and a third-year gymnast at Woodgrove High School, senior captain Alisha Barnes was welcomed to the team two years ago by her mother – Woodgrove head coach Margie Barnes.
"As the team captain Alisha displays great leadership to all of the girls on the team," coach Barnes said. "This season our team has been rocked with injuries; Alisha exemplifies team-first mentality with doing whatever is needed for the team. Whether it be competing last minute on an unplanned event or giving up her spot so another team member can have the chance to perform. She gets it done in the gym and on the books all the time. Alisha Barnes represents the ideal Woodgrove gymnast."
Alisha tried out for the gymnastics team her sophomore year in an attempt to initiate more mother-daughter time. Since then, she has fallen in love with the sport and has begun coaching youth gymnastics.
"She's extremely hardworking and totally dedicated to her team," Woodgrove junior teammate Sarah Snare said. "She goes out of her way to help every other girl on the team not only in the gym but in their personal lives as well. As a team captain, she is careful to make sure everyone's voice is heard on any issue at hand and continually ensures everyone that she is open to any questions or concerns."
By Owen Gotimer
[twitter-follow screen_name='LoCoSports']
Nominated by Chris Caylor
Coaches at every level search for athletes who provide a strong work ethic and team-first mentality, and Broad Run High School junior Erik Davenport provides the Spartan wrestling program with just that.
A second-year varsity wrestler, Davenport has been sidelined for the remainder of the 2015-2016 but continues to cheer on his Broad Run teammates knowing that his team's success is more important than his own.
"He was battling a terrible stomach issue that we did not know about until he finally had to go to the doctor," Broad Run head coach JJ Totaro said. "It ended up being a season ending stomach issue, but he was still willing to do everything asked of him until the doctors told him it was not a good idea."
After placing 9th at the LCPS championships in 2014, Davenport worked extremely hard on his wrestling skill, technique and IQ throughout the offseason and was able to put together a 5th place finish at the 2015 LCPS championships.
"He is just a hard worker. He does his job and never puts himself before the team," Totaro said. "He routinely works to improve himself and represents every team at Broad Run with respect, a caring personality and an infectious smile. He is a wonderful kid with a very bright future."
By Spencer DuPuis
[twitter-follow screen_name='SpencerDuPuis']
Nominated by Kacey Hauck
Heritage High School freshman John Rossbach is someone a lot of high school coaches, no matter the sport, want to have on their team. Coming in as a freshman can be hard for some athletes, but Rossbach has not shied away from wanting to help his swimming teammates improve.
"John is a true team player," Heritage head coach Hayley Robertson said. "He is a great asset to the Heritage swim team this year as a freshman. John comes to many late night practices after already swimming a practice for his club team and is ready to go. John will collaborate with other swimmers and work together with them to help one another shave time off their target stroke, in preparation for the upcoming meet."
As Rossbach has continued to get better throughout his freshman season, it is clear that his focus is not just about himself.
"From the first day of tryouts through the entire season John is always cheering on his teammates and pushing them to the next level," Robertson said. "John is a strong swimmer, and it is evident that he works hard for his team's success."
By Joe Skinner
[twitter-follow screen_name='JoeSkinner33′]
Nominated by Jason "Choppy" Burke

One of the main roles of a veteran varsity player on a high school basketball team is to be a leader, role model and floor general. All of these traits are exemplified by Dominion High School senior Amanda Valenzuela.
"Amanda is a good teammate because she is always energetic, tries to get the team pumped up and is constantly positive towards her teammates," Dominion head coach Brian McElroy said. "She takes the time to explain and help others to be in the right position and not get down on themselves when they make mistakes."
Heading into the final of the week of the regular season, the Lady Titans are vying for second place in Conference 21B with Loudoun Valley High School. The Lady Titans are sitting at 14-7 and 7-3 against conference opponents.
"Amanda works hard and hustles on both ends of the court, works hard to get in position on the boards and fights for every rebound," McElroy said. "She is a selfless offensive player and will look to pass to teammates. She doesn't focus on her individual statistics but on her contribution to put the team in a position to win. Her spirit and heart are infectious."