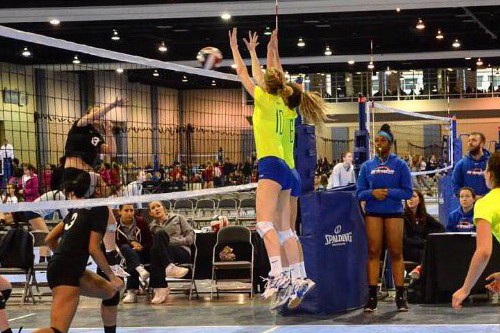 By Owen Gotimer
LoCoSports Editor-in-Chief
[twitter-follow screen_name='LoCoSports']
Purcellville (February 3, 2016) — Woodgrove High School senior Sarah Root has made a commitment to continue her volleyball career at the University of Tennessee at Chattanooga starting in the 2016-2017 school year.
"I'm so excited! I've been so stressed and anxious about being a late commit and not finding anywhere I can find my perfect balance between academics and athletics," the 6-foot-2 Root said. "But my parents always assured me to not rush and to wait until I found something that felt right. I finally found my home for the next four years of my life, and I couldn't be happier."
The Scenic City
Located about 150 miles southeast of Nashville and 120 miles northwest of Atlanta, the city of Chattanooga is nicknamed the "Scenic City."
"I've always been a southern girl at heart, and southern hospitality is a real thing, so the people are just so nice!" said Root who calls Waterford home. "The city of Chattanooga is one of the best cities I've been too, and I can't wait to live there! There are so many cute shops and restaurants, and in the surrounding mountains there is hiking, camping, rafting and canoeing, so I know I'll never run out of things to do."
The Division I Student-Athlete
On top of the city's visual and adventurous appeal, Root noted that UT Chattanooga offered her a place to both continue playing volleyball at a high level while studying marketing or communications.
"It is the perfect fit for me. The marketing and communications majors have accredited programs, and a bunch of internships that will give me a great degree and the experience needed to help me get a job in the future," Root said. "The volleyball program stands for everything I believe in; they compete at such a high level, but have fun at the same time. The coaching staff is so positive and enthusiastic and knowledgeable about volleyball, and I know we will work great together."
The Division I Mocs head coach Travis Filar led Chattanooga – and Leesburg-native Ally Ford (2015) – to a 26-6 record in 2015 including a 13-3 mark in the Southern Conference before falling to Furman in the SoCon tournament championship on November 23.
"I think I am going to add a positive energy to the team. I hope I can be a hitter that the team can trust to make smart decisions, and the blocker that puts up the best block I can every play to help out my back row," said Root who will play middle blocker for the Mocs. "I'm really going to work on becoming stronger and a more 'volleyball-smart' player, and I think this team and coaching staff will only help me reach that goal. I also will take on the role as team hair braider, because of my professional braiding skills."
The Volleyball Mentors
After starting volleyball in eighth grade, Root quickly found two volleyball mentors who helped her achieve much more than she ever planned to through volleyball.
"In my sophomore year, Woodgrove High School was blessed to snatch Carmel Keilty up as the varsity volleyball head coach. She took our program to a whole new level," Root said. "She was tough on us, but she had a reason behind it. She genuinely thought we could be great, and she believed in each and every one of us, and she loved us with all her heart. She had so much passion for the game of volleyball, and it rubbed off on me. I wanted to hit harder, block better and be the best teammate and person I could because this woman believed in me, and I couldn't let her down."
After a year under Keilty's watch, Root began her club career with Dulles Volleyball and head coach Seng Chiu where she has played ever since.
"He knew I was starting travel much later than girls usually do, but for some reason he decided to take on the challenge and started to work his magic. Still to this day, I leave every practice being a little better than I was when I walked through the doors," Root said. "He has been so helpful in my recruiting efforts, going to great lengths contacting coaches and helping me decide what was most important to me in a college and so much more. Coach Chiu was the one who ran into coach Filar in Nebraska of all places and learned that he was looking for a 2016 middle, and the rest is history."
These two role models not only helped Root become a better volleyball player, but also taught her that if you put your mind to it, you can achieve anything.
"Because these two people believed in me, I learned to believe in myself," Root said. "I play and will continue to play to make the people who always believed in me and supported me proud."