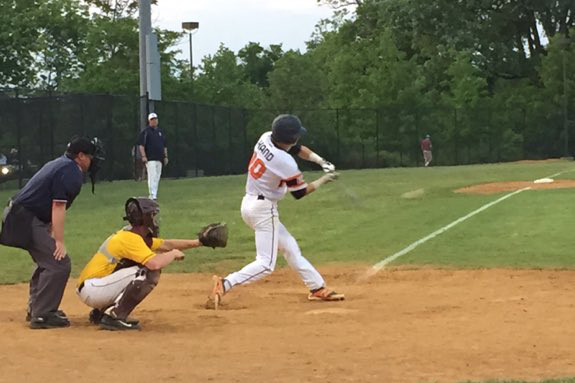 By Owen Gotimer
LoCoSports Editor-in-Chief
[twitter-follow screen_name='LoCoSports']
Ashburn (February 3, 2016) — Briar Woods High School senior Jacob Hand has made a commitment to continue his baseball career at Randolph-Macon College beginning in the 2016-2017 academic year.
"I feel excited and relieved to know where I will be spending my next four years," the 6-foot-2 Hand said. "I'm also very comfortable with my decision and can't wait to be down at RMC playing baseball."
The opportunity to play baseball at the collegiate level in addition to furthering his education in a place where he felt comfortable led Hand to committing to Randolph-Macon.
"I've had the opportunity to visit RMC several times over the past few months and each time I came away even more impressed with the campus, baseball facilities and the people I have met," Hand said. "I have been able to build relationships with all of the coaches, and they've done a great job giving me an understanding of what it is like to be a student-athlete at RMC. RMC offers me the opportunity to play for an elite college baseball program while getting an excellent education."
At Randolph-Macon, Hand will join a Division III Yellow Jackets program that went 26-10 including a 13-7 mark in the Old Dominion Athletic Conference in 2015. Twelfth-year head coach Ray Hedrick will lead RMC into battle for their 2016 season opener on February 5 against Millsaps in the Huntingdon Invitational in Montgomery, Ala.
"I feel like I can instantly have an impact on this team with a consistent bat, speed on the bases and my ability to cover a lot of ground in the outfield," Hand said. "I really feel that I should fit in well with my RMC teammates who all want to compete at a very high level."
Before he heads off to Ashland, Hand will play his final season under head coach Jason Miller at Briar Woods. In 2015, Miller and the Falcons finished 9-14 overall and 4-6 in Conference 14 before upsetting Tuscarora in the first round of the conference playoffs. A loss at top-seeded Stone Bridge followed by a win over bottom-seeded Freedom meant Briar Woods earned a spot in the VHSL 5A North region playoffs where the Falcons fell in the first round to Potomac.
"I'm extremely excited about the potential of our team this spring. We have a lot of returning guys that are ready and motivated to win," said Hand who played travel for Evoshield Canes-DE. "We're playing to prove something this year, and I wouldn't want to do it with any other group of guys."
His fellow Falcon and Ashburn-based teammates and coaches have helped Hand grow over the years as a baseball player and a person.
"I play baseball because I love competing and love the game. I've been playing ever since I picked up a bat; it's just part of my life," Hand said. "I'll always cherish the relationships I have built with my past teammates and coaches."