By Kyle Gotimer
LoCoSports Managing Editor
[twitter-follow screen_name='KyleGotimer42′]
Sterling (October 12, 2015) – In one of the best matchups between two Loudoun County teams you'll see all year, undefeated Tuscarora High School travelled to Sterling to take on 4-1 Potomac Falls High School on October 9 in the LoCoSports' Game of the Week. The Huskies continued their undefeated reign advancing to 7-0 with their come-from-behind, 21-20, win over the Panthers.
"I think people anticipated another kind of game, but we certainly knew we were in for a tough game," Tuscarora head coach Mike Burnett said. "It's a tough matchup for us because of what they run. They've got some really big kids; we're a little undersized, and they took advantage of that in the first half."
Potomac Falls had a mission — to knock off the undefeated Huskies- – and in the first half their mission looked like it was all but complete.
"We moved the ball all night long, but we had a hard time getting into the end zone. I think that was the difference in the first half," Burnett said. "Despite the total yardage, we couldn't convert when we needed to."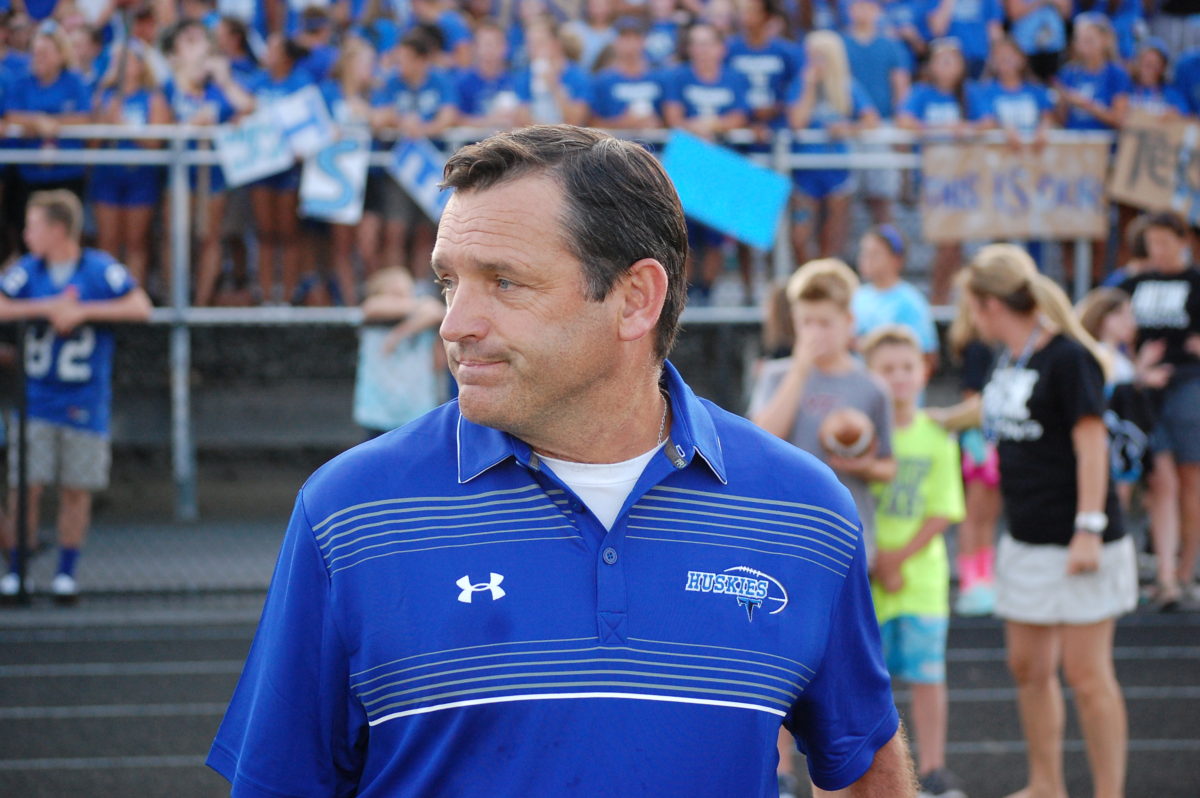 With less than three minutes to go in the first quarter, Potomac Falls senior quarterback Brady Williams connected with sophomore fullback Grant Misch for a 31-yard touchdown pass — giving the Panthers a 7-0 lead.
Before the halftime buzzer sounded, Potomac Falls senior running back Tommy Hardman went for a 7-yard rushing touchdown — sending the Panthers into the locker room with a two touchdown lead.
"We had to make some adjustments at halftime. They're a well-coached team, and they executed the plays," Burnett said. "The best part is our kids don't quit. That's the best part of a winning program is knowing you can always win."
Tuscarora wasn't able to put any points on the board until senior running back James Douglas took in a rushing touchdown from the 2-yard line. From there, the Huskies' offense kicked into gear and was able to strike once more before the beginning of the fourth quarter.
"We didn't execute at all in the first half. That is probably the worst half of football you're going to see out of this team all year," Tuscarora senior quarterback Daniel Smith said. "That second half, that's phenomenal. The guys wouldn't quit. You can't ask for better teammates than that."
As time expired at the end of the third quarter — Smith found senior receiver Nic Speroni for an 80-yard touchdown pass — evening the score at 14-14.
"People asked what we were going to do without Noah [Reimers]. I told them to wait until they see Daniel," Burnett said. "There are players who transcend the game. He's that kind of player. He doesn't panic. We were in a tough spot, and he didn't panic."
But the Panthers' offense wasn't done just yet. Williams threw for his second touchdown of the night with just eight minutes left, this time to junior receiver Kaevon Chase.
"I thought defensively, we played great in the second half except for their one scoring drive," Burnett said. "That's a testament to them. They executed on that drive and got the ball in the end zone."
Smith wasn't done yet either. With less than 30 seconds left, Smith connected with Speroni once again for the game-tying touchdown, and with the extra point, the Huskies took a one point lead.
"It was nerve-wracking for me – seeing the ball in the air – but I came down with it so all is good," Speroni said.
That one point lead was all Tuscarora needed to defeat Potomac Falls — 21-20.
"You can see this team doesn't quit," Smith said. "We stick together."
Scoring Plays:
1Q 2:40 PF Brady Williams to Grant Misch 31-yard TD pass (Nemer PAT)
2Q 4:40 PF Tommy Hardman 7-yard TD run (Nemer PAT)
3Q 2:56 T James Douglas 2-yard TD run (Underhill PAT)
3Q 0:00 T Daniel Smith to Nic Speroni 80-yard TD pass (Underhill PAT)
4Q 8:00 PF Brady Williams to Kaevon Chase 15-yard TD pass (PAT failed)
4Q 0:28 T Daniel Smith to Nic Speroni 37-yard TD pass (Underhill PAT)