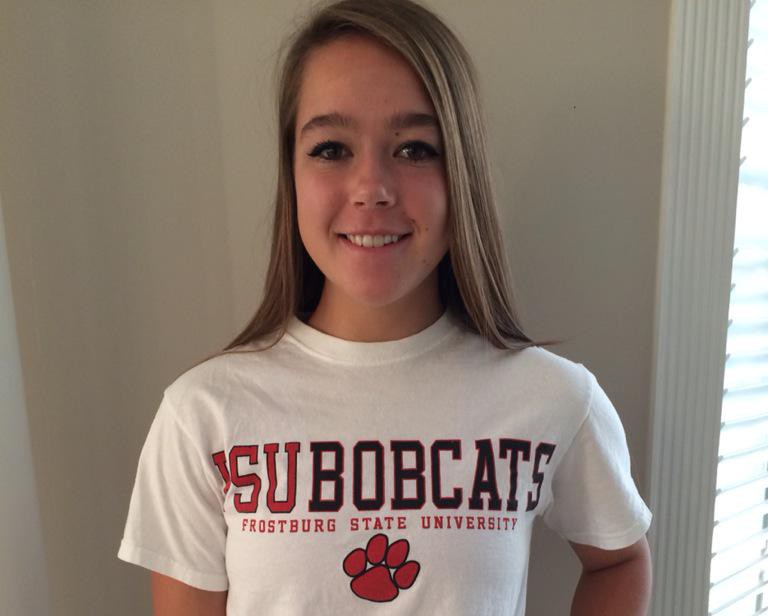 *Update (3/20/2016): Heritage High School senior Maddie Alexander — who initially verballed to Frostburg State University — has changed her commitment to play soccer at Marymount University.
By Spencer DuPuis
LoCoSports Staff Writer
[twitter-follow screen_name='SpencerDuPuis']
Leesburg (September 18, 2015) — Heritage High School senior Maddie Alexander has made a commitment to continue her soccer career at Frostburg State University in the 2016-2017 school year.
"It brings me a great sense of relief knowing that I have finally achieved my goal of committing to play soccer," the 5-foot-6 Alexander said. "So much stress has now been lifted and it feels so great to already know where I am going to college and also playing the sport I love."
The defender — who plays her club soccer Loudoun 98 Red — mentioned that the location of the school and the class sizes were great fits for her.
"I chose Frostburg State because it was the best fit for me out of all the schools I was looking at," Alexander said. "When I visited, I loved the way it felt and I loved what I heard not only from a soccer standpoint, but also from an academic standpoint. I know I will be taken care of not only as an athlete, but also a student."
FSU head coach Brian Parker — in his 14th year — has lead the Division III Bobcats to a 184-62-29 in his career as head coach. In 2015, they are currently 4-2.
Alexander feels like she can make a big impact when she gets to Frostburg State next year.
"I think I'll add competitiveness and will do whatever it takes to help my team win," Alexander said. "I'll always stay committed to my coaches and team through whatever ups and downs might come along."
Alexander mentioned that her parents got her started playing soccer when she was only four and she has loved it ever since.
"I keep playing because it's what I love to do," Alexander said. "It's my escape and playing soccer brings me so much joy, I could never imagine not playing."
In her 2014 campaign, she garnered a few honors on the Pride's route to the VHSL 4A state championship game.
Although the Pride lost a heartbreaker in the state championship, Alexander feels as though making it that far and losing it has really affected the way she will play for the rest of her career.
"[It] taught me that working hard and playing hard every minute you're in is absolutely necessary," Alexander said. "After [Loudoun] County got a goal in the first few minutes of the second half, we all, including myself, put our heads down and it went downhill from there. But that taught me that you can never give up because we could have easily stayed with [the Raiders]and potentially have won if we kept fighting, but we got scared, so they were able to keep attacking our defense and breaking us down. All in all, state finals taught me you should never give up at any time and it's never over until the final whistle."
As the Pride will begin to get ready for the upcoming season in a few months, Alexander feels as though they still have a great team despite losing four seniors.
"I believe we still have a strong team," Alexander said. "I think we could potentially make it just as far as we did last year with hard work. I have no doubt in my mind that we will still be a competitive team and hopefully a challenge to other teams."