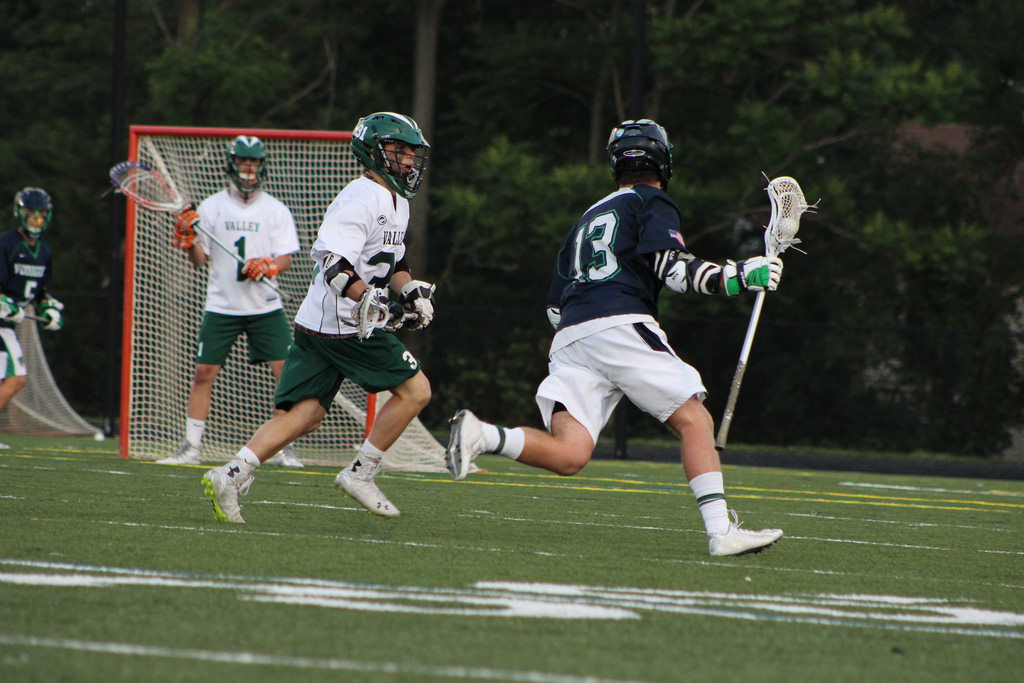 By Owen Gotimer
LoCoSports Editor-in-Chief
[twitter-follow screen_name='LoCoSports']
*Update (12/5/2015): Woodgrove High School senior Trey Rustand — who initially verballed to Ohio Wesleyan University — has officially recommitted to play lacrosse at the Virginia Military Institute.
Purcellville (September 16, 2015) — Woodgrove High School senior Trey Rustand has made a commitment to continue his lacrosse career at Ohio Wesleyan University beginning in the 2016-2017 school year.
"I had a lot of great options, and I would like to thank those other schools for recruiting me first and foremost. But, OWU had a lot of huge pull factors and had everything I was looking for in a school," the 5-foot-10, 182-pound Rustand said. "From the admissions office to the coaching staff, everyone at OWU is a class act. Not to mention coming off a 16-0 season was a pretty big pull factor as well. I am excited to be a part of a prestigious school, and I felt like the academic portion was a great fit for me as well, my visit to OWU was the epitome of gut feeling. I knew as soon as I stepped on campus I was going to give them my verbal."
In 2015, the Division III Battling Bishop – led by sixth-year head coach Mike Plantholt – finished 18-1 including an 8-0 record in the North Coast Atlantic Conference before falling to Gettysburg College, 9-5, in a DIII NCAA tournament quarterfinal.
"I will bring a number of things to the table for the Bishops. I work hard and want to compete for playing time when I get there just like every other guy," said Rustand who will play either attack or midfield for Ohio Wesleyan. "They have a winning tradition so I just hope I can contribute to that and help the other guys around me get better like they will for me."
Like the winning tradition at OWU, Rustand has helped create a winning tradition at Woodgrove. In 2015, the Wolverines went 13-5 including a 6-1 record in the Dulles Group with their one loss in-group coming at the hands of the eventual VHSL 4A state champion and crosstown rival Loudoun Valley.
"My expectations for Woodgrove this season are very high. We compete every year, but this year we are returning 17 seniors and I think seven out of the ten starters," said Rustand who plays club lacrosse for 3D Mid-Atlantic. "All of the guys get along very well and team chemistry is really high. The ultimate goal is to get a ring on my last year and the other guys on the team would agree. If we stick to our game plan and use the athleticism we have returning I think it should be a pretty solid season with a deep run into June."
Rustand – who was a top-notch baseball player growing up – decided to give up hit bat and mitt for a net and stick in the seventh grade and has excelled at lacrosse ever since.
"At lunch one day in sixth grade my friend was telling me I had to try it out cause he thought I would love it and the whole table was saying how they have never played or even tried it out, so the following year in the spring I stopped baseball and made the transition to lacrosse along with a few other guys," Rustand said. "I was hooked on it immediately and just never really put the stick down since."
And if all goes as planned, Rustand will not have to put the stick down for at least five more seasons – including one at Woodgrove and four more at Ohio Wesleyan – but just a couple years ago, the now-committed recruit saw his chances of playing college lacrosse slipping away.
"It started freshman year and was a very windy road all the way up until I announced my commitment. With injury sitting me out an entire fall recruiting season, a majority of my looks kind of vanished off the map, but I really couldn't be happier with the way things turned out for me," Rustand said. "It was a team effort from my family and coaching staffs to reach the point I am at now. The hard work is just beginning though."